Cameron Highlands is renowned for its tea plantations and strawberry farms. However, one thing you definitely don't want to miss out on during your visit is a wondrous trek through the abundant, green jungles at Coral Hill.
Near the original Mossy Forest of Cameron Highlands sits Coral Hill, an incredible hiking destination. Filled with vibrant green moss and coral-like lichen plants, the trek through nature is a very marvelous experience.
Our Coral Hill Trek
We originally booked a hiking trip to the Mossy Forest. However, because it was closed at the last minute, we switched up our plans. So instead, we decided to join a guided hiking trip up and down Coral Hill at Tanah Rata.
Don't miss out on watching the Coral Hill hiking video! It is at the end of this article.
Coral Hill is a lush moss-filled jungle landscape in the Cameron Highlands. It is also sometimes referred to as the 'upper forest' or 'cloud forest.' Short, gnarled trees are covered in a thick layer of moss. It is so beautiful that it almost feels like stepping into a fantasy movie.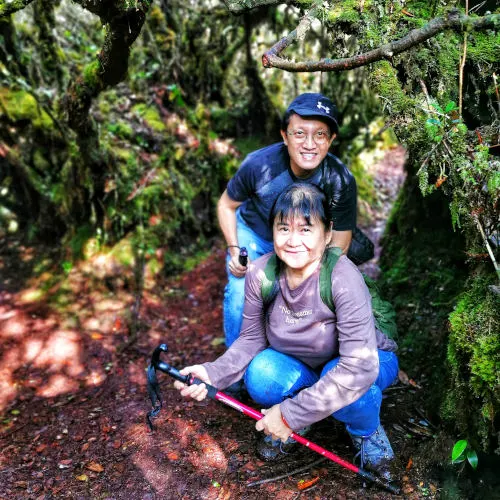 We have no regrets regarding the last-second change of plans. In fact, it turned out to be more of a blessing than anything. In the original Mossy Forests, visitors are not allowed to walk on the trail- only on a boardwalk. If we had gone there, we would not have been able to explore the jungle without the hindrance of man-made construction.
Our Coral Hill hike did not have a boardwalk, so we could get a much more authentic experience. It was incredible to walk through the moss-covered trees and meander along the winding trails.
We began our trek around 9 am, entering the Coral Hill trail and being surrounded by mother nature's stimulating presence. The cool labyrinth of the mossy forest overtook our senses, transporting us into what felt like a different world.
Coral Hill proved to be a splendid hidden paradise, with some trees covered almost entirely with moss! We also saw poisonous mushrooms, pitcher plants, and a green viper darting underneath a nearby tree.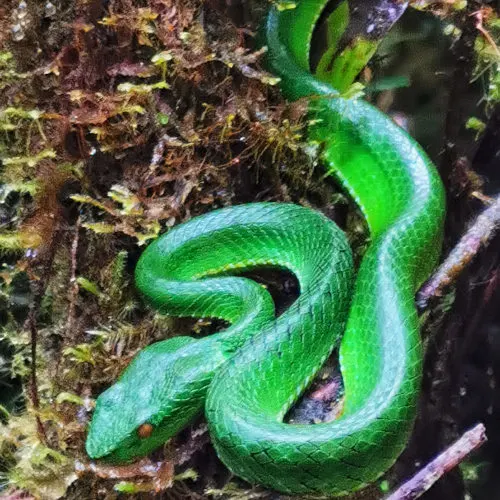 Learning About Nature in the mossy forest
As we walked, our tour guide, Appu, told us interesting facts about the moss. It is much more fragile than many people realize. If anyone steps on it, it will die. Therefore, we had to avoid it under our feet at all times.
According to Appu, it takes three years for just one centimeter of moss to recover after being killed. The thick layers of moss that cover the trees have been growing for many generations.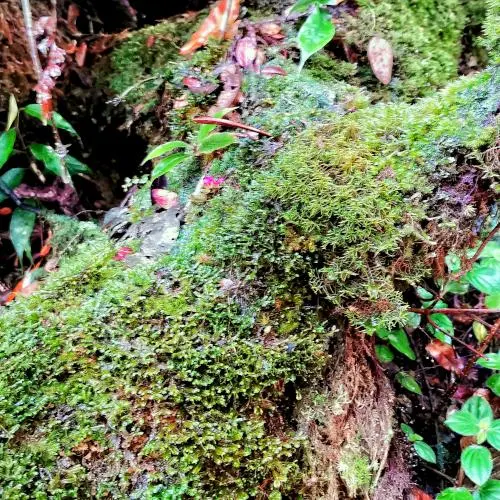 The moss was once used for medical purposes. During World War II, soldiers used moss as bandages to stop the flow of blood when they had no actual medical supplies to use.
The soils under our feet were much different from those in other tropical jungles that we had visited before. It was like a soft cushion that trembles where you step, the earth moving under your feet like it is all connected.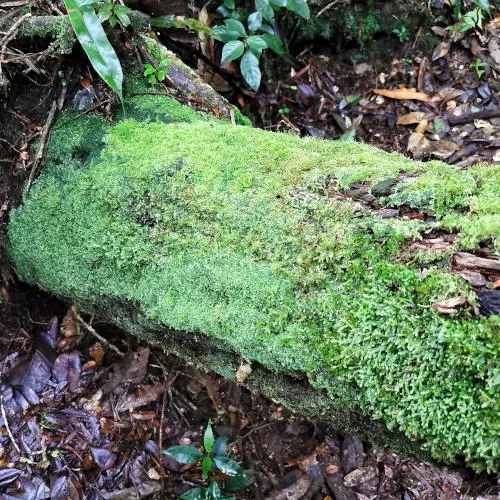 Reaching the summit of the hill
After a couple of hours of hiking, we finally reached the summit at 1,500 meters above sea level. Here you can get the best view of the mountain ranges on a good day.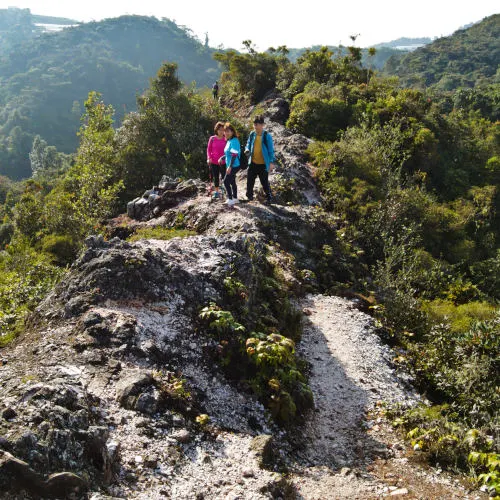 Appu paused at the top to point out the various mountains in the distance. Then, he showed us where the highest peak in Cameron Highlands sits. It is called Gunung Brinchang and is about 2,032 meters high, where the original Mossy Forest is located.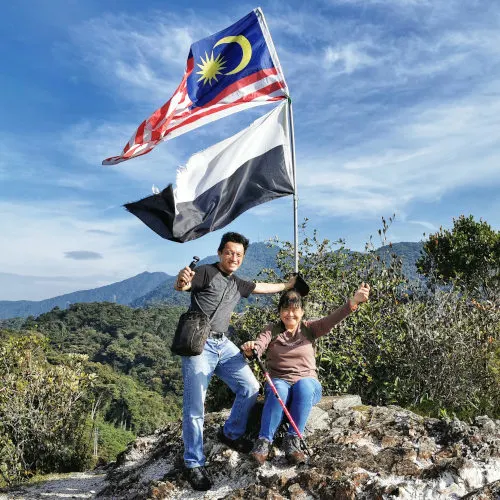 The mountain beside it is Mount Irau. Although they look very close together, it takes about 8 hours to get from one peak to the other, up and down.
Appu also pointed out the rocks at the top of Coral Hill. Indigenous people would use the rock to make a powder for their religious dance ceremonies.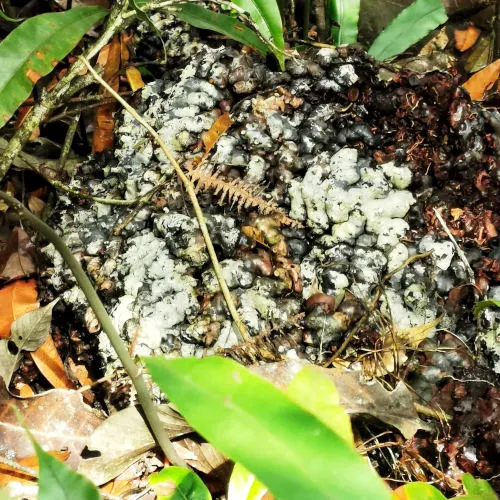 Descending Coral Hill
We took about two hours of walks to complete the trail as we stopped by many times to admire nature and took pictures. On the way back down, we had to bash through some thick undergrowth and tread carefully over the slippery, soft soil that bends under your feet.
We took some time to marvel at the magic of mother nature and witness how the moss grows thick over the trees, branches, ground, and some primitive ferns and coral-like lichen plants. We were completely in awe. It looked very similar to a scene in a Lord of the Rings movie.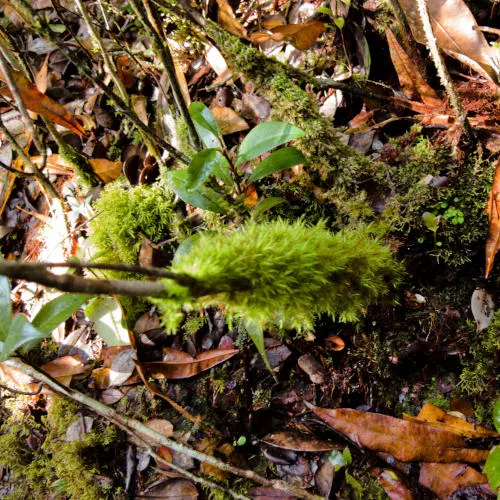 Because some places along the trail were very slippery, we had to take care when descending. There are also trees on the path in certain areas where you must stop and crawl under. When you go, be careful not to trip or hit your head as you navigate through the tricky jungle trails.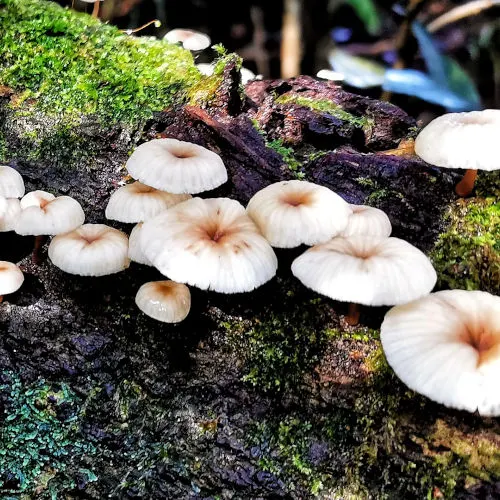 Closing Thoughts
Visiting Coral Hill was a very magical and memorable experience. The deep connection we felt with mother nature was truly unrivaled. Feeling the soil tremble under our feet brought life to the forest and imbued it with a sense of consciousness.
I highly recommend booking a trek through Coral Hill rather than Mossy Forest. You can truly immerse yourself in the beautiful and mysterious surroundings without having to stay on a wooden boardwalk.
Do remember to bring your insect repellent and sunscreen lotion. Fortunately, there are no leaches in this forest.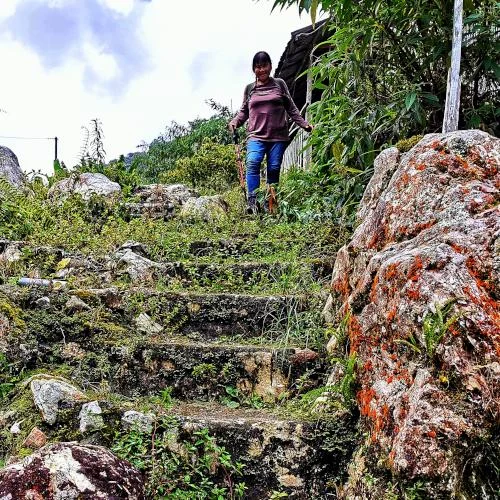 Booking and Contact
I highly recommend booking this tour with our guide, Appu, who was very experienced and informative about the area. The tour company prides itself in providing tours of the area in a safe way that protects the fragile moss and surrounding ecosystems.
You can email the tour company at discovercamerons@gmail.com or order through the website at www.discovercamerons.com.
You can also book tours to other tourist attractions through this company. They offer a full-day experience tour to Cameron Highlands' top destinations, including Mount Brinchang, Mossy Forest, Boh tea plantation, Parit waterfall, Robinson waterfall, rose garden, butterfly and insect farm, strawberry farm, and other hiking trails.
Watch our Coral Hill video shot during our visit to the hotel.
If you have come so far reading this blog post, don't miss out on the review video we shot during our stay at Coral Hill. Click the image below to watch on YouTube (shot in high definition!).
Other best places to visit in Malaysia
If you like this article, you may also want to read about other attractive places to visit in Malaysia. Here are two places we have picked for you.