Cameron Highlands caught our attention, and we found ourselves amid the charm and beauty of this region. But do you know what made our visit even better? Smokehouse Cameron Highlands at Tanah Rata, Cameron.
Smokehouse Cameron Highlands is one of Malaysia's most beautiful boutique hotels. Greenery is all around, with rolling mountains in the background and a breeze that keeps you cool and calm.
Smokehouse Hotel is an extraordinary place that truly deserves recognition. What started as a Ye Olde Hotel in 1937, this traditional Tudor-style mansion turn hotel soon captured people's hearts and became what we love today.
One of the few buildings with recognizable architecture, Smokehouse gives guests a tour of perfection. The hotel once only had 6 rooms and was now sporting 23, and each one is unique and more luxurious than most other hotels in Cameron.
We were greeted by the friendly staff at the front desk and immediately headed to our room through a long corridor that led us to our room, where we unloaded our luggage.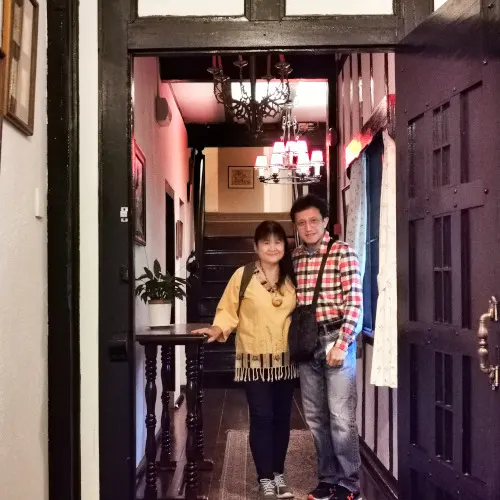 Don't miss out on watching the Smokehouse hotel review video! It is at the end of this article.
The room tour
Our room sported a luxurious four-poster bed and featured a romantic fireplace, comfortable English-styled sofas, and a flat-screen TV.
There was also a dresser, among various flexible amenities.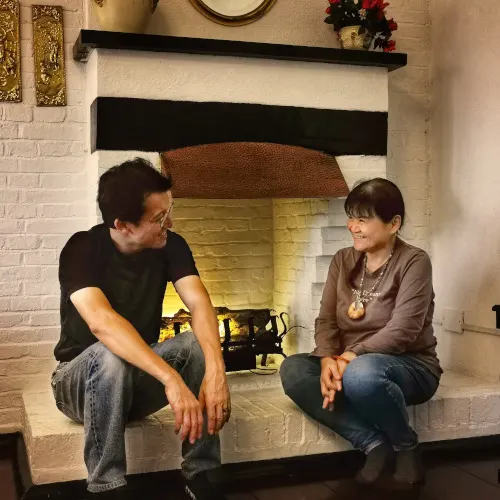 The ensuite private bathrooms came with complimentary toiletries, a bathtub, and shower space for every room. The room also comes with free wifi access.
Our room overlooked a gorgeous English garden facing the beautiful golf course, decorated with an old English red telephone booth, a porch swing, sets of lawn tables and chairs, and bushes and shrubs of colorful flowers.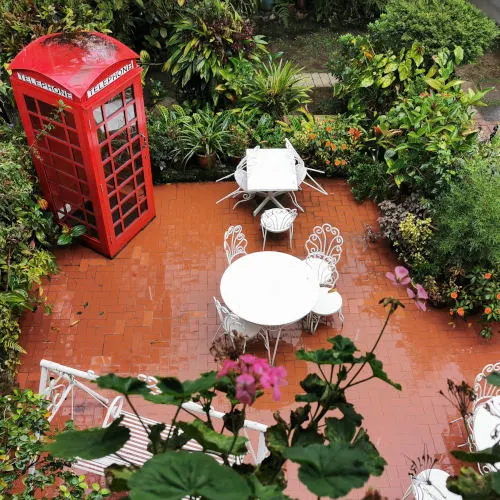 The main hall
While you can explore the hotel's exterior, only guests staying at the Smokehouse can enjoy an indoor tour.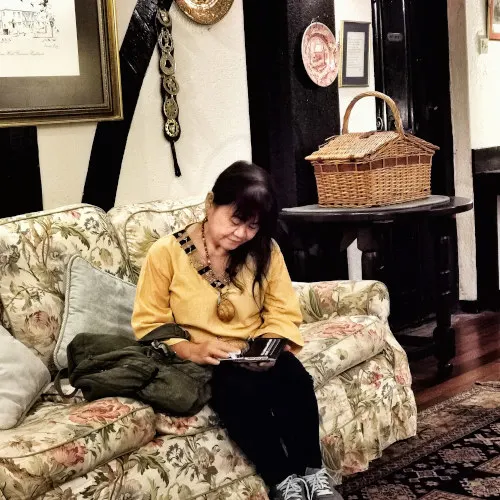 The hotel's main hall features wall hangings, including old photographs, paintings, and antique plates.
A luxurious but comfortable seating area awaits guests in the main hall, where more wall hangings and decor.
The main hall is where most guests mingle and chill.
The restaurant
The same hall opens into a dining area where wooden tables with napkins and tightly-arranged cutlery are ready for guests. Instead of eating out, we opted to have our dinner here and were pleasantly surprised; the cool lighting against the black beams on the ceiling really added to the mood.
The Smokehouse Cameron Highlands restaurant serves traditional English cuisine that's delicious and filling. Dinner isn't exactly cheap, as it does cost a bit more than you'd expect, but with the ambiance as magical as Smokehouse's and the food as decadent and mouth-watering as we had, you wouldn't find yourself complaining.
After dinner, we laid back for a while in the lounge, where the relaxing and rich atmosphere gave us a taste of the delightful stay ahead.
The lounge
Staying in the hotel made us feel like we were staying somewhere in England; the entire place was decorated with eclectic furniture and English fittings.
You'll also find the components of a typical country house; open fireplaces, wood-panel walls, beamed ceilings, and an architectural style that befits a gorgeous cottage house.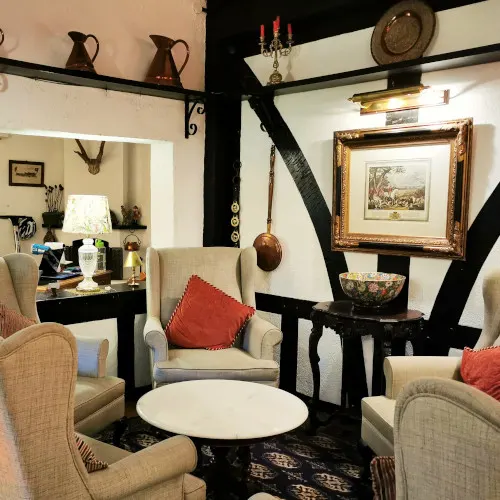 If you're a sucker for English styles or are hailing from that side of the world, you'll love the collection of English memorabilia and antiques; it makes one feel at home.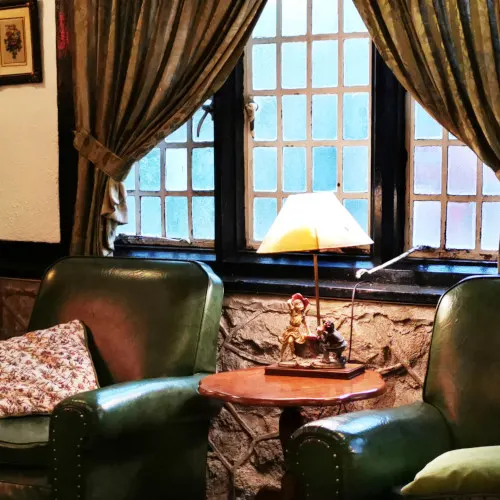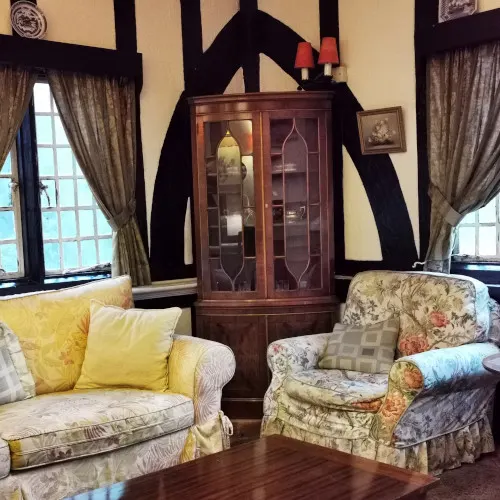 While we did spend our stay exploring Cameron Highlands, one of our favorite moments within the hotel was lounging by the fireplace. It's truly something else to sit with your loved one against the fireplace and just talk; the charming ambiance, the romantic atmosphere, and the coziness of the fireplace did wonders for us.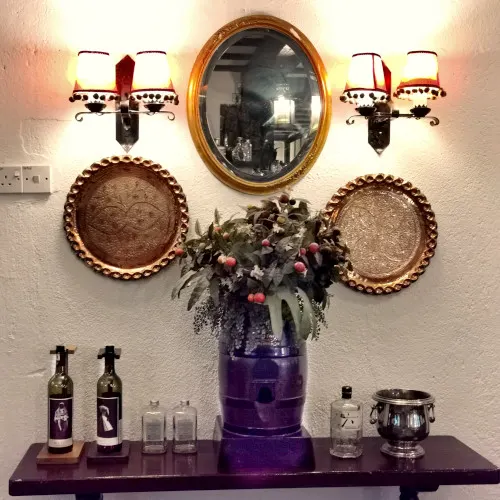 Breakfast at the conservatory
We had the complimentary English breakfast the following day at the restaurant-side conservatory, where guests can enjoy breakfast and have scones and afternoon tea in the evening. The hotel has room service, but nothing is better than having our breakfast in th midst of the fantastic garden view.
Staying at Cameron Highlands was a dream come true; back when I was in college, I could only imagine what it would be like to stay here.
In the morning, we once more took to the garden, which had honestly captured our attention ever since the first visit. A refreshing walk around the garden followed by a fantastic breakfast made the start of our day better than ever.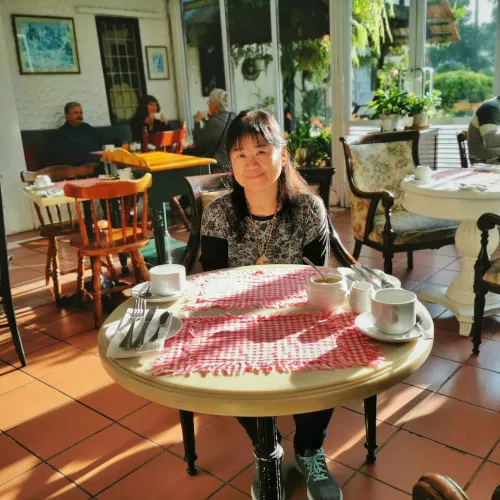 I will add that I've been to Smokehouse several times, but this was the first time I was able to stay within the hotel. This place truly is worth a visit. To be able to immerse myself in an experience that you'll only find in storybooks and picturesque tales is something I will never forget.
Although our stay was short, we enjoyed ourselves thoroughly. Our host ensured we were as comfortable as possible. The staff was extremely accommodating and friendly and assured us we felt at home throughout the stay.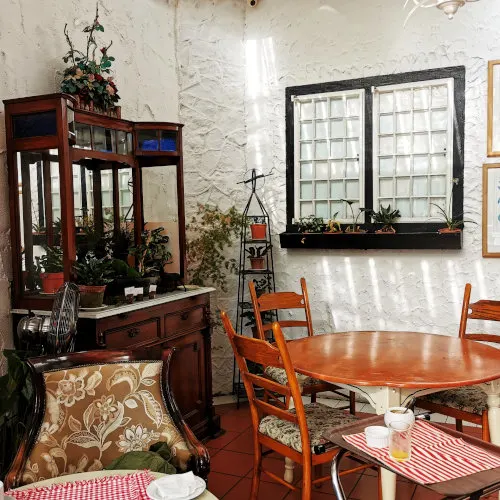 The garden
After breakfast, we explored the same garden we'd been dreaming of ever since we spotted it from our bedroom window; and while it looked brilliant as before, it looked nothing short of magical in the bright and cozy morning.
Sunrays illuminated the plants and made the entire scene like it had come straight out of a storybook; the swing by the telephone booth really blended well.
At the end of the stay, we were delighted with our experience. After all, staying at Smokehouse Cameron Highlands is something that was only our dream, and we were amazed at how blessed the experience was for us.
It might seem a little pricey to some, but if you're hoping for a stay that makes the entire vacation experience unforgettable and lovely, then Smokehouse is the best bet you'll make.
Watch our Smokehouse review video shot during our visit to the hotel.
If you have come so far reading this blog post, don't miss out on the review video we shot during our stay at Smokehouse. Click the image below to watch on YouTube (shot in high definition!).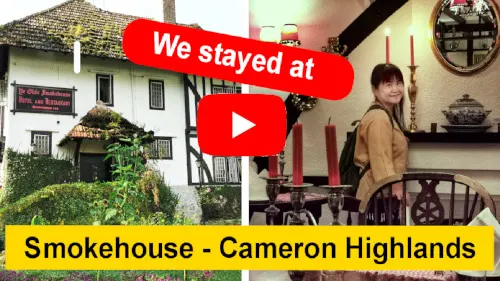 Other best places to visit in Malaysia
If you like this article, you may also want to read about other attractive places to visit in Malaysia. Here are two places we have picked for you.
Genting Skyworld Theme Park in Malaysia is the latest theme park to open in Southeast Asia in early 2022. Here is the complete guide.
Lakehouse Cameron Highlands is another Tudor-style boutique hotel in Cameron Highlands. We stay in both Smokehouse and Lakehouse during our trip to Cameron! Do check out our review on Lakehouse!