Kuala Lumpur has some world's biggest shopping complexes and malls You can find almost everything there, from renowned brands worldwide to local specialties.
Most of the shopping malls listed in this article are bigger than one million square feet! Some even have an interlinked bridge joining two malls, making it a mammoth complex where you can shop the whole day. Therefore, visiting Kuala Lumpur is incomplete if you do not include visiting one of these shopping malls in your itinerary.
In this article, we have compiled a list of the most popular shopping malls in Kuala Lumpur for you. All these shopping malls are worth visiting, and we hope it's useful for you to plan your next visit to Kuala Lumpur.
1. Pavilion Kuala Lumpur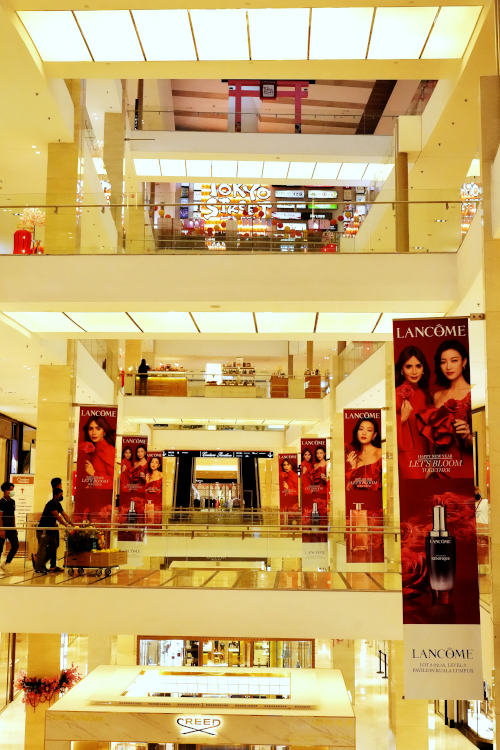 The Bukit Bintang area is home to the prestigious Pavilion Kuala Lumpur. Street-front stores and eight retail districts make up Pavilion Kuala Lumpur.
With its abundance of spas and salons, Beauty Hall serves as a haven of rest for consumers.
All of the major events and advertisements take place in Centre Court.
Connection is a hip area with many restaurants, cafés, dessert stores, and coffee shops that reenergizes customers with its outdoor atmosphere. In addition, Red Box Plus Karaoke and the forthcoming Dadi Cinema are located at Connection.
The Couture Pavilion, located on Levels 2 and 3, is devoted to some of the most well-known fashion brands in the world.
There are various first-in-Malaysia casual eating establishments at Dining Loft.
Fashion Avenue brings them together to serve trendsetters and huge, well-known companies.
The Gourmet Emporium is a culinary paradise that provides various eating options.
Tokyo Street is a district with a Japanese motif that combines traditional and contemporary aspects of Japan under one roof. It has Daiso, well-known Japanese eateries and snack brands, Japanese art galleries, and souvenir shops with Japanese themes.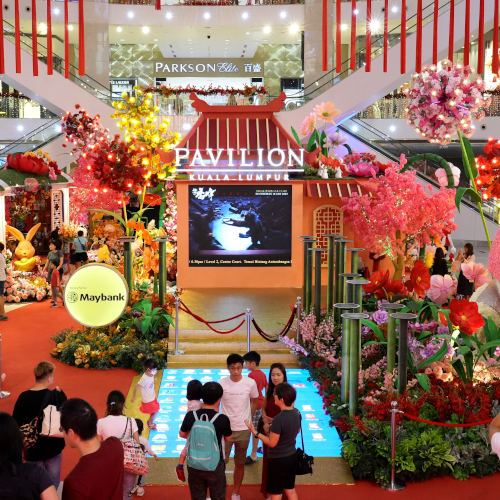 The Liuli Crystal Fountain located at the entrance of KL Pavilion, is a landmark and a favorite Instagram spot.
Website: https://www.pavilion-kl.com/
Address: 168, Bukit Bintang St, Bukit Bintang, 55100 Kuala Lumpur, Federal Territory of Kuala Lumpur
Phone: +603-2118 8833
2. Mid Valley Megamall
The Mid Valley Megamall is home to roughly 430 domestic and foreign retailers. While the mall is a terrific place for shopaholics, it also offers tourists entertainment by housing a theatre, bowling alley, and bookshop.
The shopping center is a portion of the 4.5 million-square-foot complex that includes three upscale hotels, a business district, and the Gardens Mall, connected by a bridge to the Mid Valley Megamall. While the Gardens Mall is recognized for its high-end and worldwide brands, the Mid Valley Megamall features local eateries and shops.
This shopping mall is the favorite place for the locals to shop and spend the weekend. It is also the shopping mall I've visited most because it is just five minutes from where I live.
Website: https://www.midvalley.com.my/
Address: Lingkaran Syed Putra, Mid Valley City, 59200 Kuala Lumpur, Wilayah Persekutuan Kuala Lumpur
Phone: +603-2938 3333
3. The Gardens Mall
A premier shopping destination, The Gardens Mall has more than 200 stores with leading fashion labels, home & lifestyle, and entertainment. The 6-level mall is located in the center of Kuala Lumpur's Mid Valley City and is heaven for shopping, entertainment, and dining.
The Gardens Mall, known for having Malaysia's only boutique cinema, Golden Screen, provides something for everyone. The mall's Food Hub, rooftop bars, and dance clubs provide ideal hangout areas.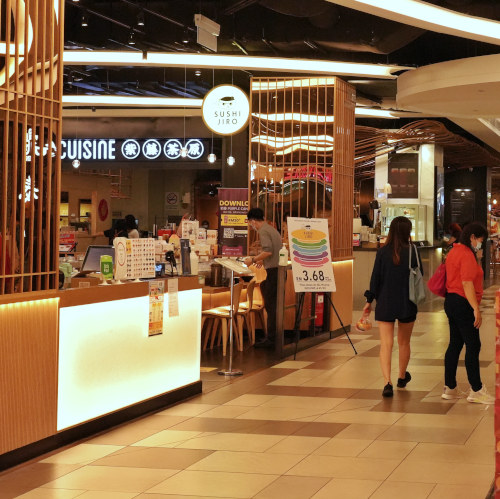 Garden Mall is linked to the mid-valley mega mall by an air-conditioned bridge. The locals consider these two malls are not separated since you do not need to be outdoors to get into the other.
Website: https://www.thegardensmall.com.my/
Address: Lingkaran Syed Putra, Mid Valley City, 59200 Kuala Lumpur, Wilayah Persekutuan Kuala Lumpur
Phone: +603-2297 0288
4. Sunway Pyramid
The shopping mall has 900 businesses spread across seven stories. A lion sculpture, Pharaoh sculptures, and domes depicting the Sun God Ra are the most prominent feature at the main entrance.
Sunway Pyramid is situated at Bandar Sunway, about half an hour's drive from the city center of Kuala Lumpur. It is a massive complex linked to the Sunway Lagoon Water Thempark.
Sunway is about half an hour from the city center. However, it is linked directly to Sunway Pyramid Hotel and the Sunway Water Theme Park, making it a one-stop center for all you look for as a tourist in Kuala Lumpur.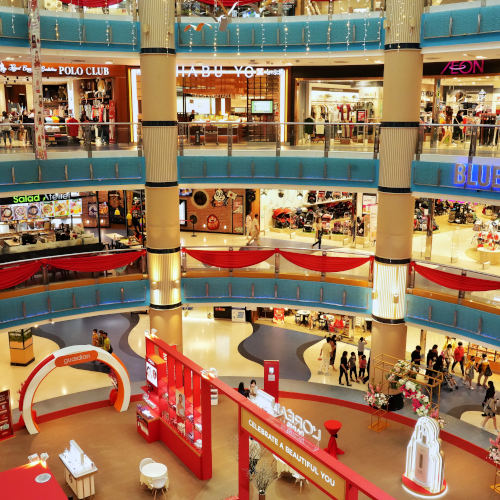 Website: https://www.sunwaypyramid.com/
Address: 3, Jalan PJS 11/15, Bandar Sunway, 47500 Petaling Jaya, Selangor
Phone: +603-7494 3100
5. Suria KLCC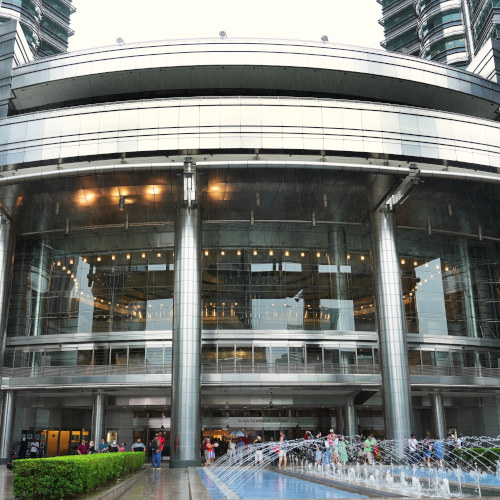 Suria KLCC is a six-story shopping center with a view of KLCC Park and the soaring Petronas Twin Towers, more than 1.5 million square feet in size. It is Malaysia's top destination for food, shopping, and entertainment.
Suria KLCC, which has more than 300 retail establishments, offers the ideal fusion of national chains and global names. In addition, the Petronas Art Gallery, Aquaria KLCC, and Petrosains, a scientific exploration center, are all located in the complex.
It is just next to the Petronas twin tower, the KLCC park, and within walking distance of KL Tower, making it the best shopping center for the busy traveler who wants to cover many places in a limited time.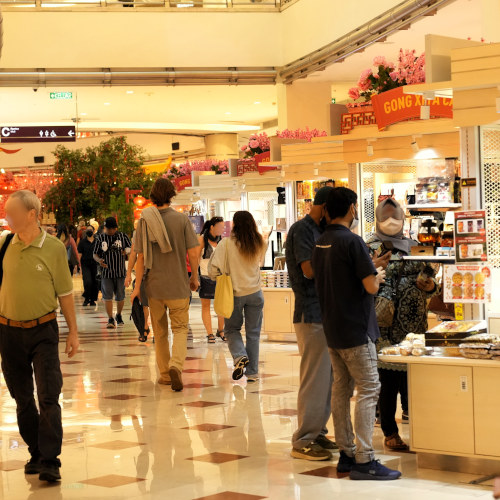 Address: 241, Petronas Twin Tower, Kuala Lumpur City Centre, 50088 Kuala Lumpur, Wilayah Persekutuan Kuala Lumpur
Website: https://www.suriaklcc.com.my/
Phone: +603-2382 2828
6. 1 Utama Shopping Centre
One Utama Shopping Mall, located in Bandar Utama, is the seventh-largest mall in the world and is a location for opulent shopping with 713 shops.
It has an enormous area of 5 million square feet, which draws visitors from every corner of Kuala Lumpur to shop. There are restaurants, department stores, high-end international chains, a surfing pool, a sky-diving wind tunnel, a climbing wall, and other sports activities.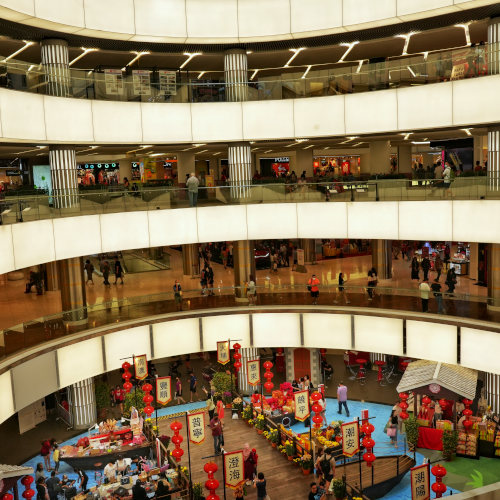 This shopping center which is fondly called 1U by the locals is a gigantic complex with two adjacent wings: the Old Wing, which features expensive alternatives from Nike, Puma, Morgan De Toi, and others, and the New Wing, which has been renovated and now features vibrant themes, including Highstreet, Oval, Sports Zone, and Entertainment Zone.
A linkage bridge across the main street of One Utama connects the Old Wing with the New Wing.
Website: https://www.1utama.com.my/
Address: City Centre, 1, Lebuh Bandar Utama, Bandar Utama, 47800 Petaling Jaya, Selangor
Phone: +603-7710 8118
7. NU Sentral
NU Sentral is the shopping mall linked to KL Sentral, the transport hub of Kuala Lumpur.
KL Sentral serves as a transit hub for all forms of public transportation. Every rail line is housed there, including the Putra LRT, Star LRT, KTM Komuter, KTM Intercity, KLIA Transit, and KLIA Express.
Here are my picks for the ten best shopping malls in Kuala Lumpur worth visiting.
KL Sentral is served by many private and public buses, making it simple for tourists who want to shop at Nu Sentral.
Nu Sentral has all the shops, entertainment, and eateries like other large shopping complexes. In addition, it has a huge advantage as it is accessible directly from the KLIA international airport.
Website: https://www.nusentral.com/
Address: 201, Jalan Tun Sambanthan, Brickfields, 50470 Kuala Lumpur, Wilayah Persekutuan Kuala Lumpur
Phone: +603-2859 7177
8. Berjaya Times Square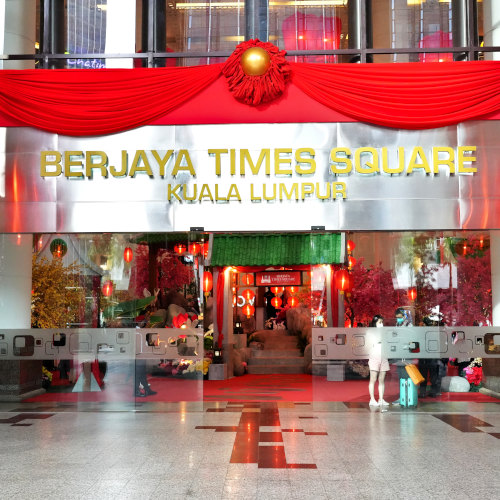 In the center of Kuala Lumpur sits Berjaya Times Square (BTS), Malaysia's biggest shopping mall and entertainment complex, with a 2.5 million sq ft space.
It is a huge complex house, a hotel, a condominium, retail shops, and an indoor theme park.
The Berjaya Times Square Theme Park features 14 attractions, including a roller coaster. This skyscraper is presently the fifth largest in the world by floor area and the ninth tallest twin structure in Kuala Lumpur.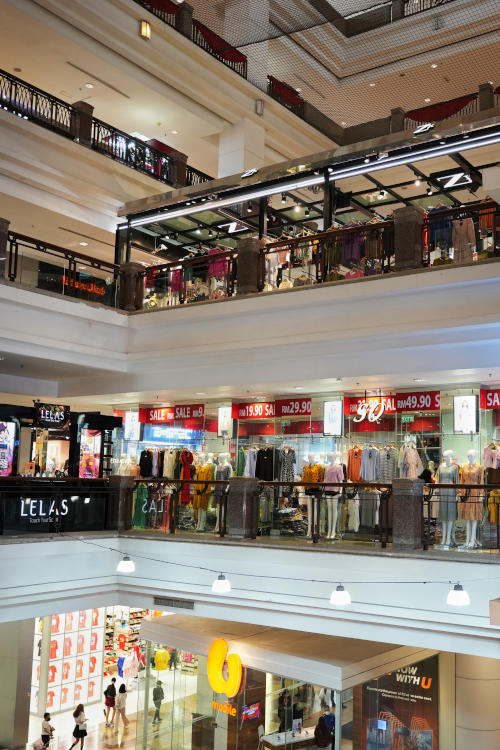 Website: https://berjayatimessquarethemeparkkl.com/
Address: Berjaya Times Square, 5th and 7th Floor, 1, Jln Imbi, Bukit Bintang, 55100 Kuala Lumpur
Phone: +603-2117 3118 (Phone number for the theme park)
9. Lot 10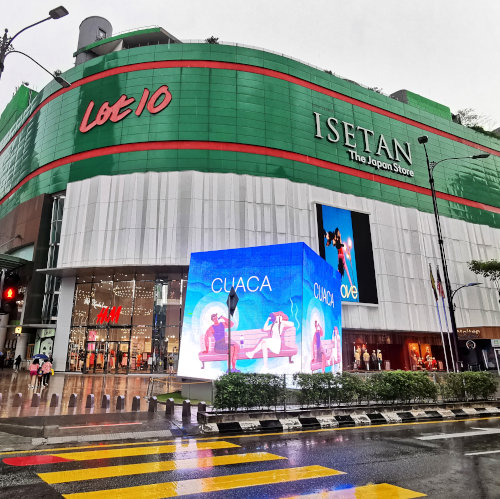 Lot 10 has been there for almost 30 years and is one of the first large-scale shopping malls established in Kuala Lumpur.
The main attraction here is the first Isestan store opened outside Japan. There is also a Japanese store where you can get almost any Japanese food and cooking ingredients. Besides that, it is a multi-story complex where you can find anything you want.
The basement is where the famous local food court Hutong is located. This place serves the best local street food under one roof. It is where I bring my foreign visitor to savor the local street food, as many of them want a safe time for not hunting specific local food at various locations.
Website: https://lot10.com.my/
Address: 50, Bukit Bintang St, Bukit Bintang, 55100 Kuala Lumpur, Federal Territory of Kuala Lumpur
Phone: +603-2141 0500
10. LaLaport Bukit Bintang City Centre
LaLaport Bukit Bintang City Centre is the latest addition to the long shopping mall lists in Kuala Lumpur. This new shopping center opened its door in January 2022
The distinctive white gateway, which will undoubtedly become an Instagram classic, is the last remaining piece of the destroyed Pudu Prison, over which the mall is built.
The mall's lettable space is around 861,000 square feet, which is relatively small compared to its glitzy Bukit Bintang rivals. However, Mitsui Shopping Park LaLaport KL distinguishes itself thanks to a distinctive anchor tenants lineup. Zepp, a live music venue linked with Sony that can accommodate up to 2,500 people, is here. More than 350 shops are housed in the mall, many of which are debuting in Malaysia and are from Japan. These include Yakiniku Sizzle by Yakiniquest, DONQ/Mini One, Nojima (electronics), Nitori (home and living), and Nojima (home and living).
Website: https://mitsui-shopping-park.com.my/
Address: 2, Jln Hang Tuah, Bukit Bintang, 55100 Kuala Lumpur, Wilayah Persekutuan Kuala Lumpur
Phone: +603-2731 3555
Other shopping malls
Other popular shopping malls in Kuala Lumpur are Sungai Wang Plaza, a place to shop for the locals; Low Yat Plaza, a digital mall; Starhill Gallery for high fashion; and Central Market, which focuses on local handicrafts and cultural items.
Besides the mall, you can visit Little India at Brickfields, an area just five minutes from Nu Sentral. It is where you can find almost everything you can imagine from India. Of course, your itinerary in Kuala Lumpur should also visit all the best tourist spots and savor the local foods. Lastly, make a trip down to Petaling Street (Chinatown) and walk to the Kwai Chai Hong with murals depicting life in the 60s in this area.
Which shopping mall shoud I pick?
The answer lies on how long you will be in Kuala Lumpur, which hotel you stay in, and what you want to buy.
For example, shopping malls near the Bukit Bintang area (Pavilion, LaLaport) are most suitable for tourists and people looking for international brand items. This area is also most international standard hotels are located.
At the other side of the spectrum, Mid Valley Mega Mall and One Utama are more suitable for local people who purchase daily requirements and looking for entertainment during weekends. They are further from the city centr, but there are hotels inked with Mid Valley and One Utama.