Central Market Kuala Lumpur (pasar seni) is a cultural landmark that every tourist should visit.
Central Market is barely five minutes away from Chinatown at Petaling Street, make it conveniently accessible by tourists who plan to visit both places on the same trip.
The original building of the Central Market was built in 1988 by the British as a wet market. In 1937. The present Art Deco style building was rebuilt in 1937 and had been listed as a heritage site by the National Heritage Department. Ever since then, it has emerged as the landmark as the melting pot of the Malaysian culture and heritage.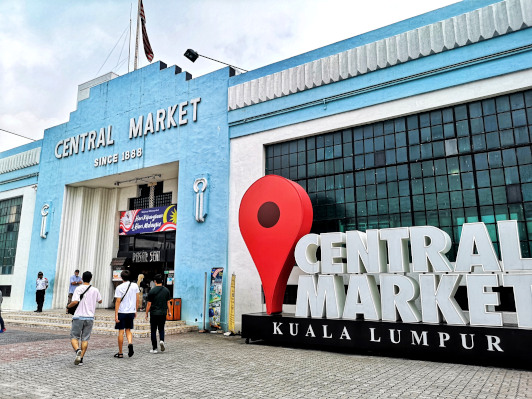 A shopping haven for the tourists
There is a warren of kiosks inside the building selling clothing, appeals, handicrafts, collectibles, and souvenirs. Most of them are the traditional handicrafts from various ethnic groups of Malaysia.
There are three stories in the building, which houses more than 300 shops. It is a haven for tourists to shop
Local handcrafts
There are three parallel side lanes at the west wing of the ground floor, which are called Malay street, Straits Chinese and Little India respectively. Here is the best place to look for handcrafts by the major ethnic groups in Malaysia.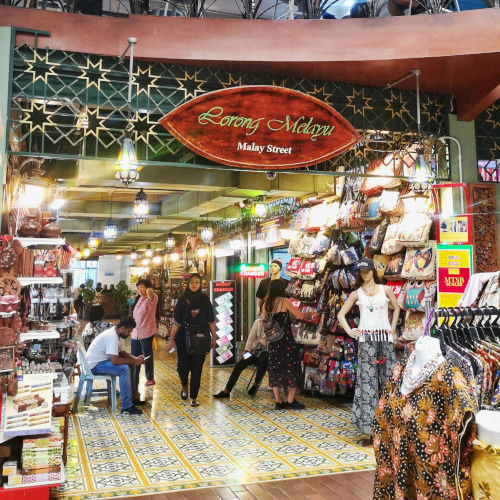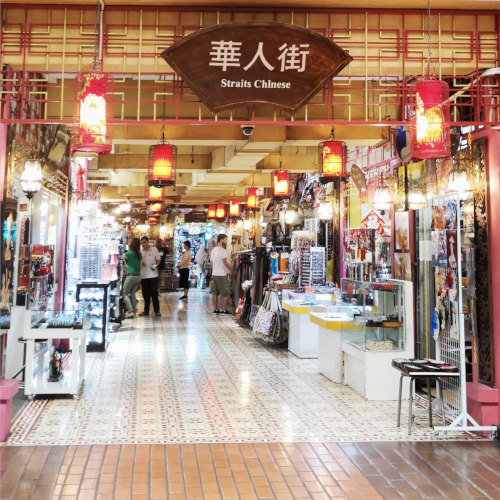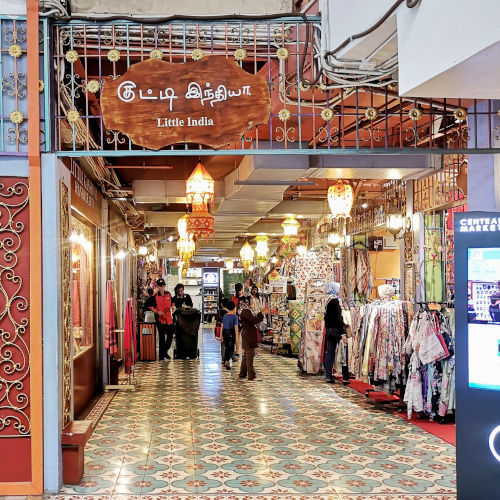 Chinese Calligraphy
You will find diversified cultures and arts at Central Market. This uncle is the familiar face at the ground floor of Central Market. He is an expert in Chinese calligraphy 书法, the artistic writing for Chinese characters. You can request him to write your name or a couplet for Chinese New Year.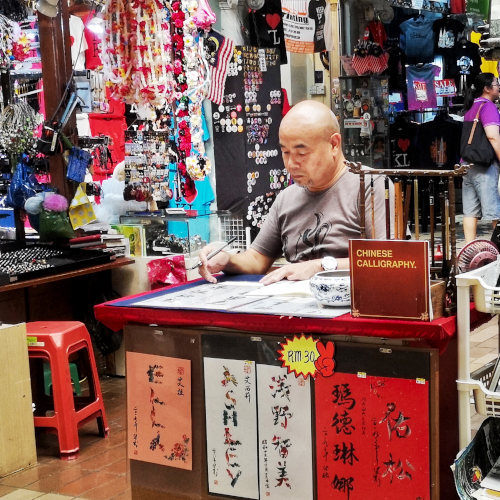 Batik and boutiques
You are spoiled for options when it comes to traditional dresses, especially batiks.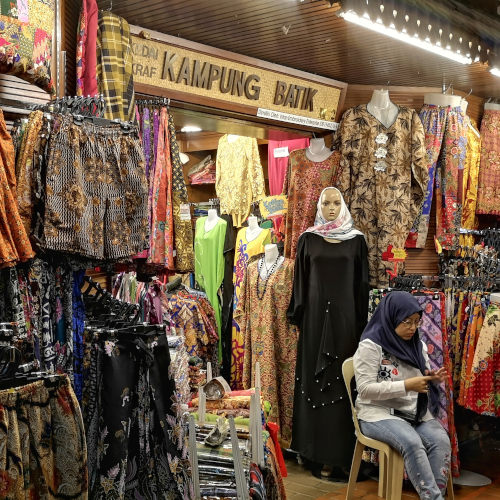 Food court and restaurants
There is a food court on the second floor housing the Asian l food stores. Besides that, many local and western restaurants and cafes are located on the ground floor.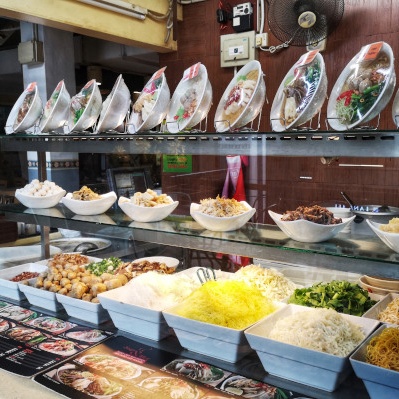 Try the unique Malaysian white coffee.
OldTown White Coffee is a homegrown coffee shop franchise which specializes in the unique local 'white ' coffee. It is a sweetened coffee which tastes distinctly different from any espresso-based coffee.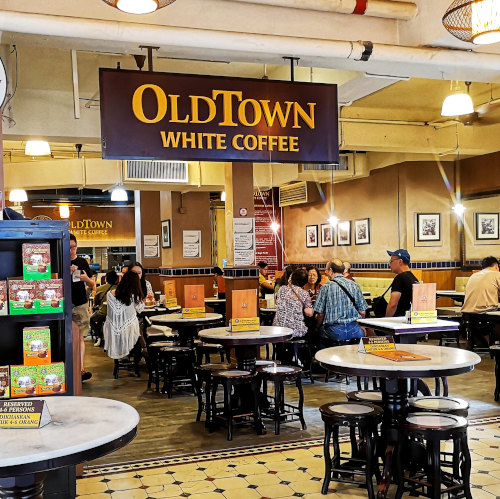 The Central Market Annexe Gallery in Kuala Lumpur
At the back of the main building of Central Market is the Annexe Gallery, which is the place for the exhibition of contemporary art.
It was formerly a cineplex which has been transformed into an art gallery since 2006. Over here. It holds various exhibitions regularly. Check it out if you like the local art and crafts.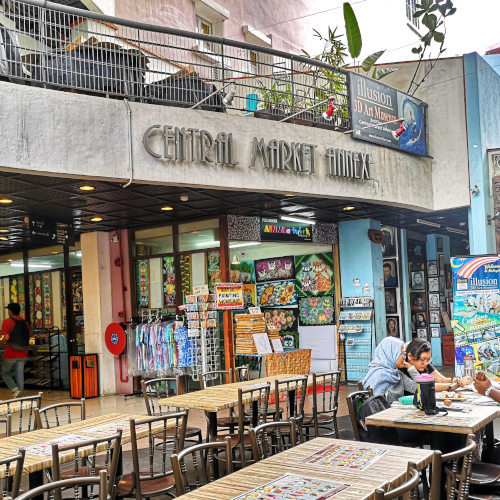 Kasturi walk
Kasturi walk takes center stage!
Kasturi walk is part of the Jalan Hang Kasturi which has pedestrianized, under a huge wau arch located next to Central Market, opened in 2011.
Kasturi Walk is the 150-meter short sidewalk of the Central Market. It is a shopping haven for visitors with alfresco styles kiosks selling a wide range of items from local delicacies like putu bamboo to exquisite souvenirs.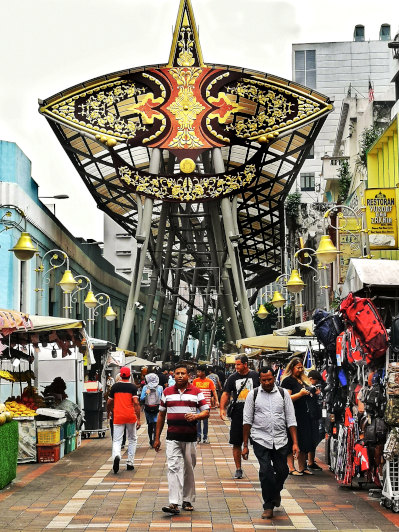 Test your bartering skills
The Kasturi Walk sells practically the same stuff as in the building. However, you can find knockoff items and perhaps some original one. You can find things like watches, shoes, dresses, T-shirts, etc.
Vendors usually quote a high price. Remember to haggle with the seller.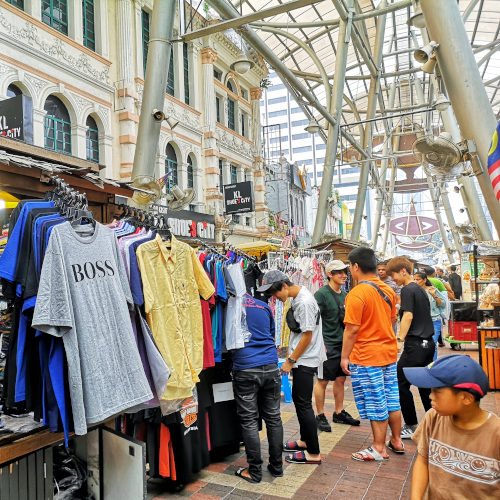 Address: No. 10, 1st-3rd floor, Jalan Hang Kasturi, City Centre, 50050 Kuala Lumpur, Wilayah Persekutuan Kuala Lumpur
Geographic coordinates: 3.145571, 101.695291
Opening hours: Daily, 10:00 – 22:00
Go by MRT: 5 minutes walk from MRT Pasar Seni
Distance from city center: At the city center, few minutes walk to Petaling Street
Best time to visit: Arrive before 10 AM to avoid crowds.
Dress code: No specific dress code
Suggested duration: 2-3 hours
Entrance fee: Free
Telephone: +603 2031 0399 or +603 2031 5399 or +603 2031 7399
The location of Central Market