Petaling Street is the shopping haven for the tourist, is finally reopened in August 2020 after closing for a few months with a new concept. It is the Chinatown of Kuala Lumpur, where you can get everything from knickknacks to cheap t-shirts to the local foods.
The makeover of Petaling Street KL
The makeover of Petaling Street did not happen overnight. The idea of upgrading it was mooted nearly two years ago, but it was during the MCO (Movement Control Order) period that speeds things up. It was notoriously famous for fakes goods, which were mostly managed by foreign migrants. The recent makeover has turned it into a night market operated by the locals, with some new stores run by young local entrepreneurs.
The main street- Petaling Street KL
Today, I decided to make a trip to Petaling Street to find out the new activities and hopefully spot a few local food stores that I like.
The layout of Petaling Street is more spacious than before. The number of stores has been cut nearly by half from the original 700, and there are hardly any foreign workers. We arrived at the first store that we've never seen before, probably it was there, but we didn't visit it. It's a store that sells traditional Chinese taro cake.
I tried it. It's cheap and delicious.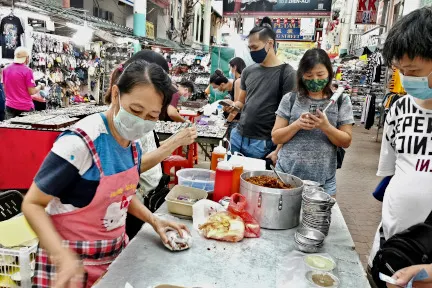 Not far away from it is another similar store selling 碗仔糕 or directly translated as 'cake in a small bowl.' There are a few versions. There are savory ones and sweet ones. The savory one is with some pickle toppings, whereas the sweet one comes with some shredded coconuts. I tried it, and my wife said this is one of the best in Kuala Lumpur. Two Ringgits each comparing to some other places selling just one Ringgit each, but the texture is smooth and melt in the mouth, and it's worth the price.
Besides the food stores, others are selling things like lady garments, clothes, and some shoes.
The junction at Petaling Street and Jalan Hang Lekir
We are at the junction of Petaling Street KL and Jalan Hang Lekir, which is the busiest place in the whole Chinatown.
I spot a store that is new to me. It is a Taiwanese style sausage specialty store.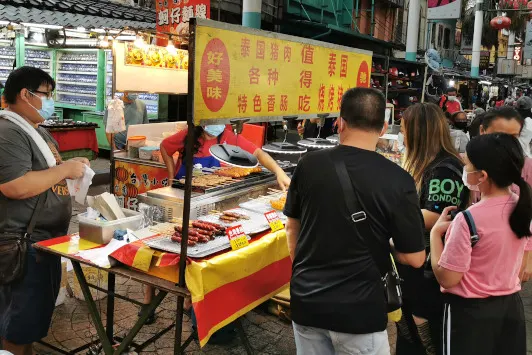 Opposite to it is the famous soya bean store. Some of the customers are high ranking people, including our former prime minister.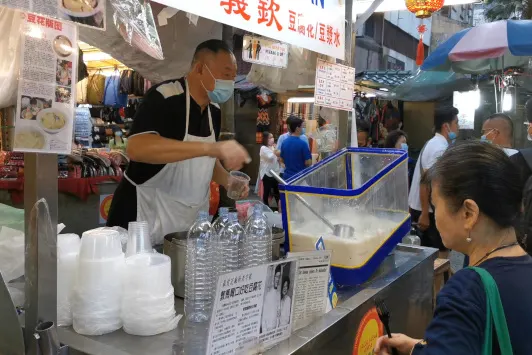 The side street- Jalan Hang Lekir
The original store of Kim Lian Kee 金莲记, the famous Hokkian mee store, is here. The restaurant has now expanded with many outlets in different shopping complexes.
This guy is selling some rice cake. Look at him how he cuts and packaging.
Next of him is another auntie selling Zongzi, a kind of Chinese rice dumpling.
Another guy is selling pork pie and leek pie. Try if you've never heard of it.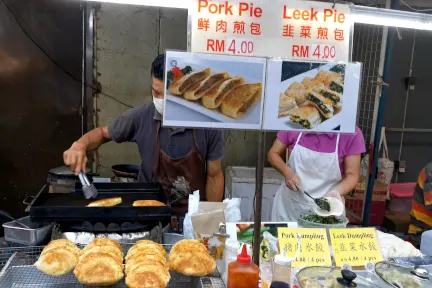 And this for my dinner- it's my favorite fried radish cake. It is called chai tao kway 菜头粿 in Chinese.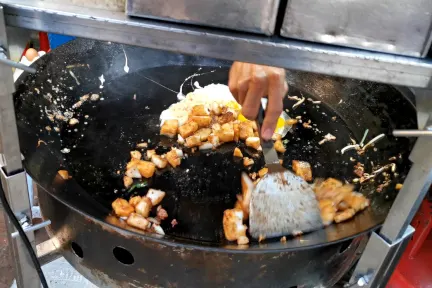 This one is called 'jin loong bao' 煎窿包. I don't know how to translate it into English. It's a sweet crepe with some groundnut filling.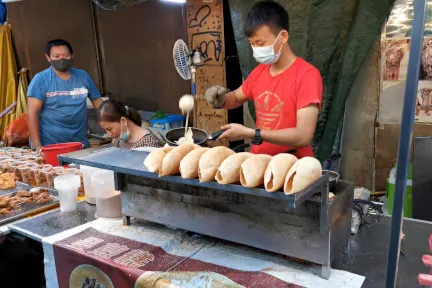 This store is selling fried oysters with eggs.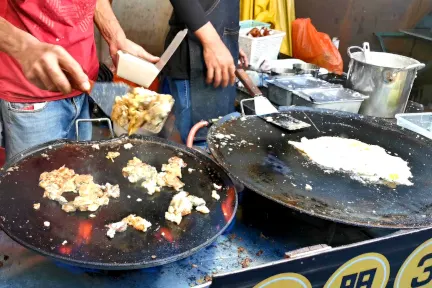 Another store is having barbecue tofu with some fillings inside, many vegetables, and some thick sauce.
The tofu store is also selling rojak, a local salad dressed with a thick sweet sauce.
When you come to Petaling Street, the main goal is always to try the local street food, and experience the atmosphere of the Malaysian street market. But if you are less adventurous, there are still choices for you. Get the local version of the KFC fried chicken.
New store and super sales
When we are on the way back to our car, we stopped at the store selling the Taiwanese oyster glass noodles. Although this is not the typical Malaysian food, it's hugely popular in Malaysia now. I'm going to order this for my dinner.
On the way back, there's a store having some super sales going on. It is only five Ringgits for a pair of pants, incredibly cheap.
Watch this video (high resolution)
If you are in Kuala Lumpur, come over here, and I hope this place will give you some present surprises. Here is the video we took during our trip. Enjoy watching!
Other places of interest near Petaling Street
There are a few interesting places within walking distance from Petaling Street. Plan your itinerary to visit the following places:

1. Central Market: An old market building which has been converted to an indoor a cultural landmark, focus on promoting the traditional art and culture of Malaysia. It is only five minutes' walk from Petaling Street.
2. Kwai Chai Hong: This is the latest tourist attraction at the Chinatown of Kuala Lumpur. It is a small alley behind Petaling Street with numerous murals depict daily life at this place in the old days.
3. You can also read my previous article "Petaling Street – 9 Best Street Food That Worth To Try" to read more about the street food at Petaling Street.
The location of Petaling Street