I have lived in Kuala Lumpur for over 50 years, and I can attest that Kuala Lumpur is one of the cities with the best street food in the world.
Kuala Lumpur is a melting pot of culinary cultures from Malay, Indian, and Chinese to Eurasian. There is a flavor for everybody, from savory to sweet delicacy, from curry to soup noodles.
This article will focus on the best street food in Kuala Lumpur and highlight some best hawkers which I have tried.
Not just sightseeing, savoring the street food is a must!
Kuala Lumpur has a diverse culinary history, and so does its street food. From the mouthwatering satay to nasi lemak, from the sweet cendol and savory roti canai, there is something for everyone to enjoy.
I have owned and worked professionally in the kitchen of my restaurant for the past two decades and fully understand that everyone has his preference for food. As a result, I will not specify which store and restaurants are the best. Instead, I will suggest the stores and restaurants I like for your reference. Please refer to the suggestions I have added in this article after listing the 15 best street food in Kuala Lumpur.
Note: This post may contain affiliate links. Please read my privacy policy for more info. I may receive commissions for purchases made through links in this post. As an Amazon Associate, I earn from qualifying purchases.
Here are the fifteen handpicked local street food for you.
1. Roti Canai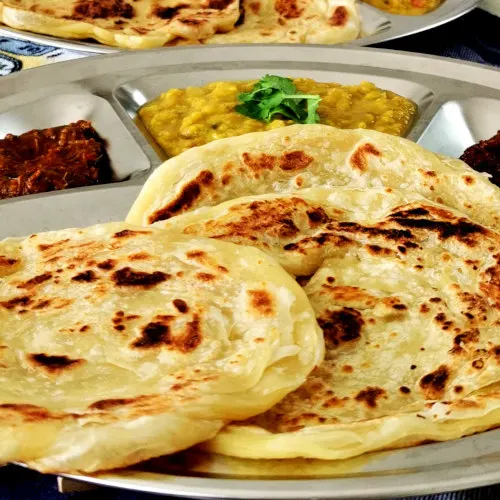 Roti canai is the local version of parata. It is a type of flatbread that is popular for breakfast, dinner, and as snacks. It is made by rolling out a dough made from flour, yeast, and ghee into a thin sheet and then folding it several times skillfully to trap air between the layers.
The dough is then flattened and cooked on a griddle until it is crispy and golden brown.
Roti canai is often served with curry sauce or dhal, a staple breakfast for the KL folks.
There are a few different ways that roti canai can be served. The most common variation is to add an egg before folding it to create the egg version of roti canai called Roti Telur.
The usual way to serve Roti Canai is to put curry sauce on the side. However, some locals ask the hawker to tear it into small pieces and drench them in the curry. Either way, it is delicious when served right from the griddle.
2. Hokkien Mee
Kim Lian Kee is a popular restaurant chain in Malaysia known for its Hokkien mee, a noodle dish prepared with thick yellow noodles cooked with shrimp, squid, pork, and vegetables.
The noodles are stir-fried over high heat with a sauce mainly comprised of dark soy sauce. It is a staple, especially among the Chinese community, in which crispy pork crackles are added as primary ingredients.
The original Hokkien Mee is prepared with lard. They are also a Halal version free from pork crackles and lard to cater to those looking for pork-free street food.
3. Satay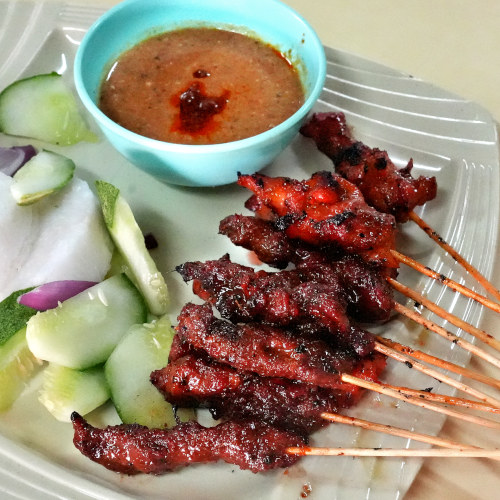 Satay is the famous street food from Kajang, a small town about 20 minutes drive from Kuala Lumpur. Due to the proximity, there are now lots of good quality satay available in Kuala Lumpur.
Satay is marinated chicken or beef on the skewer and grilled over a charcoal fire. It is typically served with a spicy peanut sauce for dipping and is often accompanied by rice cake (ketupat), cucumber slices, and raw onions.
Malaysian satay is different from Indonesian and Thai satay. The main difference is the type of marinade used and the composition of the dipping sauce. Therefore, it is worth trying even though you have tried satay in other countries.
4. Nasi Lemak
Nasi lemak is the most popular Malaysian rice dish. It is prepared with thick coconut milk, onion, ginger, fenugreek, and pandan leaves.
The rice flavor is unique due to the flavor of the coconut milk and the aroma of from pandan leaves.
Nasi lemak is served with fried anchovies, peanuts, hard-boiled eggs, sliced cucumber, and sambal, a spicy chili sauce. It is accompanied by chicken curry and beef rendang and is popular for breakfast. Nevertheless, you can also enjoy it for lunch at various stores and restaurants.
5. Cendol
Cendol is a dessert everyone likes. It is shaved ice topped with little worm-like green noodles made with rice flour and sweetened with palm sugar. Lastly, the freshly pressed coconut milk gives the ultimate boost to the flavor.
Another variation is the Ais Kacang, almost the same as cendol but added with groundnuts, sweetened cooked red beans, and cream corn.
6. Hainanese chicken rice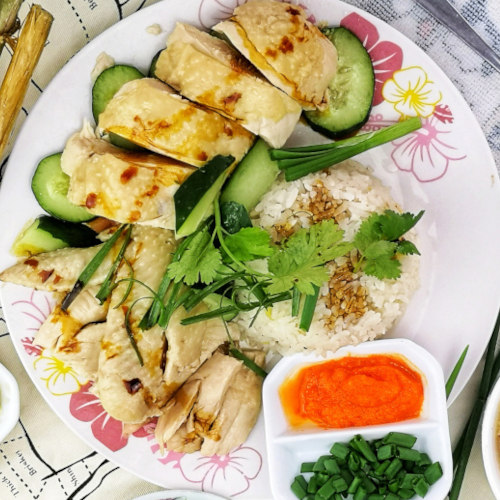 While nasi lemak is a Malay dish, Hainanese chicken rice is another famous rice dish from the Chinese community.
It may originate in Hainan, China, and was introduced to Malaysia by Chinese immigrants, but the origin needs to be clarified. The dish consists of poached chicken in water until just cooked. The chicken is then placed in cold water to stop further cooking to ensure the meat is tender. It is served with cucumber slices, chili sauce, and a soy-based dipping sauce.
Hainanese chicken rice is popular because it is relatively cheap and ideal for a quick lunch for people of all income levels. The combination of flavors in Hainanese chicken rice is unique and appealing, with the savory chicken and rice balanced by the refreshing cucumber slices and spicy chili sauce. Moreover, the water used to poach the chickens is used to make the soup, making it a complete meal.
7. Roti bakar and half-boiled egg
Roti bakar means toasted bread in Malay. The best Roti Bakar is toasted over an open charcoal fire. The extra thick sandwich loaf is used to prepare Roti Bakar, ensuring the outside is brown and crispy, with a tender texture inside. Some places serve Roti Bakar with frozen butter slices. The butter slices are sandwiched between two slices of toasted bread. Moreover, it is also often served along with kaya, the coconut jam.
This typical Malaysian breakfast is only complete with a half-boiled egg and a cup of local coffee.
A half-boiled egg is an egg that has been boiled for a shorter period than a fully hard-boiled egg so that the yolk is still runny and the white is partially cooked.
8. Claypot Chicken Rice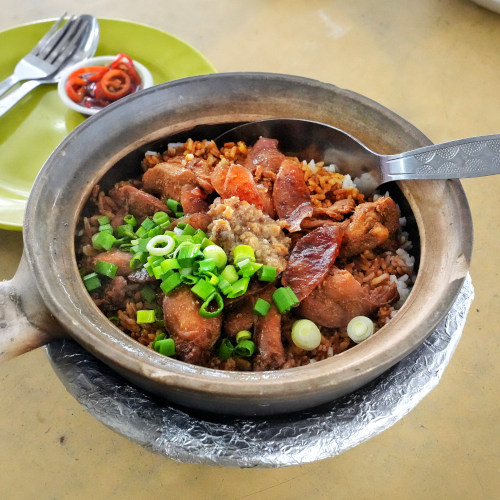 Clay pot chicken rice is cooked with the marinated chicken in a clay pot over a low flame. The chicken is usually marinated with soy sauce, oyster sauce, sesame oil, and other seasonings. The clay pot retains the heat and helps infuse the chicken's flavor into the rice.
Besides the chicken, other main ingredients are Chinese sausage and salted fish.
The best part of the dish is the crusty layer of rice at the bottom, which is crackly and aromatic. It is a treat, especially if you have never tried it before.
9. Pan mee
Pan mee is a Chinese noodle dish originating in Kuala Lumpur. It is made with handmade flat noodles and served dry or in soup. The best noodles are supposed to tear by hand into small irregular pieces, although the modernized version is made by machine.
The dish is often served with toppings such as deep-dried anchovies, fried shallots, mushrooms, sliced pork, minced meat, and sometimes with a poached egg. The broth is made from anchovies (ikan bilis), and it's usually served with bird's eye chili in soy sauce. In addition, some popular stores create their own pan mee chili paste to serve on the side.
10. Char Kway Teow
Char Kway Teow (char kuey teow) is made with flat rice noodles, shrimp, egg, and bean sprouts. It is a homegrown noodle dish required to stir-fry over high heat. Although Char Kway Teow is famous in Penang, there is no lack of excellent stores that serve it in Kuala Lumpur.
One of the key ingredients in Char Kway Teow is lard, which adds flavor to the dish.
11. Curry noodles
Curry noodles are a homegrown noodle dish from Kuala Lumpur. It is prepared with either yellow noodles or rice vermicelli in a spicy curry broth enriched with coconut milk.
The toppings usually are bean sprouts, tofu, eggs, chicken meat, cockle, pork skin, barbeque pork, and curry leaves for garnishing.
It is now increasingly popular to term it curry laksa, although it differs from the Penang laksa. The main difference is that the Penang laksa is made with a fish broth and uses daun kesum as the main ingredient.
12. Rojak (Fruit And Vegetable Salad)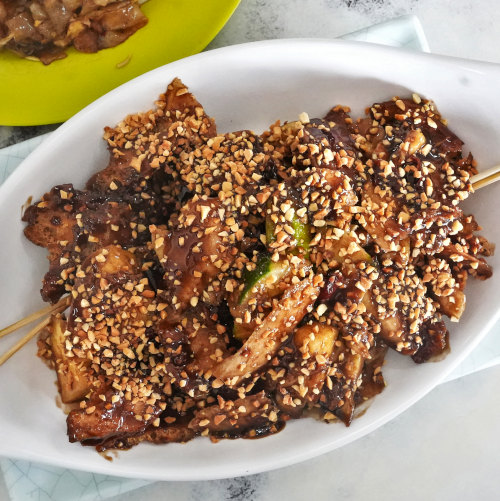 Rojak is the local fruit and vegetable salad with a thick sweet sauce. The word rojak also means 'mixed,' so you will expect a combination of pineapple, mango, jicama (yam bean), small cucumber, peanuts, and sesame seeds. The more elaborate version will include tofu, boiled eggs, and cuttlefish.
The ingredients are mixed in a large bowl, then dressed with the Rojak sauce made with belacan (shrimp paste), sweet soy sauce, and sugar.
Rojak is enjoyed as a snack. You can find it in most hawker centers, street food vendors, and the night market.
13. Bak Kut Teh
Bak kut teh is local pork rib soup simmered with a combination of Chinese herbs, resulting in a hearty and flavorful soup rich in taste and aroma. It is hugely popular among the Chinese community.
There are also pork-free versions that substitute pork with chicken, mainly served in hotels.
The best Bak Kut Teh is from Klang, a town only 30-40 minutes from Kuala Lumpur. As a result, there are excellent Bak Kut Teh stores in Kuala Lumpur.
14. Ampang Yong Tow Foo
Ampang Yong Tow Foo is made with tofu and vegetables stuffed with ground pork and fish paste.
The tofus are both deep-fried until crispy or cooked in clear broth. It is usually served with a sweet and savory sauce on top or the side.
Ampang Yong Tow Foo is named after the district of Ampang in the eastern part of Kuala Lumpur. Due to its popularity, dedicated stores sell only Yong Tow Foo, and nothing else is all over Kuala Lumpur. It is a meal by itself, and some restaurants also serve noodles and porridge as additional items.
15. Cucur Udang
Prawn fritters, known as Cucur Udang in Malaysia, are beloved snacks at night markets, Ramadhan bazaars, and hawker stores. These fritters have a crisp exterior with a soft, savory interior filled with onion, Chinese chives, carrots, bean sprouts, and prawn meat. The prawns are placed on top of the fritter mixture or sometimes even mixed into the batter. Some vendors use small prawns with the tail and shell intact and fry them until crispy, while others only use prawn meat.
It is served with chili sauce which is spicy, tangy, and sweet.
Other Kuala Lumpur street foods not on the list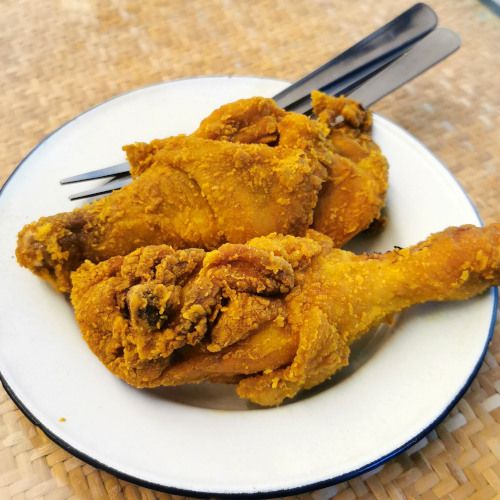 Kuala Lumpur is the best place to try all the street food in Malaysia because it is the biggest city, and all the street foods of Malaysia are available here.
Here are more options for you:
Teh tarik is a sweetened milk tea unique to Malaysia. The name "teh tarik" refers to the pouring method used to create the frothy top layer of the drink. The tea maker pours the tea back and forth between two cups several times to aerate it and create the characteristic foam on top.
Apam balik (flip-flop pancake) is a sweet snack from a batter of flour, sugar, eggs, and milk cooked on a griddle. It's an everyday street snack and can be found in most night markets.
Turmeric fried chicken is deep-fried chicken marinated with a mixture of turmeric, ginger, garlic, cumin powder, chili powder, and salt. Some cooks also like adding lemongrass, curry leaves, and tamarind paste. The dish is known for its bold and flavorful taste and distinctive golden color, which comes from the turmeric used in the marinade.
Is there any one-stop food center where I can try all the street food?
I have three suggestions if you don't have time to try street food at every nook and corner.
The first way is to head to Jalan Alor, near Bukit Bintang's area. Jalan Alor is a bustling street with rows of street food stalls. You should be able to get most of the street food I mentioned in this article.
Another place worth mentioning is the food court in the basement of Lot 10, one of the prominent shopping centers in Kuala Lumpur. The food court has some best hawker stores in Kuala Lumpur. The price may be higher than Jalan Alor because it is air-conditioned.
Find out where the night market called Pasar Malam is located. Unfortunately, the market does not open daily, so it is best to ask the locals or get help from the hotel staff. These are held in various locations around the city and offer different street food and handicrafts. It is the place to experience the city's vibrant atmosphere.