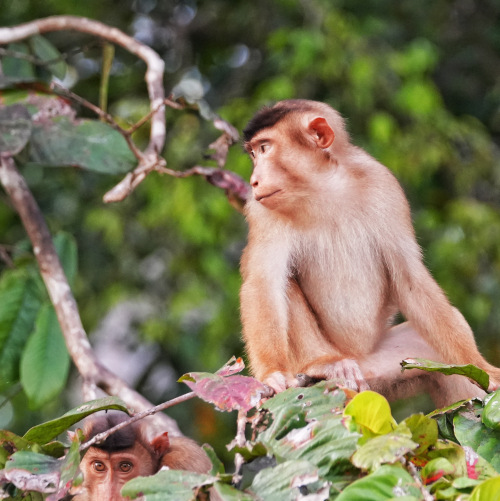 Our East Sabah trip is not complete without the Kinabatangan River trip.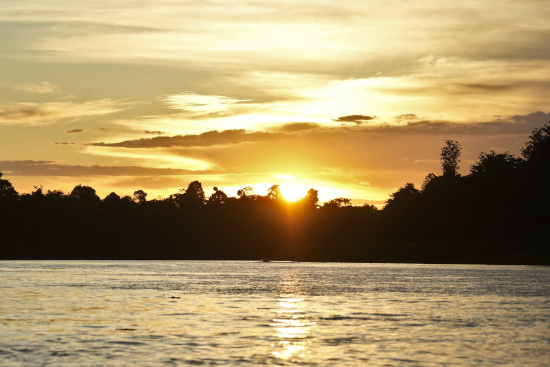 Kinabatangan is Sabah's longest river, beginning from the southwest and ending at the Sulu sea east of Sabah. Kinabatangan is 560 kilometers long, the longest in Sabah and Malaysia's second longest river.
The lower Kinabatangan wildlife reserve has the highest concentration of wildlife in Borneo. The river cruise at the Kinabatangan area is the best way to observe the animals along the riverside.
That is why we have planned to stay at Bilit Adventure Lodge for three days, exploring the Kinabatangan Wildlife Sanctuary by joining the river cruises and jungle walks.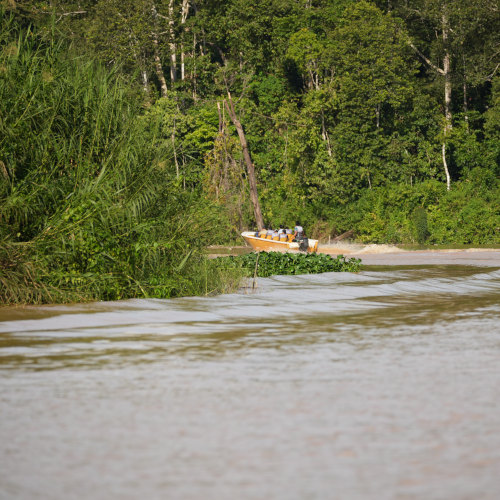 Don't miss the video shot at Kinabatangan River. It is at the end of this article. 👇👇
1. Our trip from Kuala Lumpur to Kinabatangan river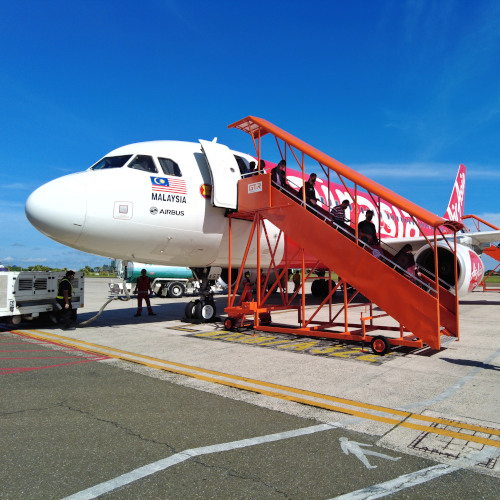 Since there is no international flight to Sandakan, you must fly to either Kota Kinabalu or Kuala Lumpur and then take the internal flight to Sandakan if you come from another country.
As Malaysians, we took the internal flight from Kuala Lumpur to Sandakan, which is the most convenient way. We spend a few days visiting the Sandakan town, the Sepilok Orangutan Rehabilitation Centre, and Labuk Bay Proboscis Monkey Sanctuary before heading to Kinabatangan River.
Bilit and Sukau are two villages located at the lower Kinabatangan river, where you can book lodges to stay during your visit. The road trip from Sandakan Airport to Bilit and Sukau Village is about two hours, depending on the traffic.
This article will share what we have seen during our trip to the Kinabatangan river. You can read our review of Bilit adventure Lodge here.
2. Where did we stay while visiting the Kinabatangan river?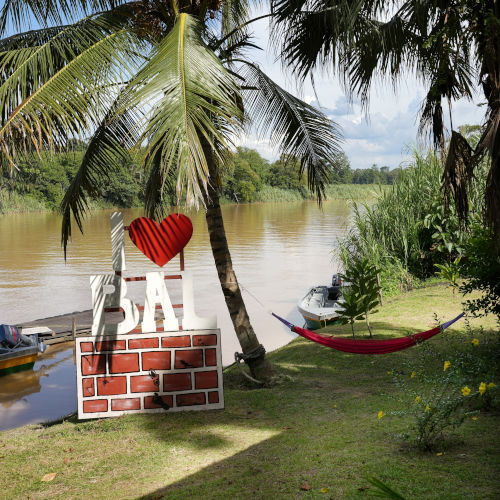 We arrived at Billit Adventure Lodge in the afternoon at about 4:00 pm and immediately prepared to join the evening cruise starting at 5:00 pm.
It is located on the Kinabatangan riverbank, making it super easy to join the river cruise in the morning and late afternoon. According to our guide, we expected to spot different wildlife in the morning and afternoon.
The lodge is quite basic but has all the basic amenities required. Our room was spotless, with an attached bathroom and air conditioning. That was the lodging we looked for as we were here for the wildlife, not aiming to stay at a luxurious resort. The cost is also quite competitive.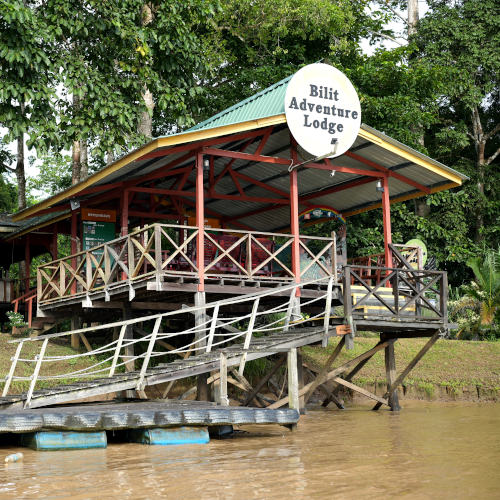 Bilit Adventure Lodge is located opposite the river near Kampung Bilit. There is no road or vehicles on this side of the river as it is a virgin jungle.
If you are looking for more luxurious accommodation, check out Sukau Rainforest Lodge at Sukau village.
3. Additional stuff we brought for the Kinabatangan trip
Here is a list of specific things we carried during our Kinabatangan river trip.
Binoculars. Since we stayed on our boat during the cruise, binoculars are essential to locate the birds, monkeys, orangutans, and pygmy elephants.
I also brought my full-frame camera and telephoto 100mm-400mm zoom lens. Full frame camera allowed me to crop in during postproduction, as some animals were just too far from me. I also had a tripod, which is handy for photographing wildlife.
As suggested by our guide, I used the insect repellent called Mosi Guard, which is effective for leeches.
Since we had jungle tracking, our headlamps were helpful during our night trekking tour.
We purchased our leech socks, but Bilit Adventure Lodge can provide them for the guest for a small fee.
I used my regular trekking shoes. My wife purchased the locally made Addidas Kampong in Sandakan, which locals widely use for trekking. It is especially useful when crossing rivers and streams, as it has good grips and is quick to dry.
Note: If you are using your iPhone, I suggest purchasing a telephoto lens dedicated to iPhones. Telephoto Moment lenses are made for iPhone. It can increase the focal length up to four times, greatly useful for wildlife photography.
4. Animals that we spotted during the Kinabatangan river safari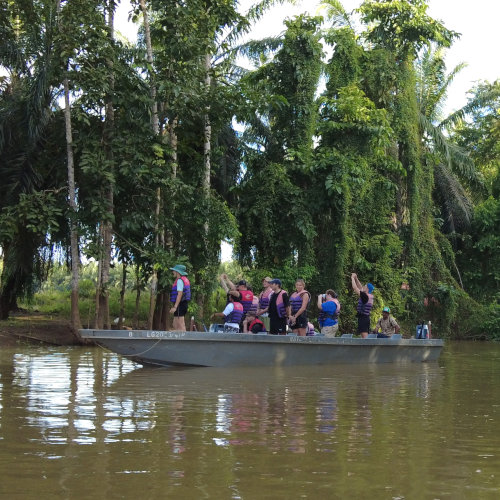 We joined the early morning river cruise and afternoon cruise because different animals will come out at other times of the day.
Although we have seen orangutans and the proboscis monkey at Sepilok, seeing them again in the wild is a different experience. The Kinabatangan river is the natural habitat for various primates, including the proboscis monkey, long and short-tailed macaques, and orangutans.
The cruise offers a relatively easy way to observe wildlife along the riverbanks. The late afternoon Kinabatangan river cruise took about two hours.
A. Borneon pygmy elephants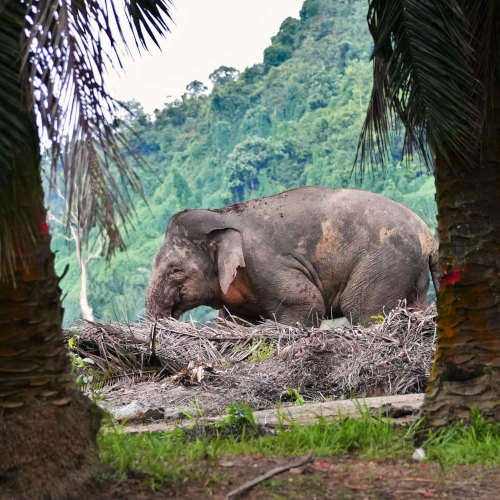 These elephants have separated from relatives like Asian elephants since 300,000 years ago. As a result, during the evolution process, they become smaller and endure significant body changes.
They have long tails, large ears, and a straight tusk. They are relatively small, about 8 to 9 feet tall, even when fully grown.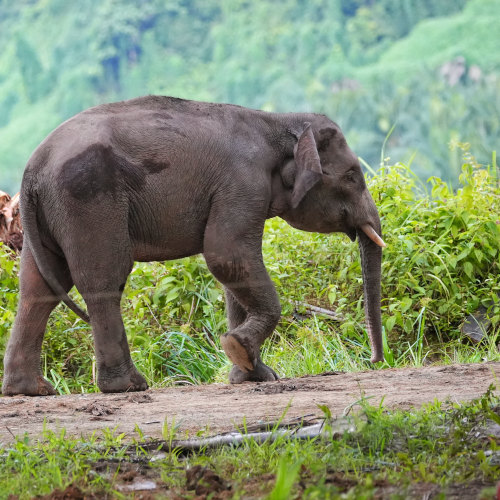 We were lucky to sight a herd of Bornean pygmy elephants at the riverbank. No one can guarantee that we could see the elephants, depending on our luck. The elephants roamed into the inner land the following day, and visitors could only see one elephant the next day!
Hunting, poaching, and reduced genetic diversity due to the small population contributed to the near extinction of Bornean pygmy elephants. As a result, they are considered endangered species. It is only estimated about 1500 remain in the wild of Borneo.
Although you can spot the pygmy elephants in Borneo at Danum Valley and Tabin Wildlife Reserve, the easiest place to spot these elephants is along the Kinabatangan riverbank.
B. Proboscis monkey
Proboscis monkeys are the largest monkey species in Asia. The male is generally about 70 centimeters tall, and his weight can go up to 20 kilos. They have a large and long noses for males. Female noses are not as large as the males but larger than most monkeys. In addition, both females have bulging stomachs that look like potbellies.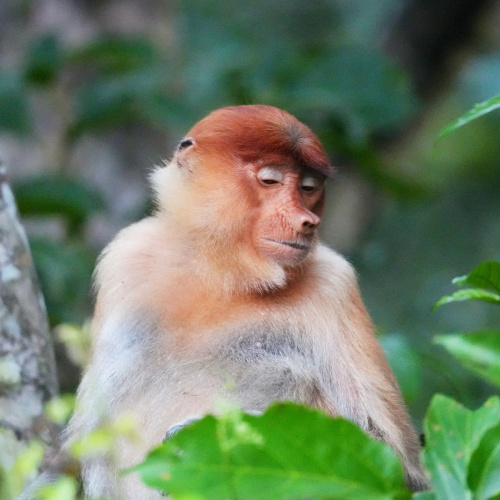 Proboscis monkeys are an endangered species in Borneo. Their predators are large lizards, crocodiles, and some large birds, like eagles.
Their natural habitats are mixed dipterocarp-kerangas, mangroves, and lowland forests near freshwater and rivers.
They were pretty naughty and jumped from one tree to another. One of the proud males nearly fell to the ground. After that, he just sat there quietly. His expression is like saying, 'Oh my God, what have I done?'
C. Orangutans
Orangutan is also an endangered species in Borneo.
The best way to get closer to orangutans is to visit them at Sepilok Orangutan Rehabilitation Centre.
Orangutan has long arms and short legs. They have reddish brown hair covering their bodies. The male can weigh up to 75 kilos while females can reach about 37 kilos. Fruit is the most crucial component of the diet.
Orangutans spend most of their time in trees. Our guide helped us to spot a few wild orangutans during our river cruise.
D. Saltwater crocodiles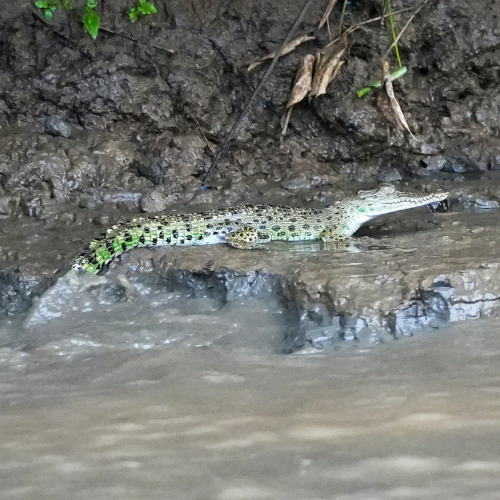 We saw a few saltwater crocodiles during our cruise, but it was pretty tricky to photograph because they were mostly beneath the water.
Saltwater crocodiles have a reputation as one of the most aggressive crocodiles when they are fully grown. So we were a little bit nervous initially, but our local guide said that as long as they were not disturbed, we were saved from observing them from afar.
E. A variety of birds
We spotted a variety of birds during our cruise.
It wasn't easy to find them initially, but our guide with trained eyes spotted them quickly. Otherwise, we could not locate them except the great egret on the riverbank.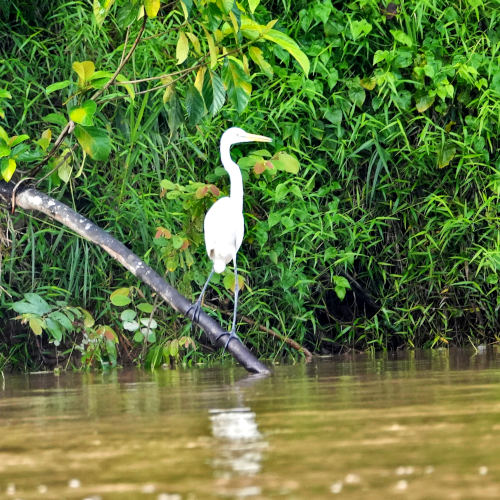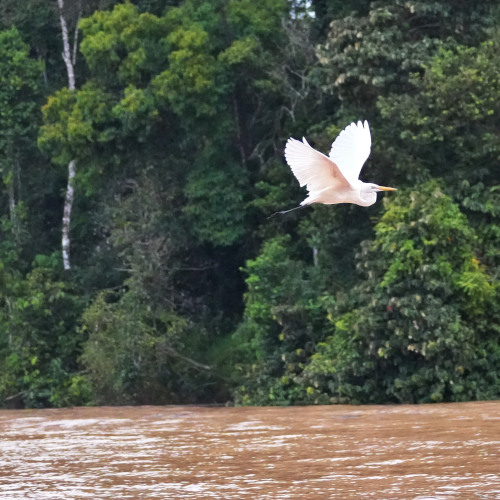 Among all the birds we spotted are storm's stork, oriental pied hornbill, rhinoceros hornbill, falconet, green imperial pigeon, and stork bill kingfisher.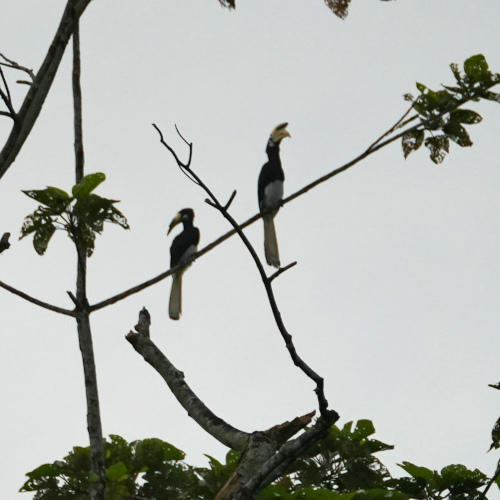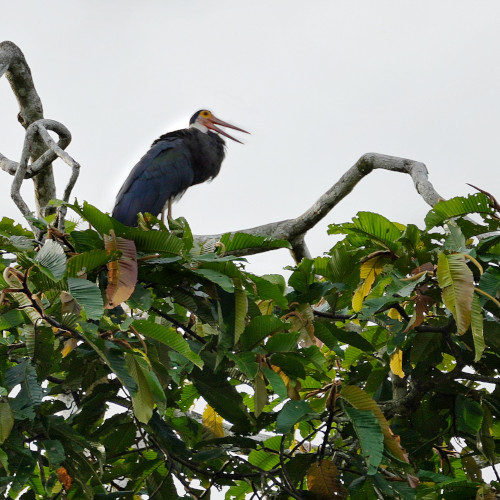 5. Guided jungle walk at the riverine forest
Besides the Kinabatangan River tour, we went for a guided jungle walk after dinner and another during the day.
a. Night walk in the jungle
Since the jungle is located in the wetland, the trail can be pretty muddy.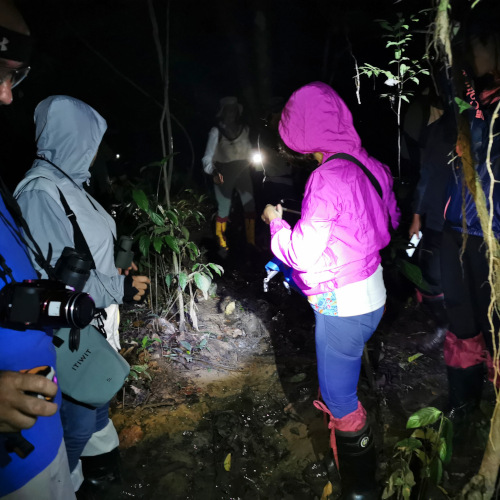 The lodge has provided boots for us as the regular trekking shoes were not suitable in the swampy area. We also wore leach socks to prevent getting bitten by the leeches.
Walking in the jungle at night was a different kind of experience because it was pitch dark.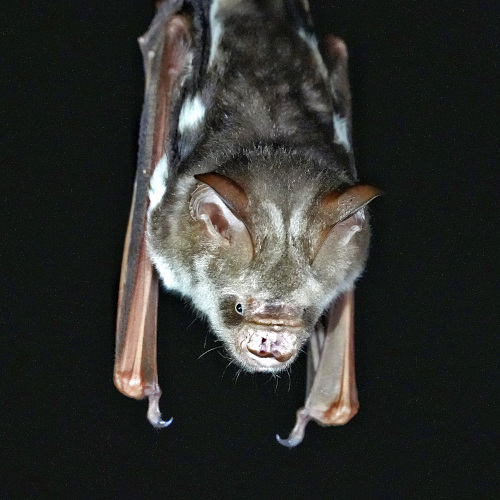 We were asked to switch off our headlamps and torch at one point for a minute to let us experience how it feels in total darkness. It was a unique experience for anyone who had never tried that before, as we saw absolutely nothing.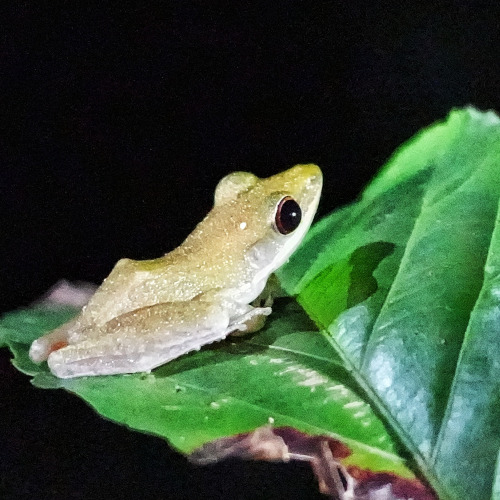 Our guide helped us spot insects, nocturnal animals, and birds while meandering through the muddy bushes. It was such a good experience that we joined the night walk again on the second night.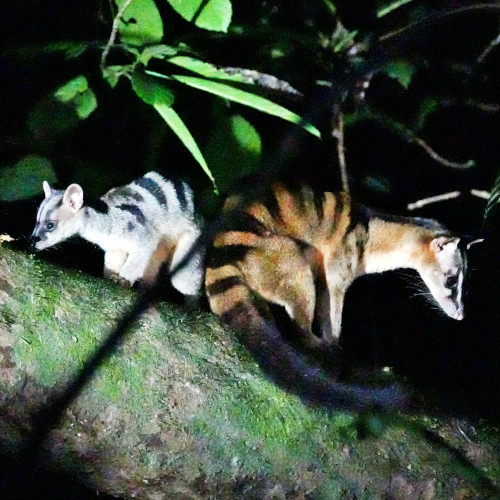 Our guide also spotted a slow loris that had not been seen for the past three years. Unfortunately, it was too dark, and we did not manage to take a good photograph.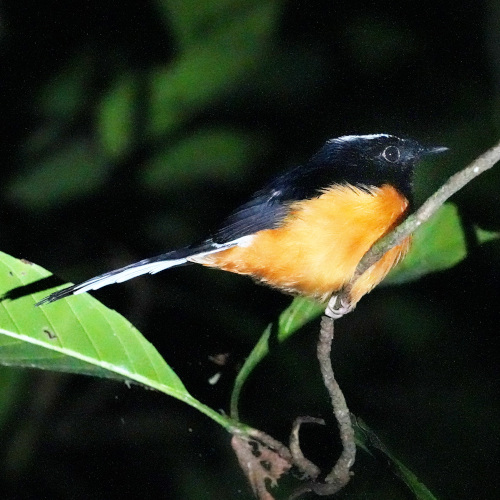 b. Trekking through a swampy area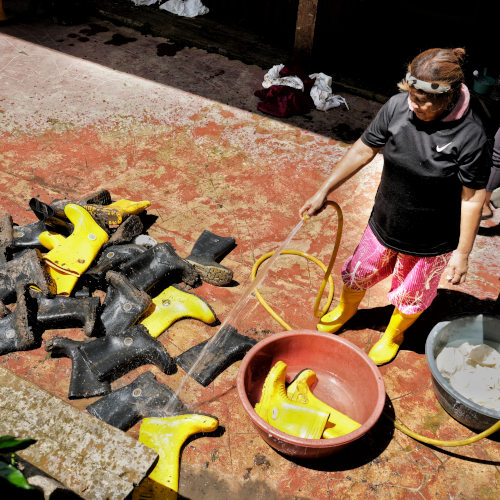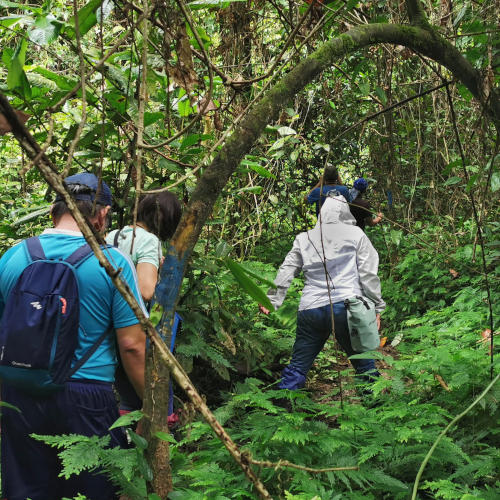 The following day, our guide brought us to a different area without any clear trail at certain parts.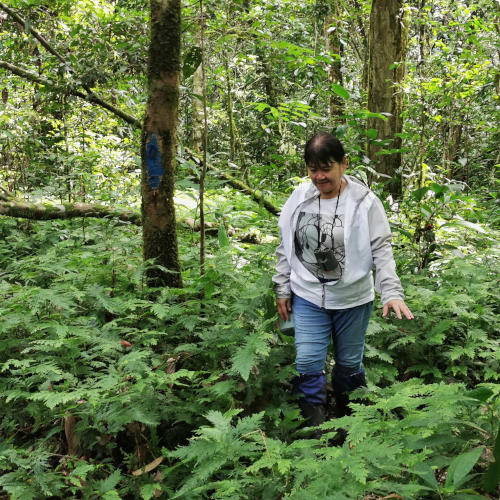 This area is swampy, and the boots given to us came in handy. Not many animal animals were found, but walking through the swampy area was quite an experience.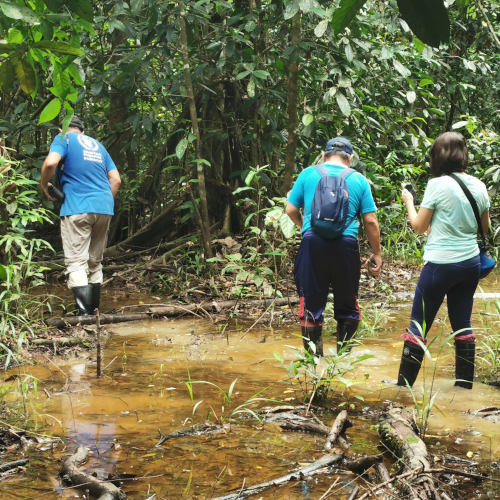 6. What's next in our itinerary?
Our stay at Kinabatangan river is a new experience. We spotted many animals, insects, and birds we had never seen before. Our next stop was Tabin Wildlife Reserve at Lahad Datu, where we enthusiastically anticipate seeing more rare species and visiting the mud volcano.
6. More information about the Kinabatangan River trip
A. What is the best time to visit the Kinabatangan river?
Anyone can visit the Kinabatangan river in Borneo any time of the year. However, it is best to visit during the dry season between March and September. April to October is the best time if you like bird watching because that's the birding season.
Avoid the monsoon season, especially between December and January, as it will rain a lot, and sometimes the river and the channels are flooded, making it inaccessible.
B. How long should you plan your trip to Kinabatangan river?
Since it takes about 3 hours to travel from Sandakan to Kinabatangan river, I suggest you stay here for at least two nights.
During your stay, you can join the morning and evening cruises, where you will spot different wildlife.
In addition, don't miss out on the jungle trail walk during the day and at night. There is a high chance you will see some rare nocturnal animals and birds that can only be able to find at night.
Watch our video shot during our stay at Kinabatangan River . 👇👇
If you have read this blog post this far, don't miss out on the video shot at Kinabatangan River. Click the image below to watch on YouTube (shot in high definition!).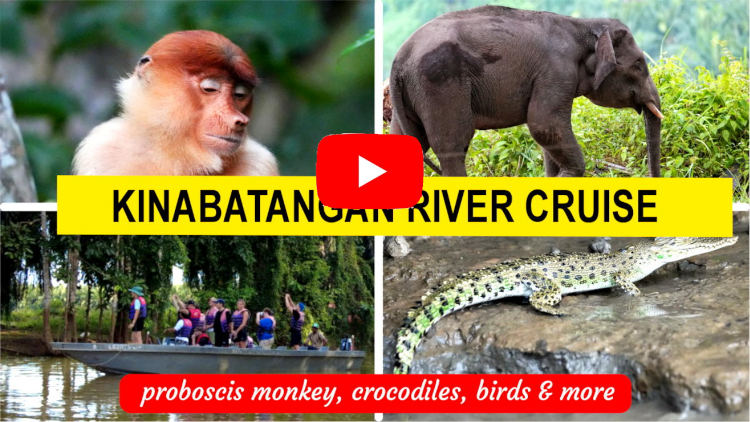 Other places we visited in Sabah, Malaysia
If you like this article, you may also want to read about other articles we wrote during our visit to Sabah, Malaysia.