We stayed at Sepilok Jungle Resort while visiting Sandakan for a reason.
It is located at Sepilok, a small town 26 km from Sandakan. It is convenient to stay here because our following itinerary will be around this area the next day.
Sepilok Jungle Resort offers a different experience, although there are four to five-star hotels in Sandakan. Rather, staying in here is like escaping into the paradise of nature.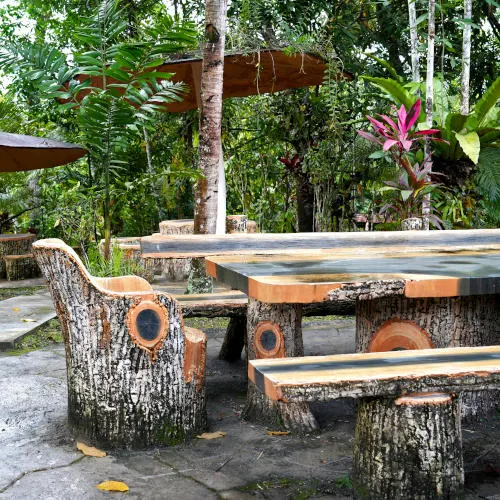 Don't miss the Sepilok Jungle Resort video shot during our trip. It is at the end of this article. 👇👇
1. Check-in
When we arrived at Sepilok Jungle Resort, we were immediately greeted with an experience that no other resort would possibly offer.
Not a welcome drink or a welcome gong ceremony, but the unexpected hospitality.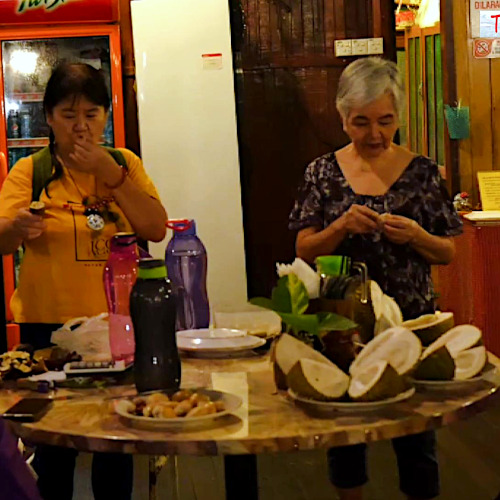 We were invited to join the owner's family for a durian treat! (The parents and siblings of our guide Johnny, who run the Sepilok Tropical Wildlife Adventure, are the resort's operator.)
His father, Datuk John, said that the durian was from the fruit tree in the resort.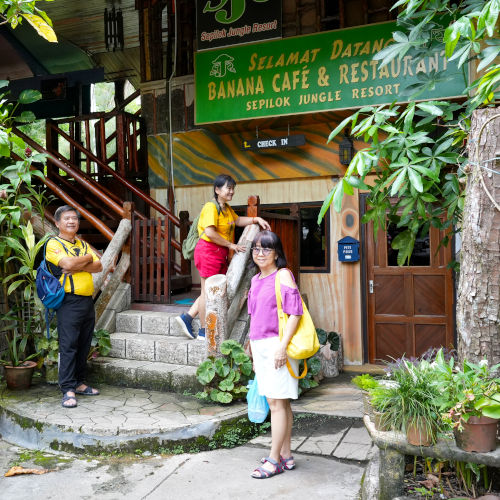 We felt it was so homely that we were not tourists and were treated as part of the family. During our conversation, he opened up a whole new interesting topic.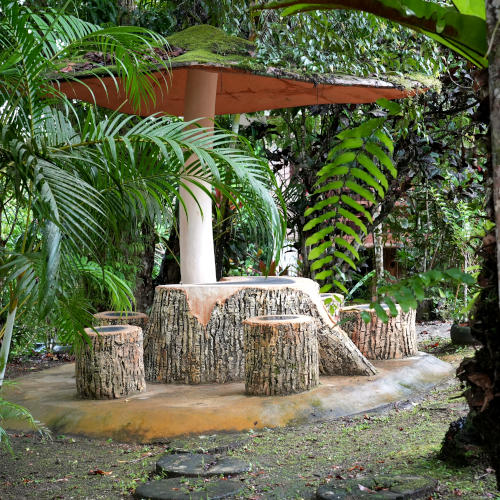 2. How was Sepilok Jungle Resort started?
It all started in the early 90s when Datuk John decided to open a wildlife lodge on this plot of land.
So they patiently planted all the trees and flowers in this large area, which are now fully grown to become a magnificent landscape garden, just like a secondary jungle.
Datuk John has so many stories to tell. He can pinpoint the name of every single tree in the resort. He even invited us to have a walk-around tour the next day.
Since the resort is adjacent to a virgin jungle, the trees and flowers attract various wildlife and birds.
You will be awakened by birds chirping in the morning and listening to the sound of cicadas in the evening. Many bird species, fruit bats, butterflies, and gibbons can also be seen.
3. Room tour
Upon checking in, we refreshed ourselves before heading back to Sandakan town for dinner at the Empire Seafood Restaurant. It only took less than thirty minutes to drive, so staying here amidst the jungle is entirely workable during the vacation in Sandakan.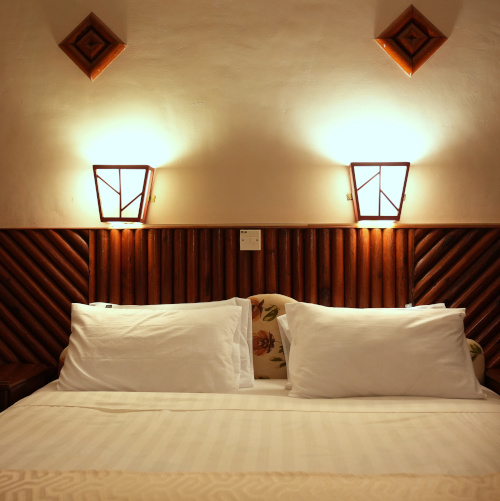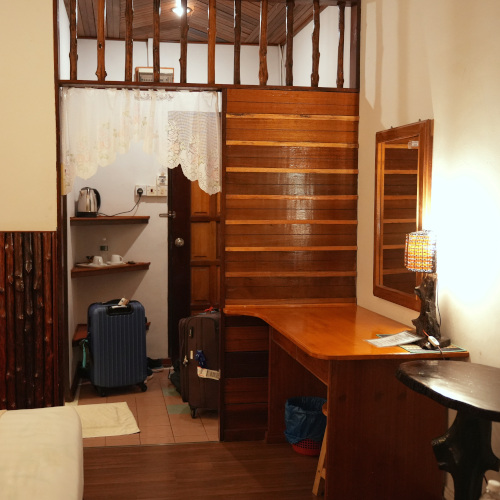 We stay in the Deluxe Room with an attached bathroom. Sepilok Jungle Resort is not a five-star resort. Still, most of the standard amenities of a hotel room, such as a private bathroom and complimentary tea and coffee, are available. In addition, our room comes with air conditioning and a balcony.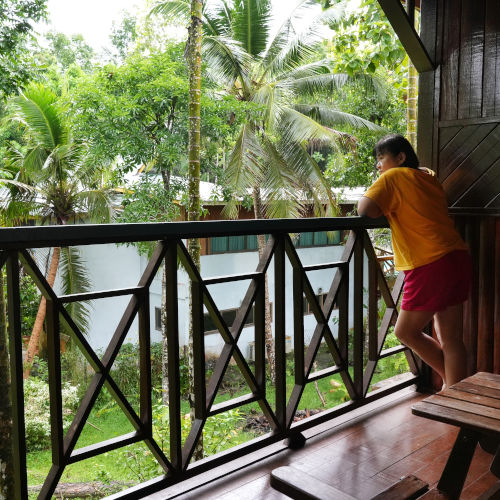 However, there is no television. According to Johnny, television is unnecessary as guests are here to enjoy the beauty of nature, looking for wildlife and listening to birds singing. I can understand that. Why do we need a television in the jungle?
However, laundry services are available, especially for those who want to stay longer, and free wi-fi for everyone. That's absolutely a welcome service.
4. The landscape garden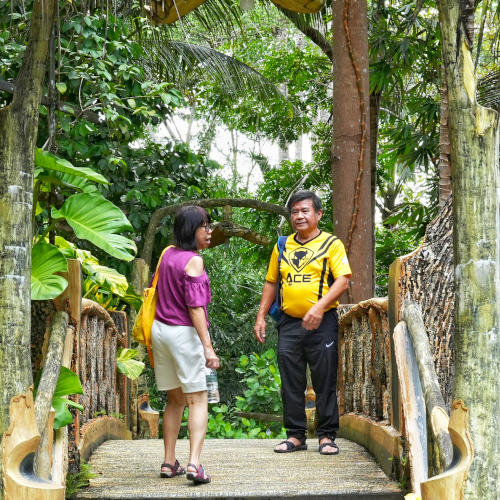 The landscape garden is breathtaking. Several bridges join the rooms, and the resort's restaurant, Banana Cafe, with certain sections crossing over a man-made lake.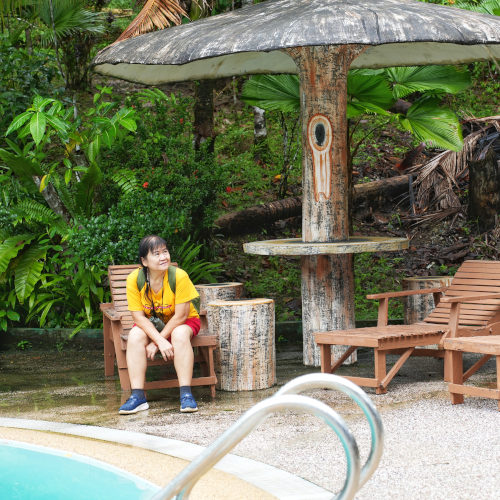 5. Outdoor pool
There is also an outdoor pool if you like to swim and relax.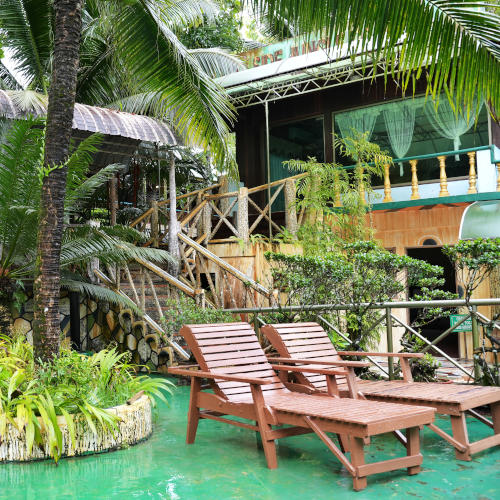 6. Food at the Banana Cafe
The food served is selective but delicious. It ranges from English breakfast to local dishes. Lunch was ala carte style, and breakfast was a buffet.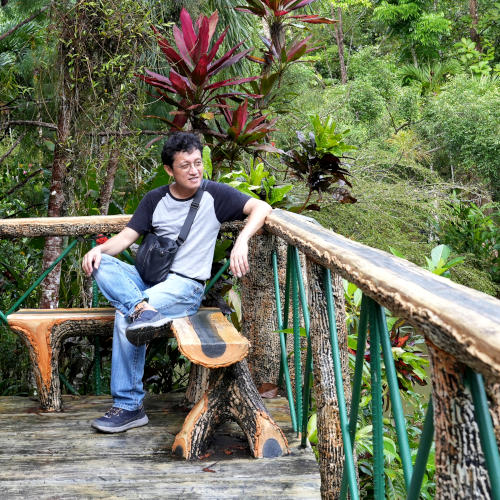 7. Strategic location
Sepilok Jungle Resort is strategically located near several must-visit places in Sandakan.
It is only a 5-minute walk to Sepilok Orang Utan Rehabilitation Centre and Borneo Sun Bear Conservation Centre and a 20-minute walk to Rainforest Discovery Centre.
We took a good rest and visited these places the next morning.
8. How to book a room
You can contact the resort by any of the following methods:
Address: Sepilok Jungle Resort Sdn Bhd, Jalan Rambutan, Sepilok Mile 14,
Sandakan, Sabah, Malaysia
Tel: +60-89-533031 / 041 / 051
Fax: +60-89-533029
Email: info@sepilokjungleresort.com
Alternatively, you can contact the sister company, Sepilok Tropical Wildlife Adventure, to book the room plus the full itinerary for your trip to Sabah.
Watch our Sepilok Jungle Resort video shot during our trip. 👇👇
If you have read this blog post this far, don't miss out on the video shot at Sepilok Jungle Resort. Click the image below to watch on YouTube (shot in high definition!).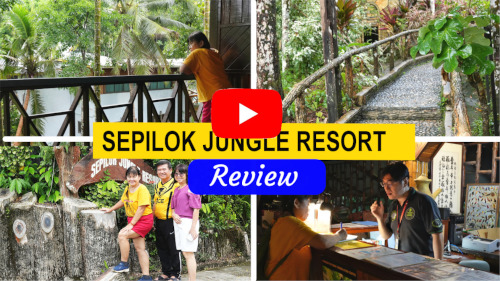 Other places we visited in Sabah, Malaysia
If you like this article, you may also want to read about other articles we wrote during our visit to Sabah, Malaysia