We finally arrived at Sandakan and started our Sandakan food tour today.
We started our journey by taking the early flight from Kuala Lumpur to Sandakan.
Our tour agent, Sepilok Tropical Wildlife Adventure, had arranged a day tour of this city, which seemed familiar to me as I only learned about it through primary school geography class.
We started our trip at Sandakan on the first day and then returned to Sandakan on the last day before we returned to Kuala Lumpur. We have tried various exceptional food in Sandakan on these two days.
In this article, I will cover all the best places to hunt for amazing food during our Sandakan food tour.
We started our trip to appreciate the good food in Sandakan and slowly moved into the jungle, looking for rare wildlife.
Sabah is rich in culture and wildlife. We hope to share our experience with you, in which you can marvel at the wonders of the nature of Borneo and learn about the culture and food in this unique part of Malaysia.
Let's begin our food tour in Sandakan.
1. Breakfast at Kedai Makan Kong Teck
Kedai Makan Kong Teck is famous for its fishball and serves the best fish noodles in Sandakan. It is so popular that it is packed during breakfast, and the business hours are only 2 pm. This coffee shop is located in a housing area slightly away from the town center.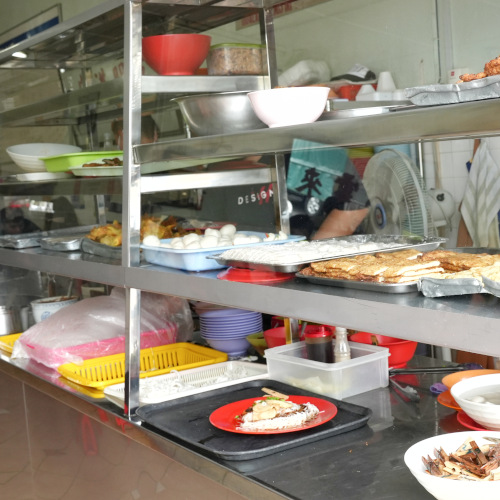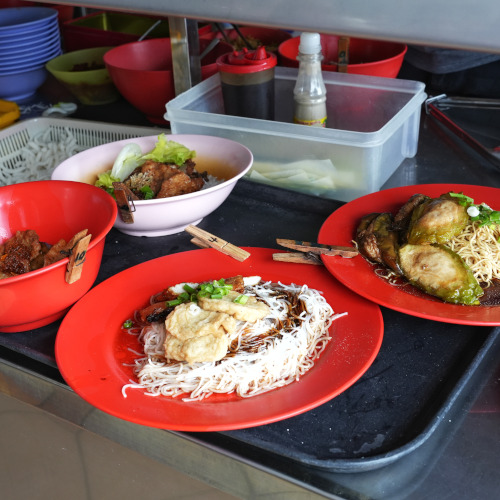 We have ordered a variety of noodles to share. The springy fish balls and fish cakes are pretty good. The dry noodles are Hakka style, served with minced pork and spring onions.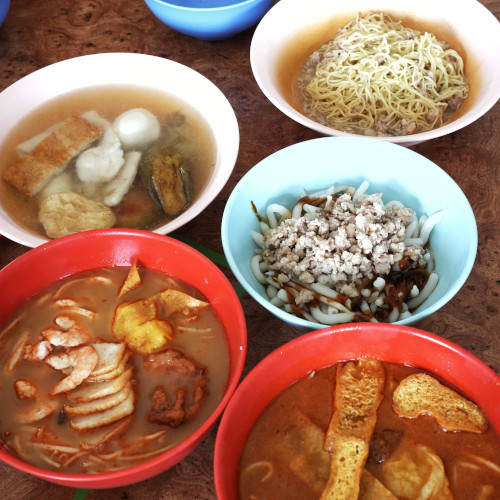 Of course, the highlight is the noodles made with fish paste.
Don't miss the food tour video shot at Sandakan. It is at the end of this article. 👇👇
2. Beef jerky at Ju Xiang 聚香 Sandakan
Not many shops in Kuala Lumpur offer beef jerky. So when we're told Ju Xiang has pork and beef jerky, we are immediately attracted to it.
We visited Ju Xiang after having breakfast at Kong Teck. The shopkeeper was friendly and offered some samples for us to try. There is a variety of jerky: regular pork, beef, and a spicy version.
We purchase some jerky for the next few days while we're in the jungle and some extra to bring back to Kuala Lumpur.
Beef jerks were made using Australian beef, and the quality is surely above average by any standard.
3. Century egg dumpling at Sim Sim Water Village, store H84
We woke up early on the last day of our trip as we wanted to savor the century dumpling at this remarkable store. We left our hotel at 6:30 am because we had to catch the flight back to Kuala Lumpur by 8:30 AM. It was a tight schedule, but we did not want to miss out on the chance to try these unique dumplings.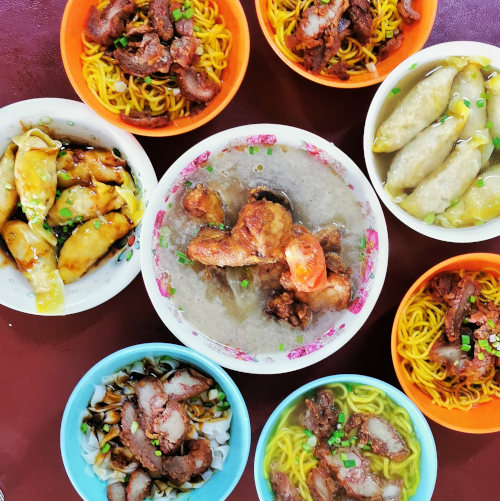 The store also serves famous Sabah noodles, called spring noodles 弹弓面, which are served with fried pork 炸肉。
The store is hidden at one of the corners of the water village. If you come on your own, you might have difficulty finding it. The easiest way to look for this store is to enter the water village from Lane Eight 深深第八桥. When you reach the end, turn right, and there is store Lot H84.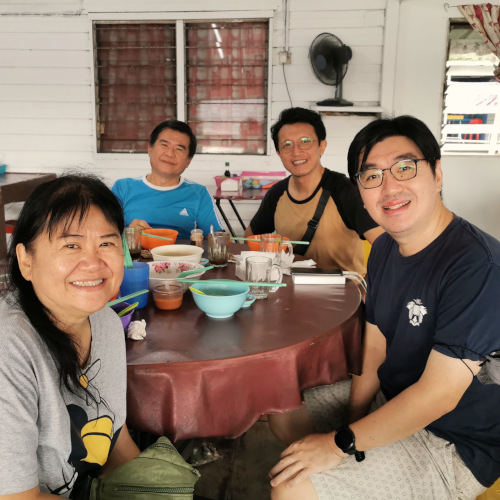 Dumplings are served with soup and also with a thick dark gravy. It is similar to the dumplings in West Malaysia called 水饺. However, the stuffing is added with century eggs beside the regular fish paste. It is a unique food item you can only find in Sandakan, particularly at the store.
It is undoubtedly a hidden gem only known by the locals. I highly recommend trying these century egg dumplings and the impressive springy noodles.
4. Fresh seafood at Sim Sim Seafood Restaurant, store H90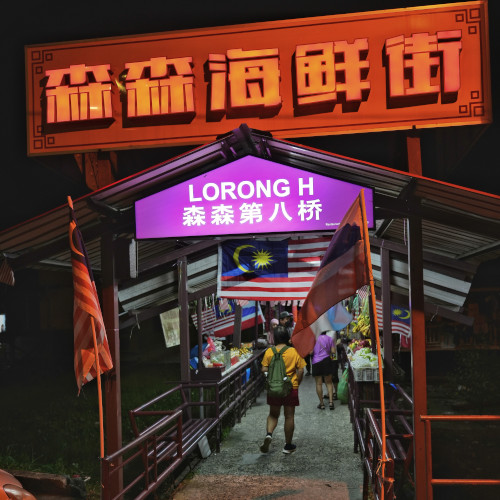 There are plenty of seafood restaurants in Sandakan, but store H90 at Sim Sim Water Village is among the best.
Sim Sim Seafood H90 restaurant is on the left after reaching the end of Lane H.
Here is a seafood paradise, with rows of seafood restaurants, but I prefer this one because the master chef of this Chinese restaurant is always the one who cooks for you.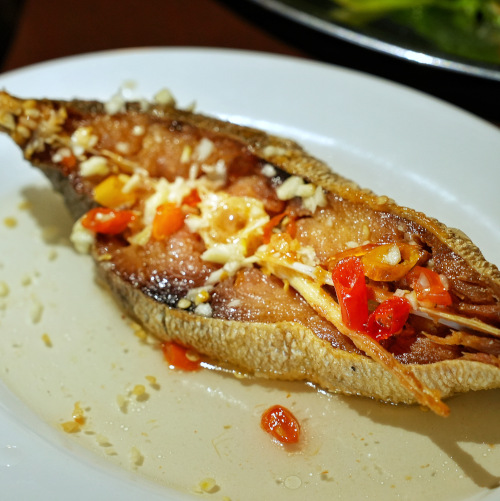 The signature dish is salted fish dressed with a special sauce that is sweet, sour, and savory. It is a humble dish that does not look appetizing. However, once you have the first bite, you will be hooked by the unquestionably complex flavor, a symphony of sweet, sour, and savory orchestrated in harmony.
It is advisable to pre-order your food because the chef Ah Kit insists on only cooking with the freshest seafood. They may need to wait for an extended period if there are many customers.
After trying the food, it is undoubtedly worth the waiting time. We had our dinner over here on the first day. Their delicious food made us return on the last day before we left Sabah.
The quality of food is well above average to excellent. The restaurant is next to the jetty with a fantastic sea view.
Overall food served was excellent by my standard as a food blogger. So do not miss out on this place if you are a seafood lover.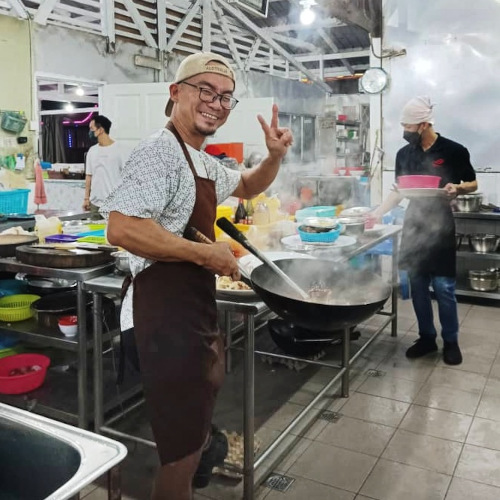 5. UFO Tarts at Kedai Roti Gold Crown 金冠面包中西饼店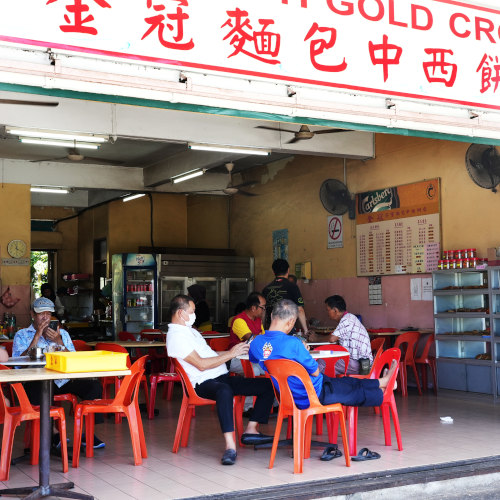 What had you in mind when someone mentioned UFO tarts?
Kedai Roti Gold Crown sells some traditional Chinese pastry that is authentic. But the unique Item is the freshly baked UFO tarts.
The name UFO comes from the unconventional design of the topping, unlike any other pastry. Instead, it has a very crispy base and some sweet meringue custard. It is also called cow dung tart, as the topping of the tart made by some other restaurants resembles a pile of cow dung. I find that the design of the tart is quite pleasing, so I'd rather call it UFO tarts.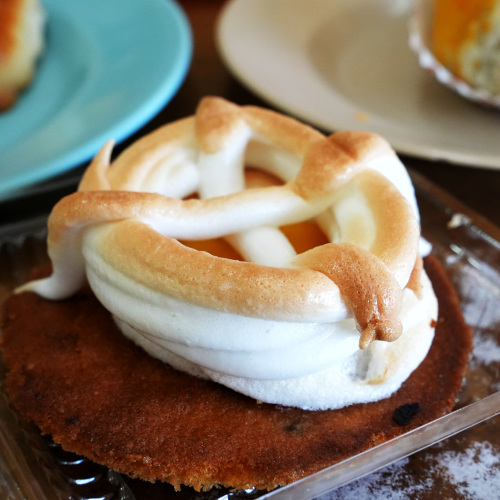 This shop also sells other pastries, such as cream puff and egg tart with giggling filling.
The staffs are very attentive and accommodating, even though we have ordered multiple times and changed our order repeatedly.
6. Coconut pudding at Kedai Makan Ngee Lee 義利酒家
Next to Kedai Roti Gold Crwon is Ngee Lee.
Hands down to the coconut pudding, a pudding drenched in coconut juice served in the coconut. This unique presentation is not seen in other places.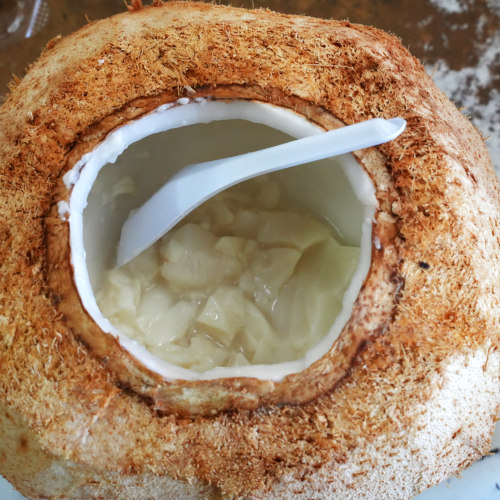 7. Seafood Bak Kut Teh at Nam Chai Restaurant 南财肉骨茶
If you visit Sandakan, don't miss out on the unique seafood Bak Kut Teh at Nam Chai Restaurant. The seafood Bak Kut Teh is perhaps Sandakan's most exceptional local cuisine.
Bak means meat in Chinese. However, they used the same herbal soup base to prepare fresh seafood such as fish, shrimp, and vegetables. As a result, every dish has its unique taste due to various ingredients.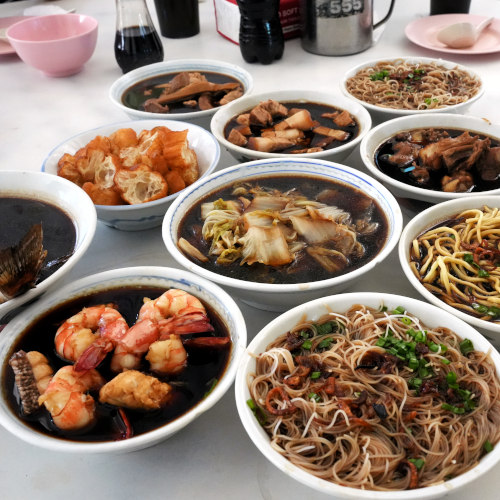 The soup base is more peppery than those serving Kuala Lumpur. The owner let us try the soup base before adding the seafood and vegetables. The flavor is already excellent even before being accentuated with the seafood. However, you can still order the regular Bai Kut Teh with pork and pork ribs if you do not like to eat seafood.
8. Avocado shaved ice at Crowd 99 Café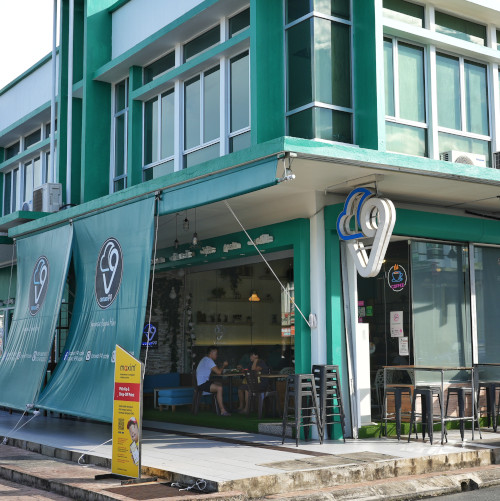 Crowd 99 is the fusion café famous for its avocado desserts in Sandakan town.
It is the perfect place to cool yourself with avocado shaved ice on a hot and sunny day. The portion is quite large, even if we order the small one. It is the perfect spot to chill, chat, and hang out.
The avocado shaved ice was creamy, smooth, and not too sweet. We had it on the first day while we arrived in Sandakan and decided to revisit this café on the day we left.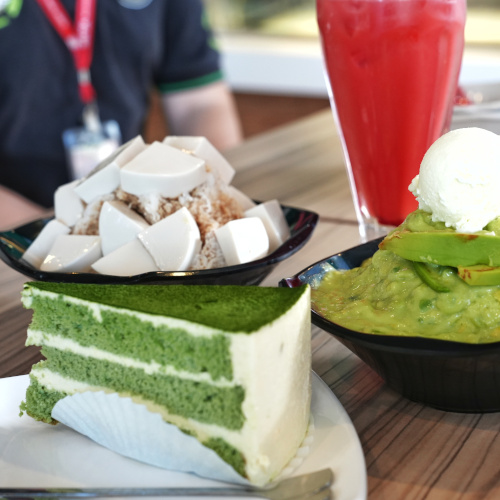 Besides that, it also serves western fusion cuisine for lunch and dinner. Crowd 99 also has a variety of cakes, including the layer cake we ordered.
9. Prawn noodles at Empire Seafood Restaurant 傅貴林門海鮮餐廳
The noodles with big succulent prawns 生虾面 are the highlight of our dinner.
Empire Seafood restaurant is just walking distance from Crowd 99 Café. The menu is somewhat similar to Sim Sim 90, emphasizing the freshness of the seafood.
10. Relaxing at English Tea House & Restaurant
English Tea House & Restaurant is for you if you want to take a break from your local food adventure.
This is an English-style tea house located next to the Agnes Keith House. The architecture is inspired by the former home of Agnes Keith, situated not far away. It offers traditional English and other Asian cuisines.
We were there while visiting Agnes Keith House but didn't have a chance to enjoy the afternoon tea time due to our schedule.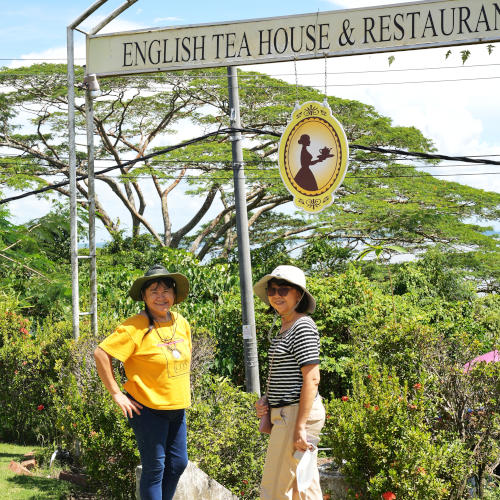 The tea house is built based on English colonial architecture with a beautiful landscape.
What is next?
Our next article is about the Heritage Trail of Sandakan, where we will visit famous places such as the Sandakan Central Market and St. Michael Church, among others. You'll be able to read that article by clicking this link once I have uploaded it.
This Sandakan food trip is made possible With the tailor-made arrangement by Sepilok Tropical Wildlife Adventure Sdn. Bhd. Special thanks to Johnny of Sepilok Tropical Adventure, who accompanied and showed us around to savor the best food of his hometown.
Watch our food tour video shot at Sandakan. 👇👇
If you have read this blog post this far, don't miss out on the food tour video shot at Sandakan. Click the image below to watch on YouTube (shot in high definition!).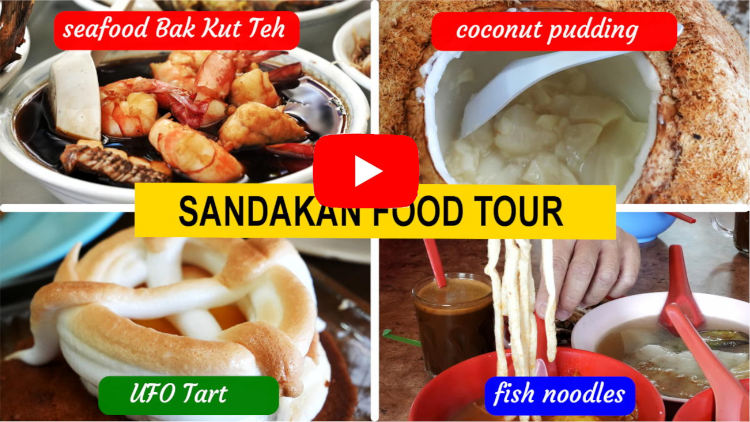 Other places we visited in Sabah, Malaysia
If you like this article, you may also want to read about other articles we wrote during our visit to Sabah, Malaysia.