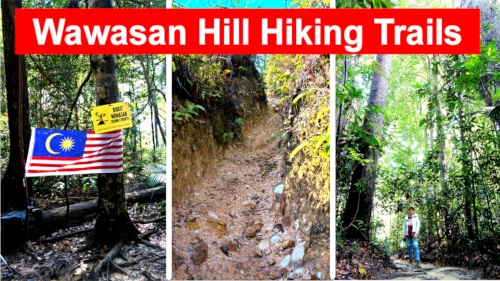 Wawasan Hill (Bukit Wawasan) hiking trail is a lesser-known tracking trail in Klang Valley but a favorite among enthusiasts. If you enjoy nature, love hiking, or want to stay physically fit, Wawasan Hill is worth checking out.
There are reasons for this. First, it is an easy hike with a moderate elevation and a relatively wide path, making it suitable for hikers of all ages with moderate fitness levels. Secondly, the hill is conveniently located near a residential area in Puchong, Kuala Lumpur, making it easily accessible for hikers.
We headed to Wawasan Hill this morning for our regular hiking routine. Although it is situated in Puchong and surrounded mostly by residential areas, as one delves deeper into the jungle, a sense of detachment from the hustle and bustle of the city prevails, offering a serene, otherworldly experience.
​1. How to go to Wawasan Hill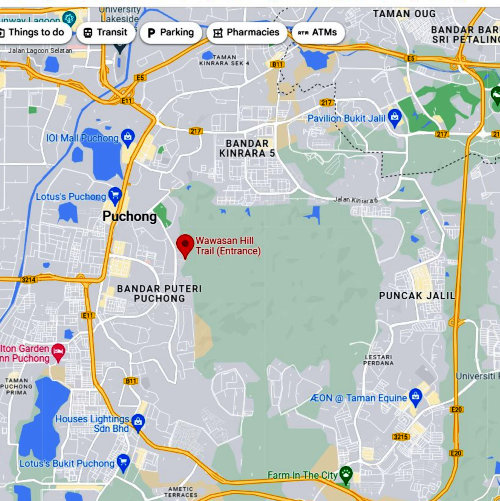 For those planning to visit Wawasan Hill, arriving in one's vehicle is advisable, as there is no direct public transportation to the trailhead. The GPS coordinates of the trailhead are 3.0248404613925644, 101.62968459645782.
The forest reserve has no restroom facilities. However, the public toilet at Taman Wawasan Recreational Park, just a quick five-minute drive from the trailhead, is available. You can find the GPS coordinates of the park at 3.0339894852121634, 101.62425966263608. Besides, you can also choose to use the restroom facilities at any nearby petrol station before entering the forest reserve.
2. Be mindful that it is a private area
Wawasan Hill is officially named Ayer Hitam Forest Reserve. Some call it Puchong Hill, located in Taman Wawasan of Puchong. This hiking trail is part of the Ayer Hitam Forest Reserve, managed by Universiti Putra Malaysia (UPM) for research purposes. The management of this forest was granted approval by the Selangor state government in 1996 and is set to last for 99 years. The forest is an academic and scientific treasure for forestry, but the Forestry Department and University Putra Malaysia are kind enough to open some trails for hikers.
The Wawasan Hill hiking trail is a 5 km loop that typically takes about 1 hour and 20 minutes to complete uninterrupted. This trail offers breathtaking views of the surrounding forest, beautiful waterfalls, and Blue Lake. However, visitors are not allowed in restricted areas, which include the waterfalls and Blue Lake (Blue Lagoon). I read some write-ups and photos about these restricted areas circulating online. Still, we strongly urge hikers to abide by the regulations and hike only on the approved trail. Furthermore, excessive intrusion into the restricted area may harm the ecosystem of the flora and fauna, which the university is researching.
3. Arrive at the entrance of Wawasan Hill
We arrived at the trailhead at 9:15 a.m. Ample parking is available at the entrance of the shop lot nearby. However, only a few stores selling drinks and snacks were opened as there are few hikers today.
The permitted trails are divided into Trail A from the starting point to the summit and Trail B from the summit back to the entrance.
​4. What do you expect at Trail A and B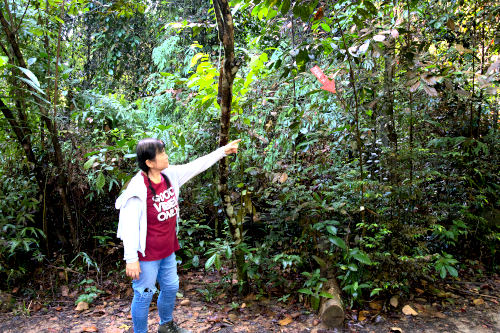 Trail A is relatively easy and has a broad path. On the other hand, Trail B is more challenging as it has more rocky and uneven paths. The trails are demarcated, and you do not need local guides to walk in Wawaan Hill. Still, Trail B has more side trails, so please follow the primary trail to avoid getting lost.
Below are some photos that I took while ascending Trail A.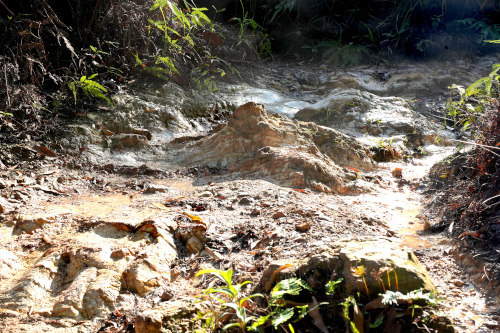 Since it did not rain last night, the trail is not muddy
As we venture deeper into the forest, we are surrounded by tall trees that reach toward the sky, their branches stretching out to form a natural canopy.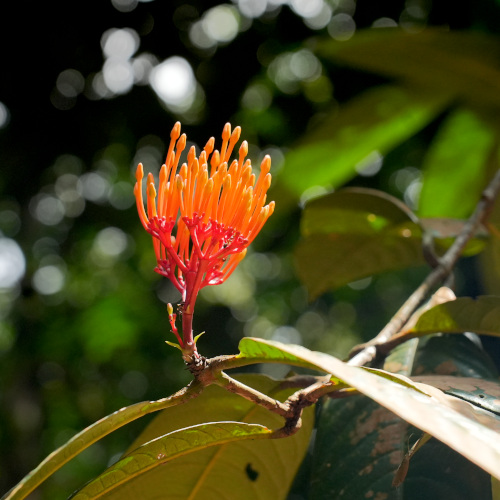 The morning sunlight filters through the mosaic of leaves, casting a gentle glow throughout the forest. We breathe in the fresh air, filled with the scent of earth, and listen to the natural symphony of various insects buzzing and chirping around us.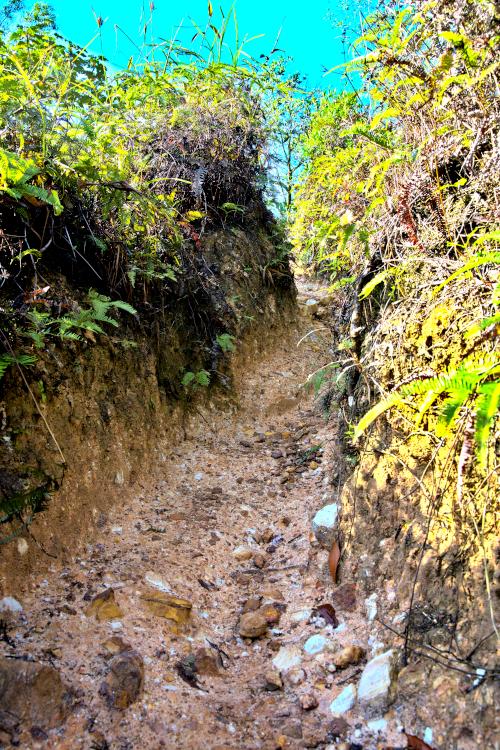 The forest floor is a tapestry of different ferns and flowers, each delicately intertwined.
I read that animals spotted on the hike include wild boars, macaques, serows, leaf monkeys, gibbons, slow lorises, and various rodents, but we didn't see any.
5. At the summit of Bukit Wawasan
The summit is a level and spacious terrain. Since the altitude only reaches 233m (765 ft), it is a simple trail suitable for novices.
While trekking, we encountered a group of youths and engaged in engaging conversation, exchanging our Malaysian travel experiences.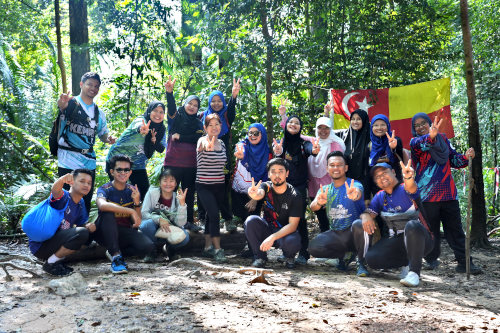 6. Returning hike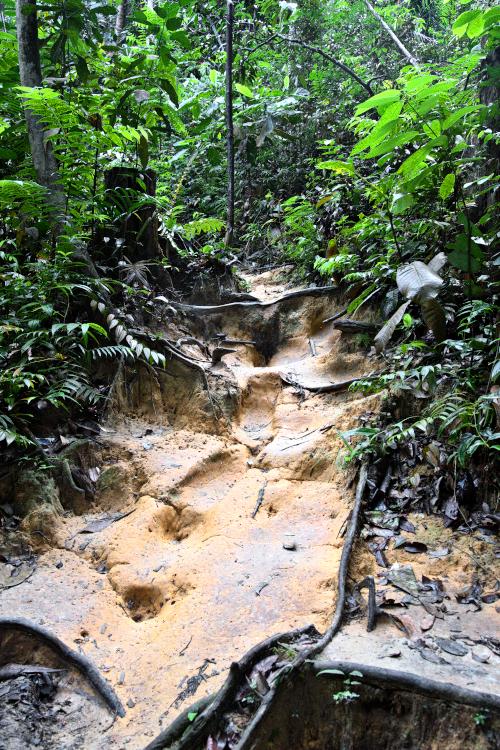 Also, here are the images from when we took Trail B while returning to the entrance.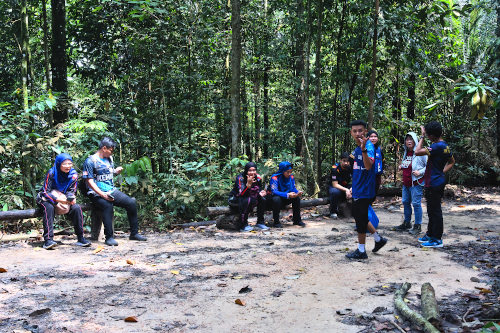 We followed Trail B on our descent, leading us to another rest area.
Eventually, we traversed a small creek with water buckets that offered hikers a place to clean themselves after hiking.
Finally, we emerged from the lush forest and arrived at the parking lot at the entrance.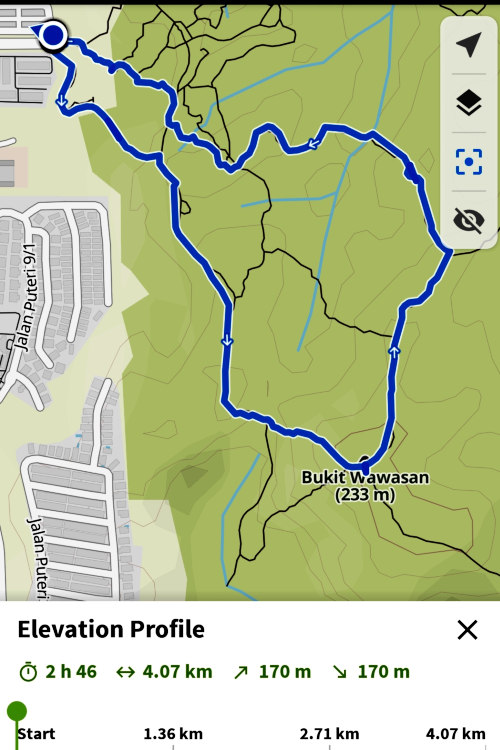 I use Komoot to record my hike to know precisely where I am throughout the journey. The Komoot app also displays all the trails clearly, which helps as Google Maps does not reveal all the trail details. Alternatively, another useful hiking app to do the same is AllTrails.
7. Other places that we hiked before
If hiking interests you, we have a few related articles that might pique your interest.
Bukit Gasing, situated between Kuala Lumpur and Petaling Jaya, is the most frequented and convenient that we hike.
Mount Kinabalu, the highest mountain in Southeast Asia (though some may argue this due to differing definitions), requires a moderate fitness level and a two-day hike to reach the summit.
Kanching Waterfalls is a breathtaking and lesser-known location near Rawang. It has seven waterfalls. While climbing to the top is possible, it is quite strenuous.