Gasing Hill is the green lung between Kuala Lumpur and Petaling Jaya. It is a secondary forest stretching more than 100 hectares. Visitors may not be aware that this lush jungle was once an abandoned rubber plantation.
It is also called hutan pendidikan Bukit Gasing or Bukit Gasing Forest Reserve.
Thanks to nature's miraculous power of nature. This area, surrounded by the concrete jungle, had been restored into the sanctuary of various flora and fauna in the past sixty years. Today Gasing Hill, as the locals called it, has become the haven of hikers and nature lovers.
Every Saturday and Sunday morning, Gasing Hill is packed with hikers, mainly the local residents strolling along the jungle tracks and city dwellers looking for a real recharge and listening to nature's rhythm after a hectic week.
1. The Entrances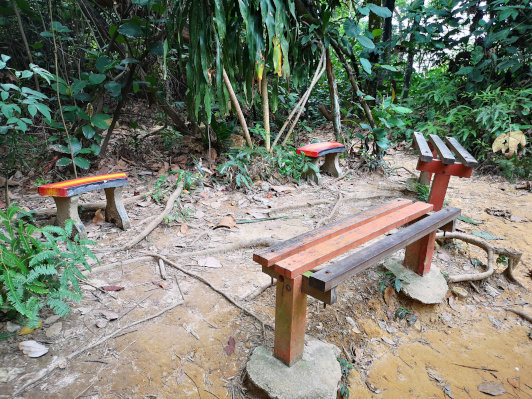 A hiking haven for everyone
Gasing Hill is an excellent place for family outings and activities while simultaneously appreciating nature's beauty and spiritually listening to the earth's melody. Visitors are from all walks of life, colors, young and old, even mother cradling babies and seniors walking with their dogs.
You will feel it is more of nature's park than a forest because of the number of visitors and the amenities. (Benches for you at specific points).
Gasing Hill has multiple entrances. The main entrance is located off Jalan Gasing of Petaling Jaya, with a simple archway. The other two are at the Kuala Lumpur side of the hill, referred to as the back entrance. There are a few smaller trails that lead to some tar roads.
a. The Main Bukit Gasing Entrance- The Archway (GPS: 3.095368, 101.656155)
There is insufficient parking space at the entrance. You may park along the roadside. However, there is a small parking area about a hundred meters from the entrance.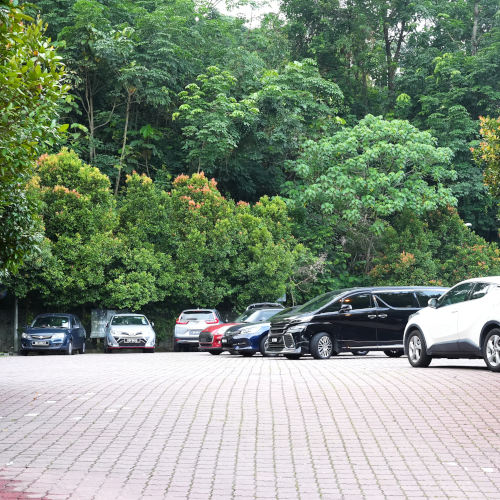 There is a toilet at the free car park. It also has the facility to clean your shoes after hiking.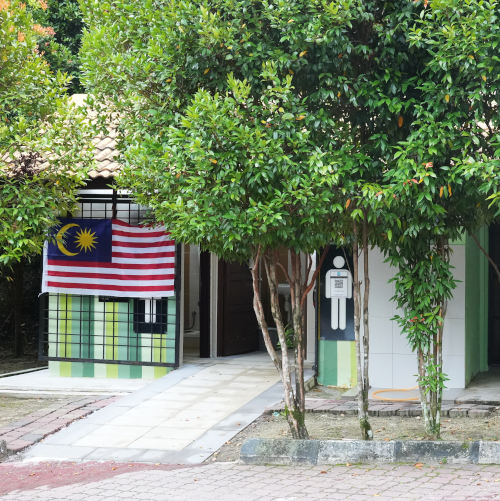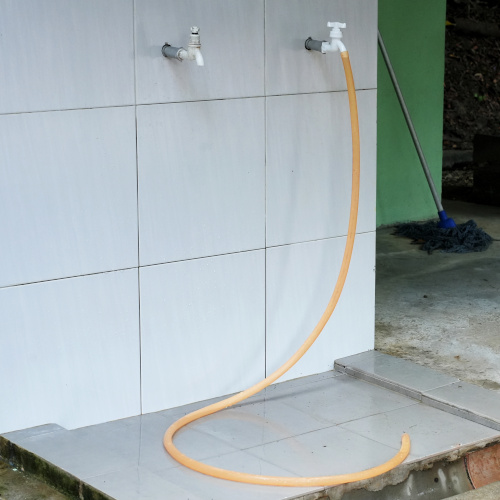 b. Pantai Hill Park entrance (GPS: 3.103800, 101.661053)
The second entrance is from Pantai Hill, Petaling Jaya. The trail starts at the opposite side of the road right in front of Saville @ The Park, Bangsar. There are plenty of parking lots along the way leading to the trail.
c. Entrance from Taman Rimba Bukit Kerinchi (GPS: 3.096630, 101.662852)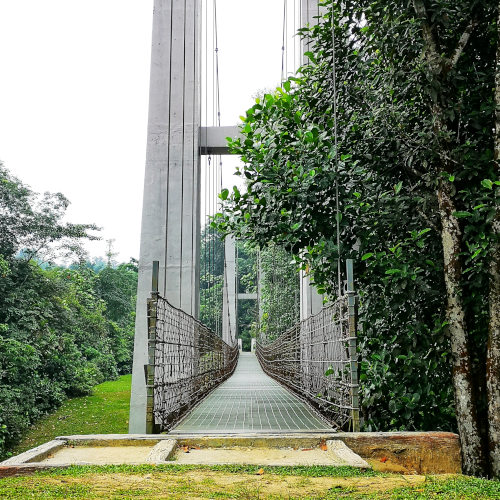 This entrance is less popular, but it is easier to get into a parking lot. It is also where the Steel Bridge is located. Right after crossing the steel bridge is a garden before entering the woods.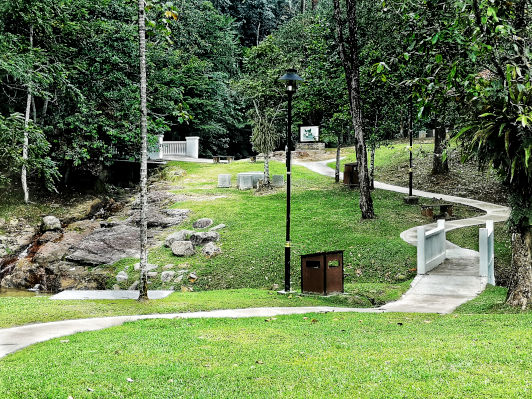 There is a beautiful garden at the entrance to Gasing Hill from Taman Rimba Bukit Kerinchi.
d. Entranace from the Indian Temple (GPS: 3.0920672844443646, 101.65868695996757)
Another entrance is behind the Maha Sivan Alayam Temple.
You need to go to the back of the TM Bukit Gasing, just next to the temple to get into Gasing Hill. However, I was told that someone will build a house at the entrance in the near future, which may make it inaccesible).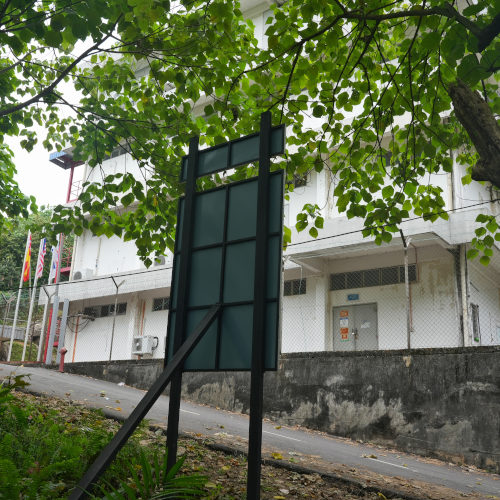 e. Entrance from the suspension bridge (GPS: 3.1042591895141887, 101.65795988978425)
The final major entrance is just next to the suspension bridge. However, you cannot park your car here as it is a residentail area., but you can hike in and out freely.
2. The trails and places of interest inside Bukit Gasing
There are many trails at Gasing Hills, but you won't find any real peaks on the hill.
Soon after you cross the main entrance archway, the pavement will eventually turn into nature's pathway. Here you will be greeted by different trails. These trials will join at specific points in front as they are relatively close.
Some of the sections of the trails have steps, but you still require a certain level of fitness to climb.
Take the 15-minute pavement walk into the woods, which eventually emerge from the garden's other side.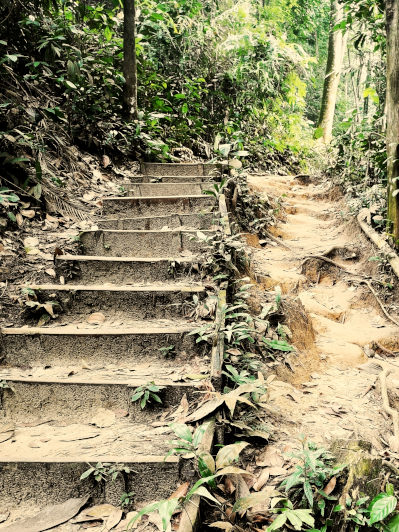 a. The suspension bridge
The trail is ideal for hiking. If you start your hike from the Main Entrance, you will pass by the trail with the Labah-Labah signboard and up the famous "cardiac hill" full of steps and steep climbs. It is also called the stairway to heaven, which requires a certain level of energy.
Enjoy the scenery at a slow pace, which will take you to the suspension bridge.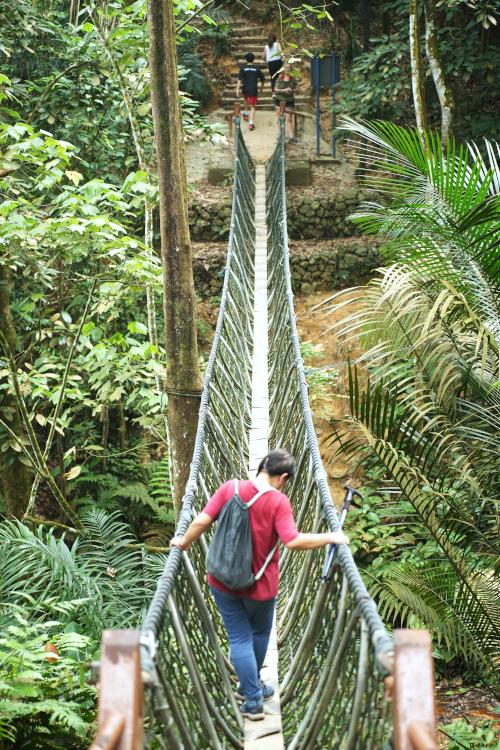 b. The peak of the hill
The highest point is only 160m above sea level, which is relatively low by any standard. This place is a vantage point of Gasing Hills, which was once a watchtower. It is now a favorite pit stop for hikers.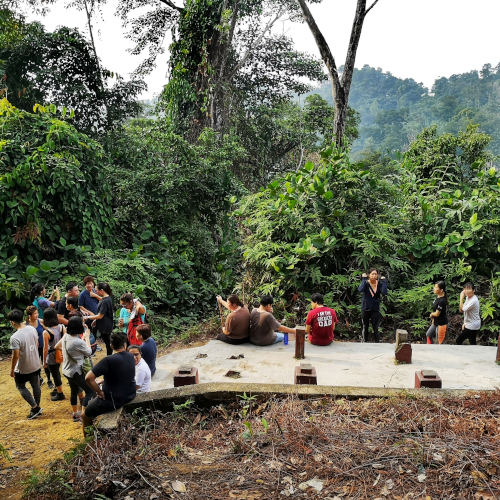 c. The abandoned house
There is an abandoned house (somewhat creepy) midway. Take the fork that will lead you to the trails deep into Bukit Gasing.
d. The boarder of Kuala Lumpur and Petaling Jaya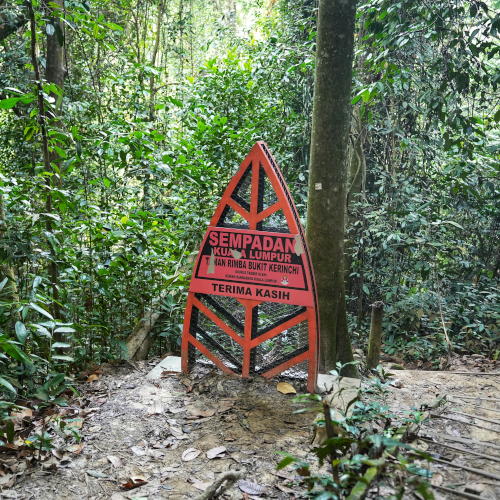 3. Others
a. Signboards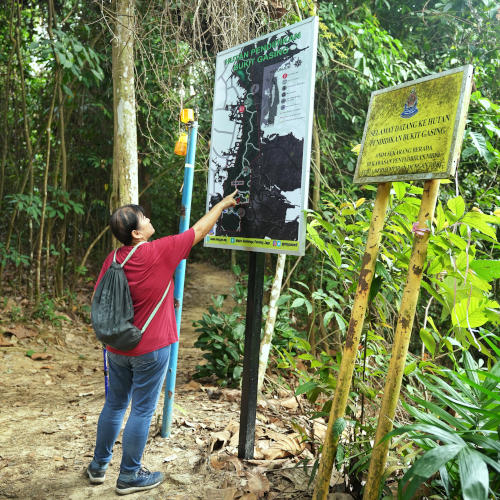 There are many trails in Bukit Gasing, irrespective of your fitness level. There are undoubtedly insufficient signboards and maps at Gasing Hill. So far, I have only found two maps and a few signboards along the trail. Fortunately, this is not a big jungle, and many trails will eventually join at a certain point. Here are a few favorites spots for hikers.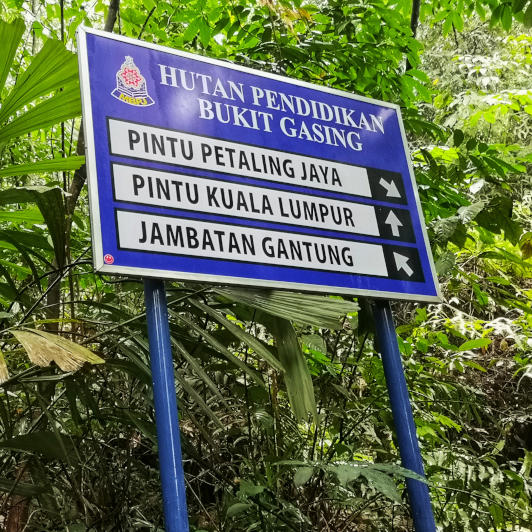 One of the few signs showing the distance to the entrance, yet it is unofficial.
b. Internet access
There is Internet access at most of the spots inside the hill. My Google Map worked even when I walked through the trail with the least hikers towards the Hindu temple.
c. Trail map
You can get a detailed trail map of Bukit Gasing by using popular apps such as Komoot and AllTrails. The internet signal is pretty reliable in most parts of the park, so you get the trail map with any mobile device.
3. Facilities
a. Benches and stools
There are plenty of benches along the trails where you can rest. I mentioned that it feels like a nature park more than a jungle.
b. Shelter
It is best to plan your trip here during the dry season, but tropical rain can be unpredictable.
A sudden downpour is causing us to scramble for shelter. This shelter is one of the few at Gasing Hill, about 250 meters from the entrance.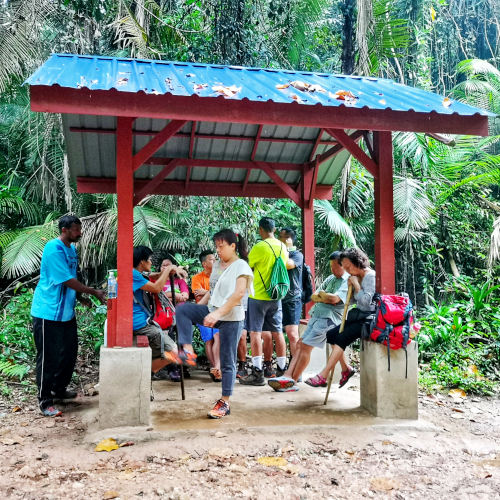 4. Interactions
Walking along these stupendous trails, you will bump into people who like nature. Most of the conversations I overheard were about nature, travel, health, and occasionally business-related.
People are courteous. So we're exchanging numerous 'Good Morning,' 'thank you,' and 'welcome' greetings when we face head-on at the narrow trails.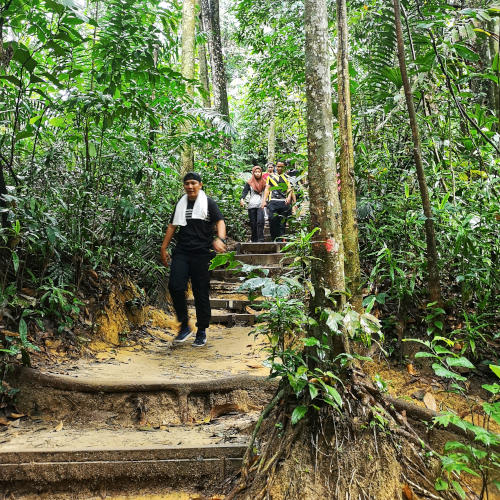 5. Other places to visit
If you love nature, parks, and gardens, you will likely enjoy visiting another park in the city of Kuala Lumpur. You can read more about Lake Garden here.
6. What to bring
There aren't many facilities at Gasing Hill. Bring along some drinking water and wear a pair of comfortable walking shoes.
There is no toilet in Gasing Hill. Make sure you use the lavatory somewhere else before entering their Hill. The nearest is at a car park about one hundred meters towards the left of the entrance, if you're facing outside the hill.
There are many mosquitoes, so remember to bring along the insect repellant. I do not encounter any leeches here.
7. How to Get to Bukit Gasing Forest Park?
Address: Bukit Gasing, 46000 Petaling Jaya, Selangor, Malaysia.
Geographic coordinates: Main entrance: 3.095138, 101.656131.
Opening hours: Always open.
Go by taxi: the Best way is to take a taxi as there is no bus and MRT to Bukit Gasing
Best time to visit: Arrive before 10 AM to avoid crowds.
Dress code: No specific dress code
Entrance fee: Free
Website: www.bukitgasing.org/bukitgasingforestpark.htm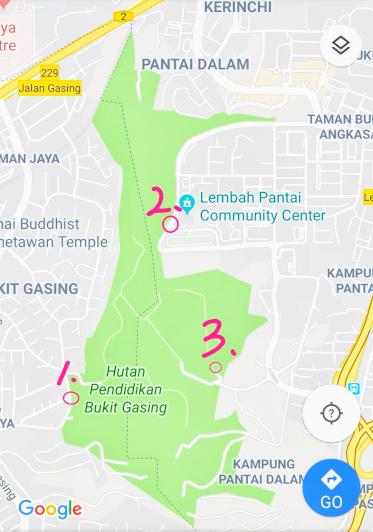 Other images of Bukit Gasing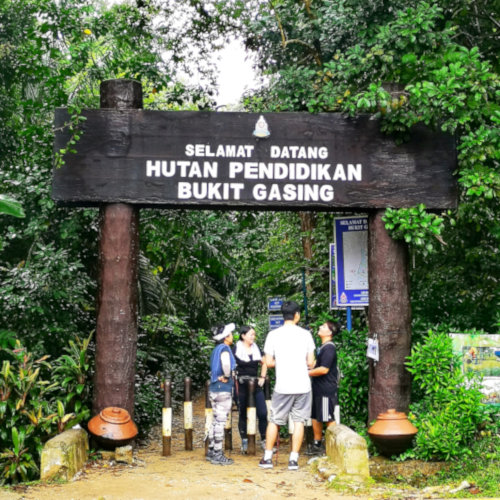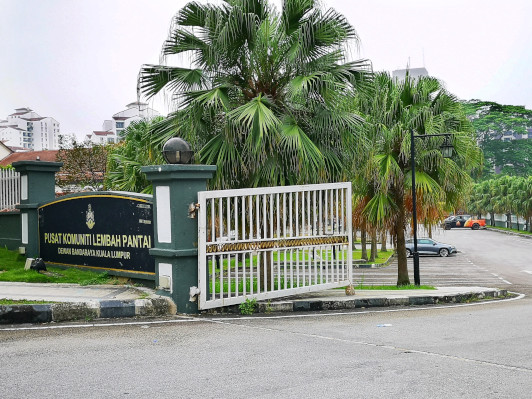 .