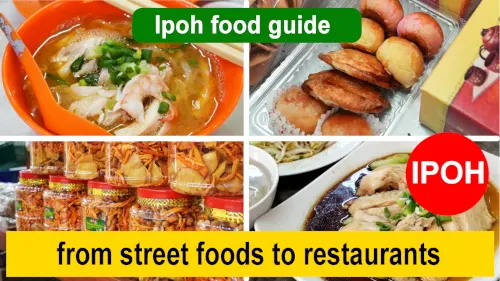 Ipoh, the capital of Perak, is famous for its delectable culinary offerings. The food served and sold here is not just high quality but also the sheer variety of unique street food and snacks. You will miss out if you do not try the famous food in Ipoh.
The famous food in Ipoh has its distinct style, even for some most common dishes. For instance, simple curry noodles have a signature taste and ingredients easily recognizable as authentic Ipoh cuisine. Tourists flock to marvel at the stunning limestone caves that dot the landscape and relish the specialty food that originated here.
In this article, I will take you on a gastronomical journey and share some of the best Ipoh dishes you must try when visiting. Drawing on my experience growing up in Ipoh and the recommendations of my cousin, a born-and-bred local, these dishes are sure to tantalize your taste buds and leave you craving for more.
As someone who has spent two decades in the food and beverage industry and regularly shares recipes on my blog, Taste of Asian Food, I can attest that it is extremely hard for any restaurant to ensure every item on the menu is served perfectly. Instead of simply singling out specific establishments that offer the most exceptional food in the city, I'd like to suggest a few unique dishes worth trying. Ultimately, the decision of where to eat is yours.
Therefore, I have drawn out a list of the famous food in Ipoh that will pique your interest. These dishes are unlike anything you've tried before and are reason enough to go to Ipoh to indulge in them.
A. Unique food in Ipoh
1. Wuyi tea egg 武夷蛋茶
Tea eggs are a beloved dessert served in Ipoh's Kopitiam. However, the type of tea leaves used to make the tea is often unspecified.
In contrast, the Kong Heng Restaurant distinguishes itself by advertising that it uses Wuyi tea, an oolong tea from China's Fujian province. This tea has a gentle herbal taste and subtle sweetness that pairs perfectly with the egg. Since the tea is served with a hard-boiled egg, it is often considered a nourishing snack.
I suggest heading to Kong Heng to taste the authentic tea egg in Ipoh.
Suggested restaurants
Restoran Kong Heng: Address: 75, Jalan Bandar Timah, 30000 Ipoh, Perak, Malaysia.
2. Pork satay
Chicken and beef are the most common types of meat for satay in Malaysia due to the non-halal nature of pork. As a result, pork satay is rarely found in most establishments. However, the satay store in the Kong Heng restaurant has offered pork satay for several decades.
In addition to the pork, they grill satay from offal such as liver and intestines. If you're a non-Muslim searching for a unique and different type of satay, visiting Kong Heng in Ipoh is a must-do to indulge in this special and unique satay.
Suggested restaurants
Restoran Kong Heng: Address: 75, Jalan Bandar Timah, 30000 Ipoh, Perak, Malaysia.
3. Popiah
Popiah is a delectable Asian-style burrito that closely resembles a large spring roll but with a unique blend of ingredients. Although it did not originate in Ipoh, this dish has become incredibly popular among the locals, with numerous coffee shops serving high-quality popiah.
The filling of popiah consists of shredded yam beans, dried shrimp, fried shallots, carrots, and fried tofu. To enhance its taste and texture, you may also find break-up omelet pieces, Chinese sausage, and crushed peanuts in some popiah.
At Kong Heng restaurant, you can relish regular and fried popiah, cut into four or five sections and served with sweet and spicy chili sauce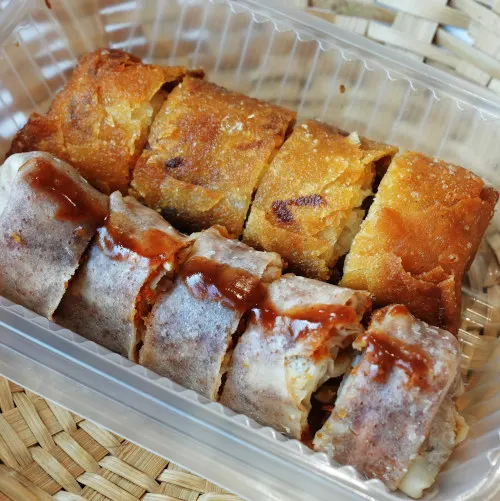 Suggested restaurant:
Restoran Kong Heng: Address: 75, Jalan Bandar Timah, 30000 Ipoh, Perak, Malaysia.
4. Egg custard
Caramel egg custard is a highly popular dessert in coffee shops throughout Ipoh. This famous food in Ipoh is only made with simple ingredients like eggs, milk, sugar, and vanilla. However, what sets it apart is the chef's exceptional preparation technique.
The texture of the custard is incredibly smooth and silky, melting nearly instantly in the mouth, while the distinct flavor of the eggs is much stronger than most egg custards. It has just the right amount of sweetness, making it a perfect ending to any meal.
Suggested restaurant:
Yee Fatt Curry Mee: Address: 39, Jalan Kampar, 31650 Ipoh, Perak, Malaysia. Phone: +60 5-242 1043.
5. Kai see hor fun
Kai See Hor Fun, which means shredded chicken soup noodles, is an absolute must-try noodles dish in Ipoh since it originated here. The unique broth is made from shrimp shells, heads, and chicken bones. The result is a deliciously flavorful broth that is distinct from any other.
To prepare the broth, the shrimp shells are first fried with oil before being simmered, forming the signature red oil that floats on top of the noodles when served.
The chicken meat is shredded into small pieces and combined with the cooked shrimp to serve with the flat rice noodles. These noodles are considered the best quality in Ipoh, owing to the region's high-quality spring water.
I have the recipe for this noodle on my food blog, Taste of Asian Food. However, nothing is comparable to the experience of savoring it in the old coffee shops in Ipoh, where the rich history and culture of the region come to life in every bite.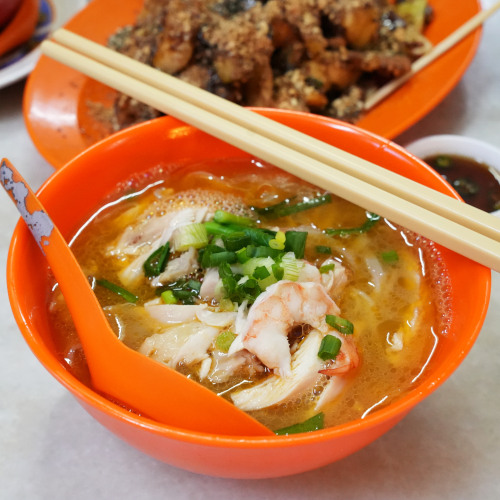 Suggested restaurant:
Restoran Kong Heng: Address: 75, Jalan Bandar Timah, 30000 Ipoh, Perak, Malaysia.
6. Beef noodles
Beef noodles are the signature dishes of Ipoh.
There are many variations of beef noodles in Ipoh. Some places serve dry beef noodles tossed in a savory sauce, while others serve soup-based beef noodles that are rich and hearty.
We went to try the famous Cheong Kee Beef Noodles opposite the old Odeon Theatre. It has been there for many years and is still managed by an old uncle with the same recipe he has used to serve the customers. However, there was a sign that he was taking a break and that the store was not open.
So we decided to try another restaurant called Kedai Makanan dan Minuman Desa Rishah.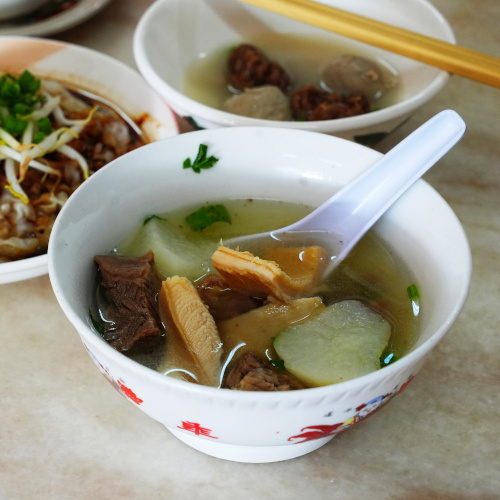 Suggested restaurant:
Kedai Makanan dan Minuman Desa Rishah: : Address: 3, Persiaran Desa Rishah 1, Desa Rishah, 30100 Ipoh, Perak, Malaysia. Phone: +60 16-566 1235.
7. Chee Cheong Fun
Chee Cheong Fun is a beloved street food throughout Asia. While Hong Kong and Penang have their takes on the dish, Ipoh's Chee Cheong Fun stands out from the rest.
In Hong Kong, Chee Cheong Fun is served plain or filled with ingredients like shrimp or barbecued pork and topped with sweet soy sauce. Meanwhile, Penang's version is characterized by a spicy, sweet sauce made from chili paste and fermented shrimp paste.
In contrast, Ipoh's Chee Cheong Fun has a thicker and smoother texture with a slippery mouthfeel. It is served with a savory shrimp paste, sweet sauce, and toppings like fried shallots and sesame seeds.
If you plan a food hunt trip to Ipoh, don't miss out on this unique and delicious version of Chee Cheong Fun.
Suggested restaurant:
Ipoh Traditional Style Chee Cheong Fun. Address: 47, Jalan Theatre, Taman Jubilee, 30300 Ipoh, Perak, Malaysia. Phone: +60 17-528 7384.
8. Yong Tau Foo at dai shu geok dashu 大树脚
Yong Tao Foo, a popular local delicacy, is a delectable street food that fills tofu and assorted vegetables with a fish and meat paste blend.
Restoran Choong Kee "Pokok Besar," and Big Tree Foot (四十年大树脚炸料粉 located near Paasar Pinji, have served this delightful delicacy for several decades. They are next to each other at Jalan King, Pasar Pinji. The specialty that is hardly found in other places besides Ipoh is the stuffed yam bean, a standout favorite among customers.
To enhance your dining experience, we highly recommend pairing your Yong Tao Foo with their delicious noodles.
Suggested restaurant:
Restoran Choong Kee "Pokok Besar. Address: 1213, Jalan King, Taman Hoover, 31650 Ipoh, Perak, Malaysia. Phone: +60 12-505 9562.
9. Bean sprouts chicken
Bean sprout chicken rice is a delectable and satisfying dish with tender poached chicken, fragrant steamed rice, and blanched bean sprouts seasoned with soy sauce.
The bean sprouts are grown locally, and the local water is believed to give them a crisper texture and a fresher taste. They are blanched to perfection, just enough to retain their crunchiness.
While you may find bean sprout chicken rice elsewhere, the dish's quality in Ipoh is unparalleled. The freshness and crispiness of the bean sprouts, combined with the tenderness and juiciness of the poached chicken, make for a truly unique and delicious flavor profile that you won't find elsewhere.
Suggested restaurant:
Restaurant Sam Ma. Address: 3, Jalan S. A. Lingam, Taman Ipoh Selatan, 31400 Ipoh, Perak, Malaysia. Phone: +60 17-756 8562.
10. Curry noodles
We enjoyed trying this renowned dish at Yee Fatt coffee shop, where we indulged in the quintessential Ipoh-style beef noodles.
The dry curry noodles consist of noodles topped with a generous helping of thick curry and garnished with coriander leaves. The curry itself is delightfully thick and boasts an intense, vibrant color. It has all the typical ingredients found in Ipoh beef noodles.
The soup version of the curry mee is cooked with a flavorful broth. I found it incredibly delicious and could taste the freshness of the ingredients used in every bite.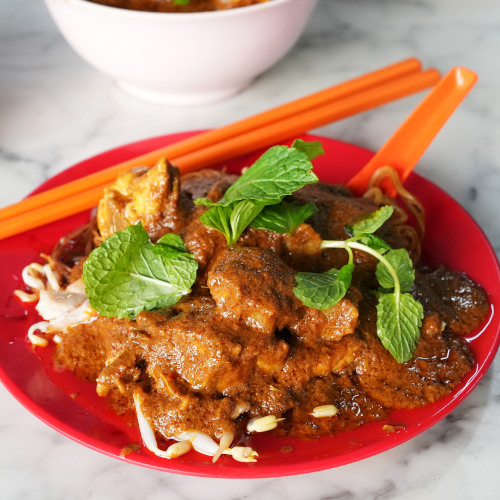 Suggested restaurant:
Yee Fatt Curry Mee: Address: 39, Jalan Kampar, 31650 Ipoh, Perak, Malaysia. Phone: +60 5-242 1043.
11. Tau Fu Fah
Tau Fu Fah is a traditional Chinese dessert made from coagulated soy milk and is renowned in Ipoh for its silky texture.
With so many shops, we decided to visit Funny Mountain Soya Beancurd, which had a catchy name, was conveniently located near our hotel, and boasted a great reputation among locals.
Despite its popularity, the shop was operated by only three people frantically to keep up with the high volume of customers. The store is a simple takeout establishment with only one bench for customers.
The Tau Fu Fah was delightfully smooth, velvety, and not overly sweet, perfect for our tastes. We enjoyed a delicious dessert during our walkabout food run in the city center.
Suggested store:
Funny Mountain Soya Beancurd. Address: 50, Jalan Mustapha Al-Bakri, Taman Jubilee, 30300 Ipoh, Perak, Malaysia. Phone: +60 12-516 1607.
12. Salted baked chicken (yim kok kai)
Located just across Ipoh Funny Mountain Soya Beancurd, Feng Weng Salted Chicken (Kedai Makanan & Minuman Sin Tat Seng) is a well-known salted chicken shop we couldn't resist after our Tau Foo Fah treat. The chicken is prepared using a traditional salt-baking method available only for takeaway.
It is packed in multiple layers of parchment paper and wrapped in a vacuum-sealed plastic bag, making it convenient to bring back to our hotel for dinner.
The chicken's distinct taste of Angelica sinensis (当归I) added to its rich flavor. The salt and smoke flavor were also quite prominent and gave the chicken a unique taste that we thoroughly enjoyed.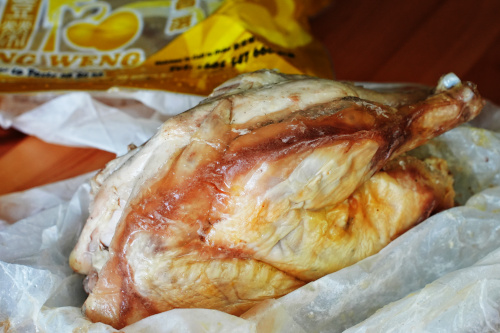 Suggested store:
Feng Weng Ipoh Salted Chicken. Address: 25, Laluan Tasek Timur 16 Taman Ria(bercham, 31400 Ipoh, Perak, Malaysia. Phone: +60 5-547 6680.
B. Unique snack and biscuit
1. Kacang putih
In our Ipoh Food Guide article, we featured Ipoh Kacang Putih and our visit to D.N.S., one of the largest suppliers of this delightful snack. Kacang Putih, a collective group of deep-fried snacks, is made with rice flour, dhal flour, and chickpeas and is seasoned with various spices. These tasty famous food in Ipoh are particularly popular in the Indian community of Ipoh.
If you want to try the best Kacang Putih in town, head to Kampung Kacang Puteh, a village boasting numerous stores and factories dedicated to making this crunchy snack.
There are varieties of Kacang Putih, but you should try the famous Murukku. Other popular varieties of Kacang Putih are peanut mix, crispy green beans, and chickpeas. You will surely find one that satisfies your taste buds.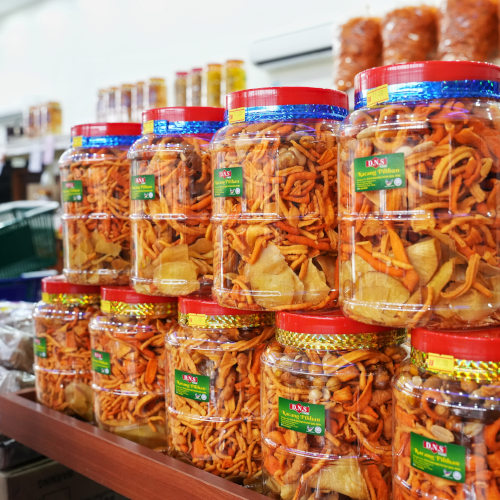 Suggested store:
D.N.S Kacang Putih Buntong Original. Address: 46, LALUAN SG PARI 4, Laluan Sungai Pari 19, BUNTONG, 30100 Ipoh, Perak, Malaysia.
2. kaya puff, salted egg pastry, red bean pastry, peanut brittle candy, and cow ear biscuit.
Kaya puff is a popular Chinese pastry in Ipoh with a delicious filling of coconut jam known as kaya.
One of the most renowned places to indulge in kaya puffs in Ipoh is Ming Yue Confectionery, located in Taman Kampar. Sin Eng Heong Bakery is another famous establishment serving kaya puffs for over 50 years.
When we visited Ming Yue, we were initially surprised to find ourselves as the only customers in the store. However, the friendly storekeeper seized the opportunity to introduce us to various traditional Chinese biscuits and pastries.
Within five minutes, the store was packed with customers eager to get their hands on various pastries.
Whether you prefer sweet pastries or savory snacks, Ming Yue Confectionery offers nearly all the traditional Chinese pastries that are famous in Ipoh.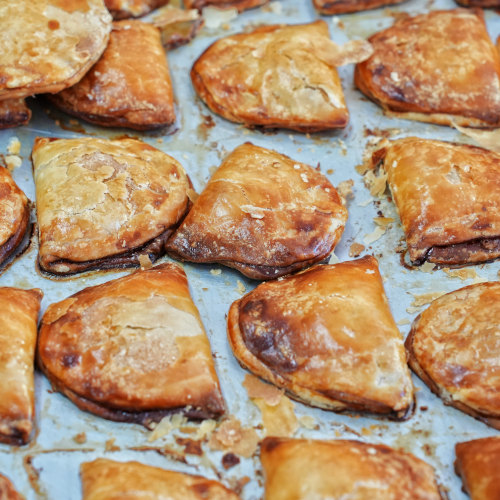 Suggested store:
Ming Yue Confectionery. Address: 50, Jalan Peh Kee Koh, Taman Kampar, 31650 Ipoh, Perak, Malaysia. Phone: +60 5-255 4128.
2. Egg tart
In addition to Ming Yue Confectionary, we stop at Lam Fong Biscuits, a traditional pastry shop near Funny Mountain Tao Foo Fah. While they carry a similar selection of pastries as Ming Yue, we were particularly drawn to their famous Cantonese-style egg tarts.
The puff pastry had clearly defined layers, and the egg custard was silky smooth, indicating that Lam Fong Biscuits has a superior technique and recipe. As someone who is in the food and beverage business, I can truly appreciate their craftsmanship. I have no reservations about recommending these egg tarts to anyone who visits this pastry shop.
Suggested store:
Lam Fong Biscuits. Address: 52, Jalan Yau Tet Shin, Taman Jubilee, 30300 Ipoh, Perak, Malaysia. Phone: +60 18-373 9910.
We did not have the opportunity to cover the Dim Sum at Ming Court due to the long queues during public holidays. The restaurant's dim sum is known for its delicate flavors, textures, and beautiful presentation.
Ipoh truly deserves its reputation as a food paradise in Malaysia. From the iconic Ipoh beansprouts chicken rice and Kai Si Hor Fun to the crispy snacks Kacang Puteh, visitors can experience the famous food in Ipoh, from restaurants to stores on the street.
No visit is complete without indulging in the famous food in Ipoh. If you miss out on the chance to taste the delectable food of Ipoh, you will miss out on a significant aspect of what makes this city truly special.
You may also want to visit famous places after trying all the famous food in Ipoh. Qing Xin Ling Leisure Cultural Village is one place that is worth the visit. You can read our review here.