Recently, I decided to visit some of the best restaurants In Ipoh. I also made it a point to try out some new and popular restaurants I had heard about.
I spent my entire primary and secondary school days in Ipoh, the capital of Perak. However, after graduating, I moved to Kuala Lumpur and only returned to Ipoh occasionally. Now I wanted to see if they were still in operation and whether they still served the same delicious food.
While my experience is not exhaustive, I want to summarize my food journey. Hopefully, it will guide you to discover some great food when you visit Ipoh.
Here are the eateries I have visited, in random order.
1. Restoran Kong Heng 怡保光興茶室
During my recent trip to Ipoh, the first restaurants I visited were Kong Heng in the Oldtown area. This restaurant has been around for decades and is widely referred to as one of the best restaurants in Ipoh. I was particularly familiar with them because I had worked part-time at a nearby bookstore during the long year-end holiday as a student.
When we arrived before 8 am, there were only a few customers. Various food options were available, but I decided only to order a small selection from a few specific stores I have fond memories of from my younger days living in Ipoh.
One of the famous items sold at this shop is Wuyi tea, a simple hard-boiled egg cooked in Chinese herbal tea.
Although the next generation has taken over, pork satay is still available and is particularly special as there are few places selling pork satay. The quality of the satays remains as good as it was forty years ago when I used to patronize this shop often.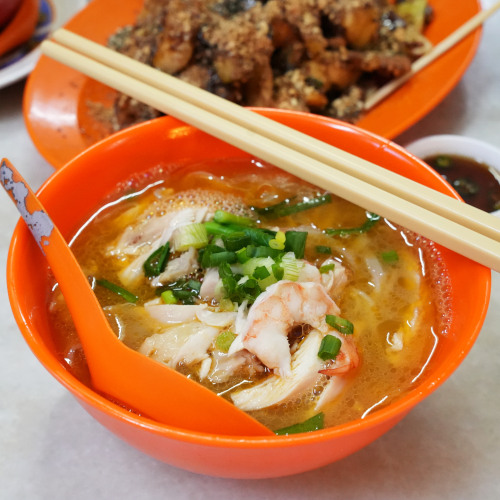 Another dish that still holds a high standard is the Ipoh shredded chicken noodles. They are especially famous here, just like before.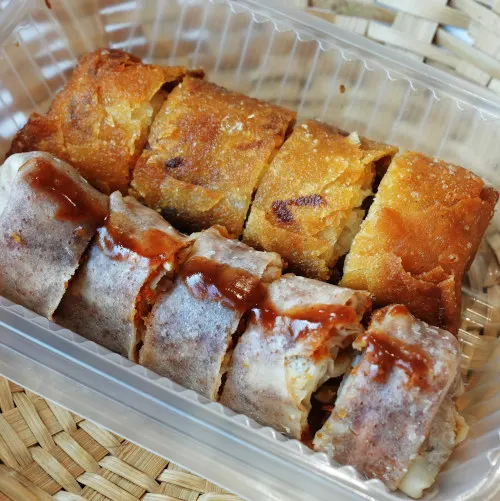 Popiah is a good option if you're looking for something lighter. It is a fresh spring roll with a soft, thin crepe-like skin filled with yam beans, bean sprouts, carrots, eggs, tofu, dried shrimp, and cuttlefish. The filling is mixed with a sweet and spicy sauce and then wrapped tightly in the skin before being cut into bite-sized pieces.
While the char keow teow is okay, it could be more exceptional. It is stir-fried with egg, cockles, and prawns.
Next, we enjoyed the famous egg custard with caramel, one of the best in Ipoh. However, I noticed that it was less sweet than I remembered. It is less sweet than before to cater to the more health-conscious people today.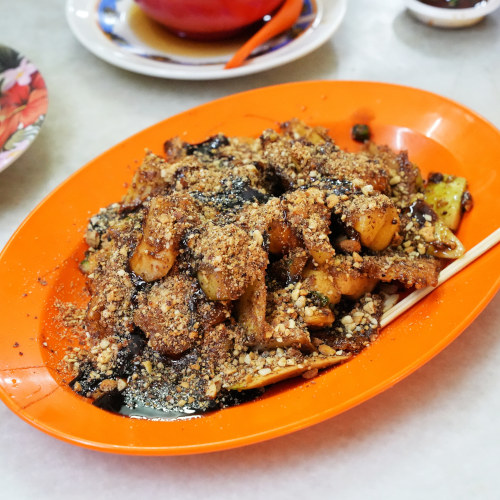 Lastly, the fruit rojak remains delicious, with a well-balanced sweet and savory sauce that perfectly complements the fresh fruit.
Address :Location: 75, Jalan Bandar Timah, 30000 Ipoh
Business Hours: 7.00 am to 5.00 pm, close on/Wednesday
2. Sam Ma Chicken Rice 三妈芽菜滑鸡饭
One of Ipoh's most famous dishes is the beansprout chicken. Our cousin, born and raised in Ipoh, recommended that we try the Sam Ma Chicken Rice, known to be the best in town.
As we arrived at noon, we noticed a long queue already forming outside the restaurant, indicating that we had indeed arrived at the right place for the best beansprout chicken.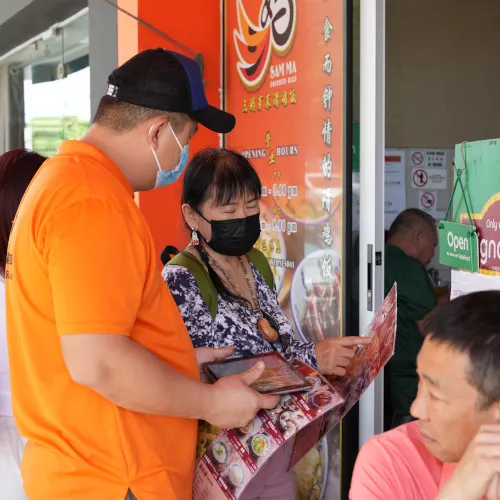 The restaurant has a unique system for streamlining orders. First, the order taker asks each group of customers to provide their car number and take their order. Then, once seats become available, they call the car number and lead to their seats.
After being given a seat, we did not wait long before the food was served since the captain forwarded the order to the kitchen while waiting at the entrance.
As seen in the image, the seats were fully occupied.
They decorated the wall with large posters depicting the restaurant's most famous dishes, such as chicken rice, braised chicken feet, and Ipoh fat rice noodle soup. On the other side of the wall, another image mentions that this is the only shop, so customers don't expect other branches of this restaurant, which attracts even more customers to this place to try their chicken rice.
We ordered rice noodles, chicken rice, bean sprouts, and blanched lettuce, all of very high quality.
Address: 3,jalan s.a lingam taman ipoh selatan 31400 ipoh perak, Ipoh, Malaysia
Tel : +60 17-756 8562
Business hours: 11.00 am to 3.00 pm, 6.00 pm to 10.00 pm, close on Wednesday
3. Kin Loong Valley Chang Jiang White Coffee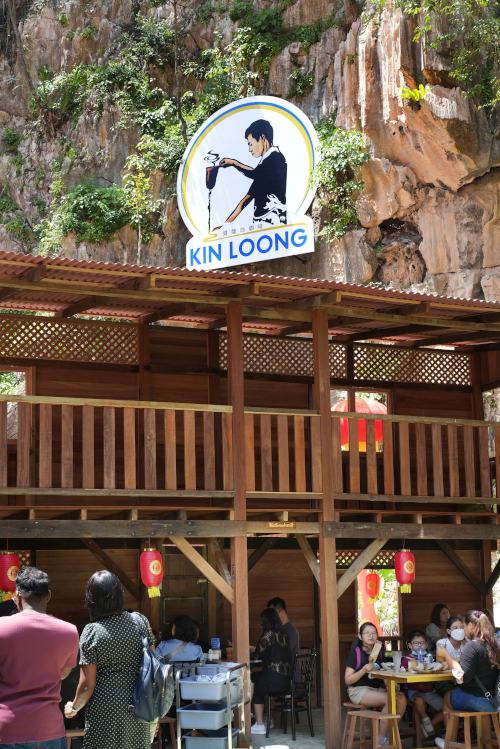 Renowned for its coffee, Kin Loong has become a top tourist destination in Ipoh.
Despite our initial uncertainty about visiting this spot, we decided to give it a try. Located close to the Tasik Cermin Ipoh, getting to the cafe took a gravel road off the highway.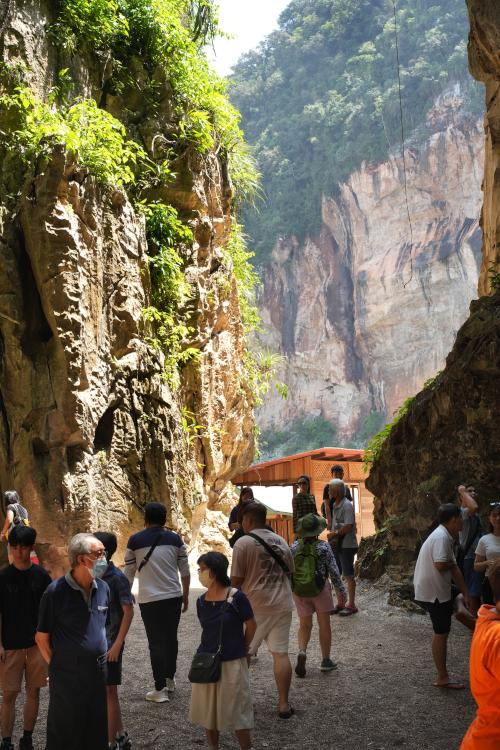 However, upon reaching our destination, we realized that a vast parking lot was overflowing with cars amidst the scenic limestone hills.
Many visitors were in awe of the breathtaking view of the limestone hill adjacent to the cafe, which added to the overall charm. Due to the large crowd during the school holiday, we had to wait thirty minutes before securing a seat.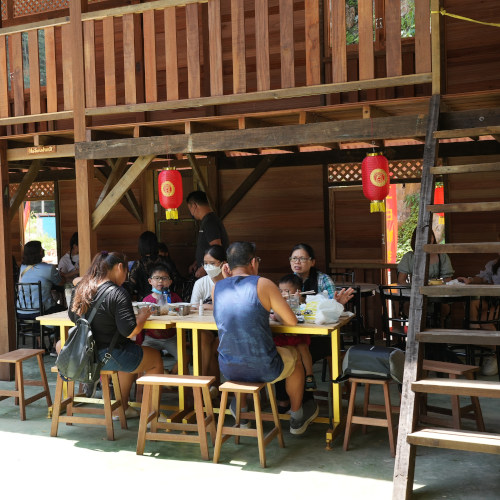 Although some seats were available indoors and air-conditioned, the best place to sit was the outdoor area, with the limestone hill as the idyllic backdrop.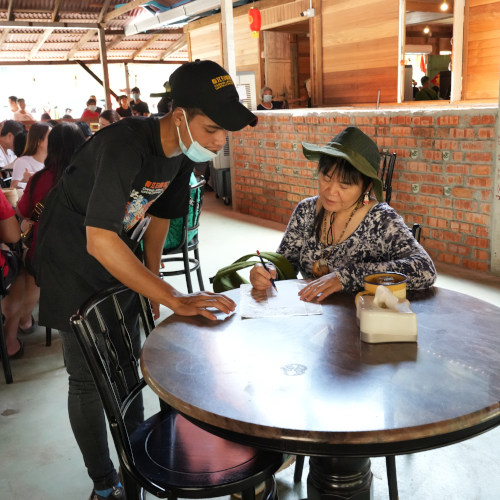 We ordered two types of coffee: the famous white coffee and another one served with ice. To prevent the coffee from being diluted by the melted ice, we had to pour it over it right before drinking it.
The coffee surpassed our expectations with exceptional taste and aroma. The aroma lingered on our palate as soon as it touched our lips. The strong roasted flavor was perfectly balanced with sweetness.
It is worth taking a special trip just for the coffee!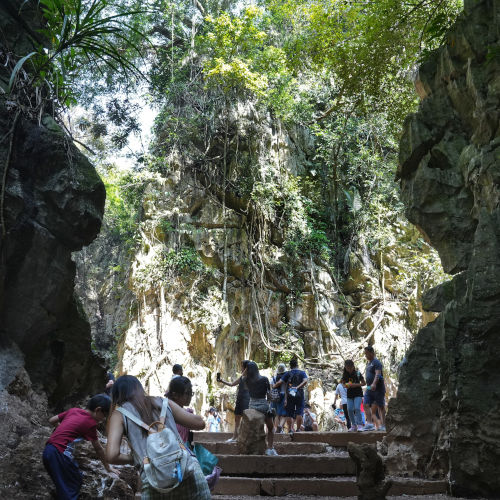 Address: Eko Perlancongan, 1, Jln Perniagaan Sengat, Pusat Perniagaan Sengat, 31350 Ipoh, Perak, Malaysia
Business hours: 9 am to 6 pm daily.
4. Big Tree Hawker Centre (忠记大树头美食轩 and 四十年大树脚炸料粉)
忠记大树头美食轩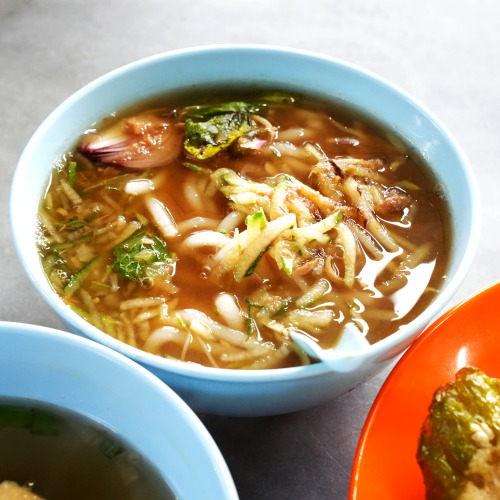 Our hunt for the best restaurants in Ipoh leads us to the hawker store beneath a big tree in Ipoh is renowned for its unique Yong Tau Foo. Although several stores are in the hawker center, the Yong Tau Foo store is the most prominent one at the entrance.
We decided to sample several noodles dishes and the famous Yong Tau Foo. The store offers a variety of popular Yong Tau Foo options, such as stuffed beancurd skin, fish meat, and yam bean. Notably, the stuffed yam bean is their specialty. However, it was slightly hard and not as crispy as anticipated.
We also tasted their curry mee and laksa, but unfortunately, they were not up to our expectations. Overall, we leave it with an average rating.
四十年大树脚炸料粉
As there is more than one 'big tree' hawker center in the same location, we proceeded toward the adjacent one to explore its quality and variety. This particular center is known as '四十年大树脚炸料粉' and serves almost the same items as the previous one. Since they have been operating for forty years, we were curious to know how good their food is.
Considering that we had already tasted most of the items at the first store, we opted to sample only a few for comparison purposes. The signature stuffed yam bean was crispy and delicious. While we cannot assert that this store is better than the previous one based on our limited testing, we were impressed with the freshness, presentation, and what we had tasted.
Address: 1277, Jalan King, Taman Hoover, Ipoh 31650.
5. Hoong Tho Restaurant 鸿图酒楼
Hoong Tho Restaurant has been one of the best restaurants in Ipoh for over 60 years. Generations of patrons have enjoyed its delicious dishes over the decades, including myself. My parents had brought me several times to this restaurant when I was young. The food served made such an impression that I still vividly remember the flavor and ambiance.
When we returned to Ipoh, our first stop was Hoong Tho Restaurant, hoping to taste the same delectable dishes we had fondly remembered.
The shop front of the restaurant remained unchanged, which certainly revoked those wonderful memories when I stepped into the restaurant.
There is a framed newspaper cut-out hanging on the wall. It proudly mentioned Hoong Tho as a traditional Cantonese restaurant run by the third generation of the family, a testament to its long history and enduring popularity.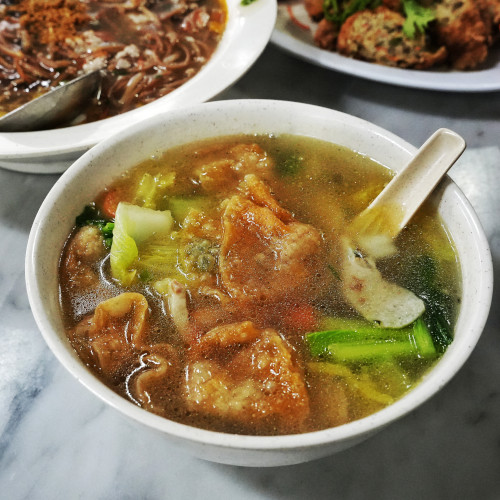 We ordered some of the restaurant's signature dishes, including the famous Hoong Tho noodles, steamed custard, spring rolls, and the "Yifu" dumpling. These items have been available for decades and are known for their exceptional taste.
The pork spring roll stood out as the best of all the dishes we ordered. However, the Hoong Tho noodles didn't taste quite as we remembered, leading us to believe that the recipe may have been altered.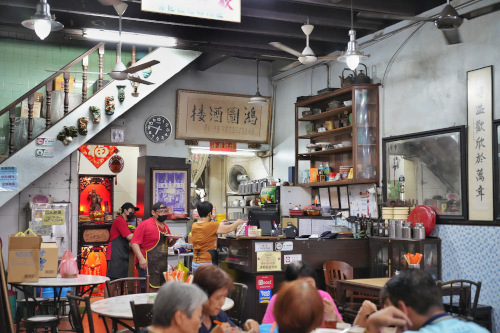 Overall, the food was good but could be better. Perhaps our expectations were too high as we compared the taste to our memories of what the restaurant offered during our younger days.
Address: 20, Jalan Bandar Timah, 30000 Ipoh, Perak, Malaysia
Business hours: 10.00 am to 3.00 pm, 5.30 am to 9.00 pm daily
6. D.N.S Kacang Puteh Buntong Original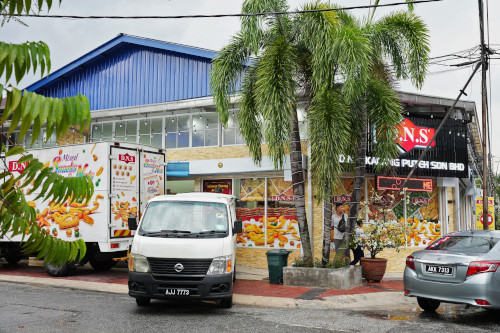 D.N.S. is not a restaurant but deserves a place in this 'best restaurants in Ipoh' guide. D.N.S. is one of the largest suppliers of kacang putih, the famous Indian-style mixed nuts from Ipoh.
Their snacks are produced in a factory near the outlet, and customers are individuals, wholesalers, and vendors who make bulk purchases for their businesses.
Speaking with the owner of D.N.S., we learned that the family business started in 1915 and is now managed by the fourth generation. Now it has become a tourism icon in Ipoh.
Since its inception, the business has grown from a work-from-home venture serving the local market to a company that exports to 14 countries worldwide.
While kacang puteh has an expiry date, it can stay in good condition in countries with cold and dry weather. However, due to Malaysia's high humidity, it will turn rancid within three months.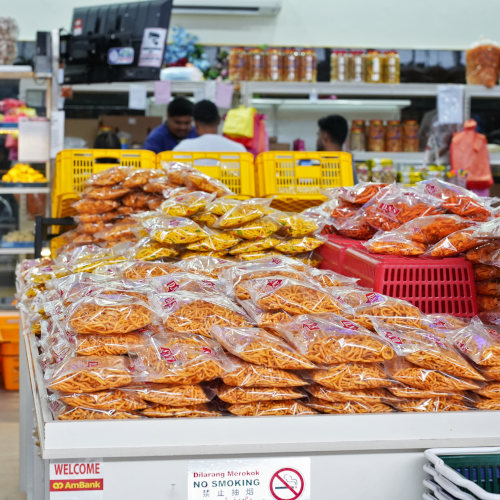 Before leaving the premises, we purchased some kacang puteh for ourselves and friends and family in Kuala Lumpur.
Note: Kacang Puteh is a traditional Indian-style snack in Malaysia. The Malay word "Kacang Puteh" means "white beans" it is usually generalized to include different nuts and legumes, such as chickpeas, green peas, and peanuts, fried and seasoned with chili powder, turmeric, and salt. It is sold by street vendors and available in pacers from grocery stores and supermarkets. The most sellable kacang puteh suppled by D.N.S. is murukku.
Address: 46, Laluan Sungai Pari 19, Buntong, 30100 Ipoh, Perak, Malaysia
Business hours: 8.00 am to 9.00 daily
7. Coffee CAMP 612 cafe
We have already visited several well-established restaurants in Ipoh, so we are curious to explore any newly opened eateries worth visiting.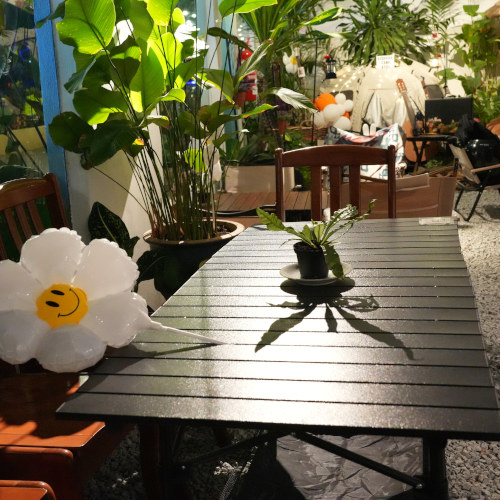 A new cafe called Coffee CAMP 612 recently emerged in Ipoh, gaining enormous online popularity due to its unique ambiance and design.
This cafe has a distinctive camping theme on the newly opened Kinta River Walk. Every aspect of the cafe, including the decor, design, and furniture, is inspired by camping. Hence, you can expect to see tents, plants, pebbles, artificial grass, and other camping-related items.
Furthermore, the cafe has a section dedicated to small reptile pets.
The cafe focuses on serving drinks accompanied by snacks. It has become a hotspot for Instagrammers and is even used for wedding photoshoots and other celebrations.
The images speak for themselves why we meat the decor is one-of-a-kind.
Address: Lot A-25, No. A-9, Kinta River Walk, Lebuhraya Istana, Taman Istana, 30300 Ipoh, Perak, Malaysia
Opening hours: 5.30 pm to 10.30 pm, Sat: 5.30 to midnight, Sun: 5.30 pm to 11.30 pm, Close on Monday
Phone: +60 16-342 5710
You may also want to read about the top Ipoh tourist attraction: Qing Xin Ling Leisure Cultural Village.