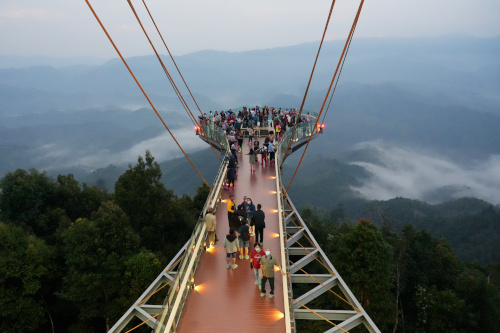 We just returned from our recent 4D3N trip to Betong, a captivating small town in Yala Province, southern Thailand. Throughout this article, we will share the remarkable attractions we explored and tips to help you plan your unforgettable journey to Betong.
The road trip commenced at 8.30 am, and we departed from Kuala Lumpur excitedly.
En route, we made delightful stops, including a memorable lunch at Sauk, a quaint village in Perak.
After a scenic drive, we reached Pengkalan Hulu around 2 pm, ready to enter Thailand through the southernmost point of Thailand.
Watch the video we shot at Betong (at the end of this article) 👇👇.
A. Exploring Betong Thailand: Must-Visit Tourist Attractions
This section will present a compilation of attractions in Betong. Throughout our journey, we primarily relied on Google Maps for driving directions, enabling us to explore most of these intriguing places at our own pace. However, for shorter distances, we also opted for the popular Tuk Tuk, Thailand's main mode of land transport.
We took a twenty-minute walk from our hotel to the town area one morning. It was a pleasant stroll, but upon concluding our visit, we found it more convenient to call a Tuk Tuk for the return journey to our hotel. The Tuk Tuk fare for all four of us amounted to 80 baht, a cost-effective and comfortable.
1. Exploring Betong's Historical Gem: The Piyamit Tunnel
The Piyamit Tunnel is one of the most prominent attractions in Betong, Thailand. It holds significant importance as it served as an air raid shelter for Malaysian Communists who migrated to Thailand after World War II. Constructed in 1976, this tunnel has become a remarkable attraction for history enthusiasts and curious travelers.
Situated at Ban Piyamit 1, Tambon Tano Mae Ro, the Piyamit Tunnel is open daily to the public from 8.00 am to 4.30 pm. Our visit to this historical gem followed a delightful trip to the Betong hot springs, conveniently located on the same road. The tunnel can be reached approximately 40 minutes from the city center and 20 minutes from the hot springs.
On arriving at the site, we found ample parking lots in front of the entrance, making access hassle-free.
Before entering the tunnel area, a special section is dedicated to the Bodhisattva Guan Yin. Additionally, right opposite the entrance are a food store and souvenir shop.
The entrance fee for this historical experience is an affordable 60 baht per person.
Below are the interesting viewpoints of the entire area, including the tunnel. Our tour lasted about 1.5 hours.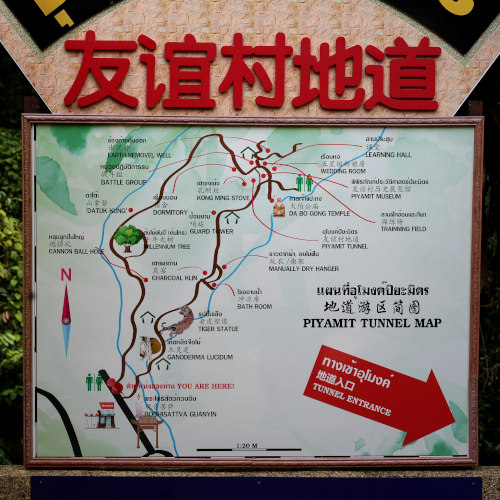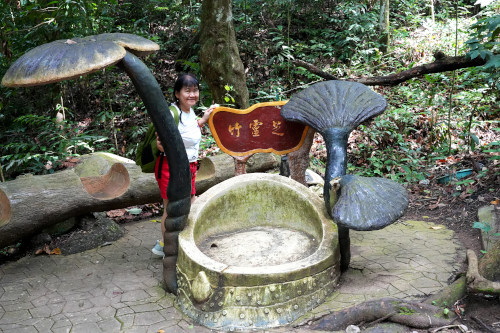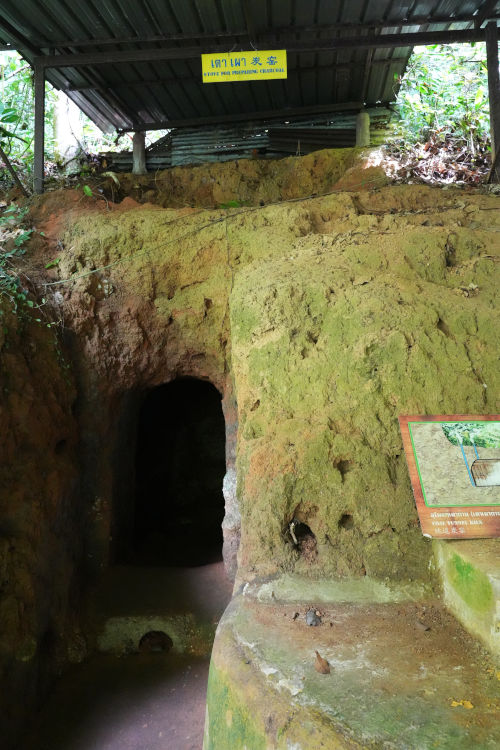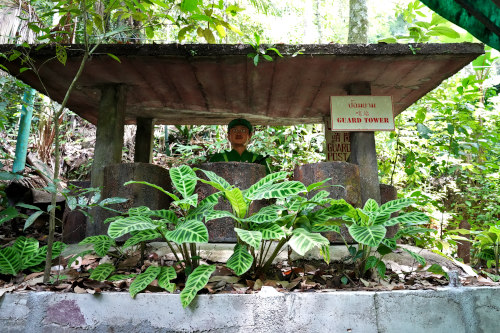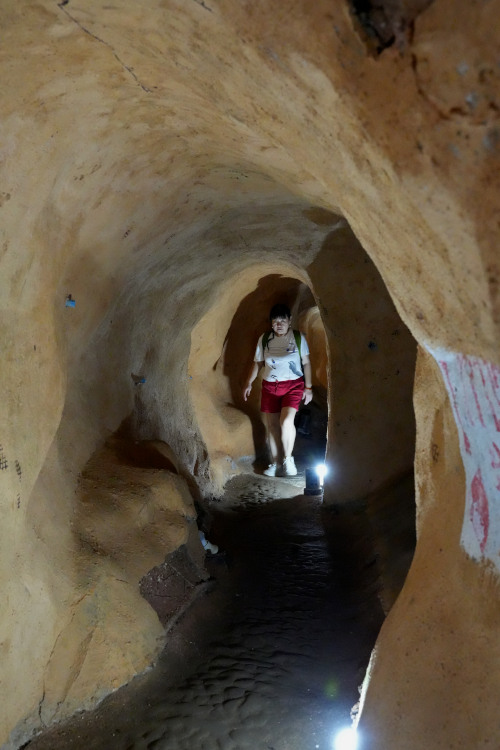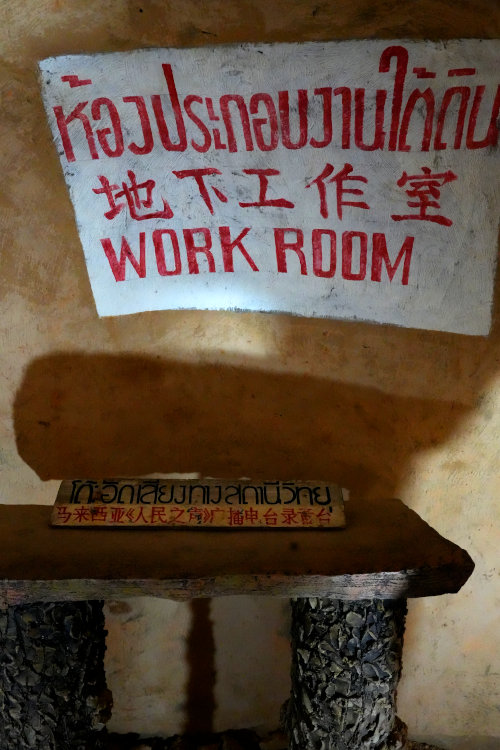 Piyamit museum
During our visit, we learned about the tunnel's intriguing history and role as a shelter utilized by Malaysian Communists who migrated to Thailand after World War II.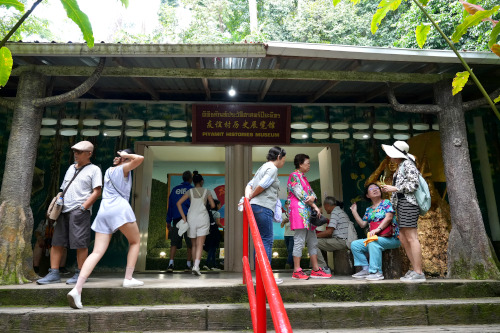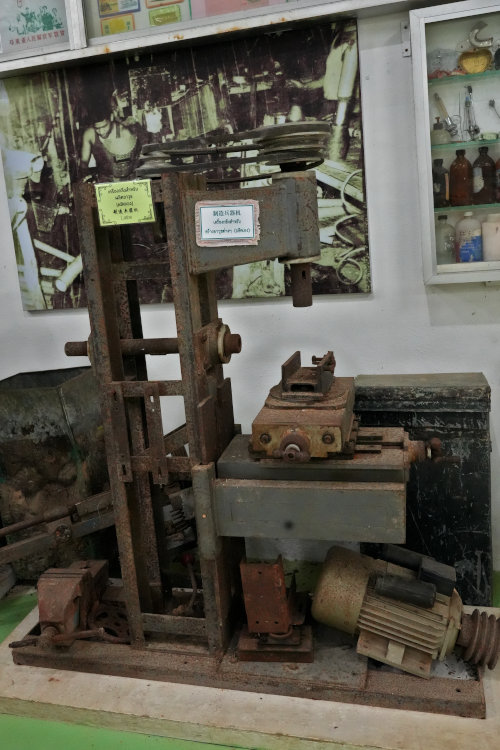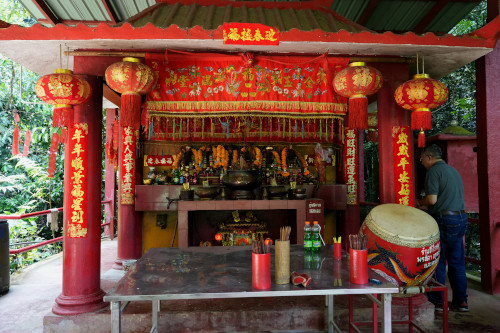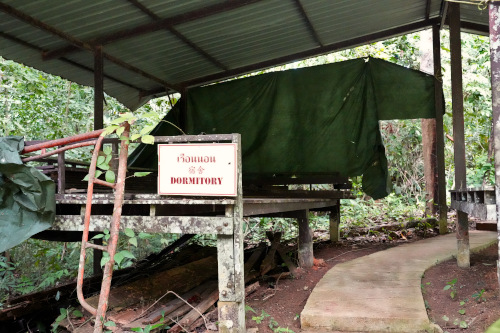 The Millennium Tree is located near the exit of the Piyamit Tunnel. It is a large banyan tree that is believed to be more than a thousand years old. The tree is located inside the jungle and is a popular tourist attraction.
2. Skywalk Ayerweng: Chasing the Sunrise and Sea of Clouds in Betong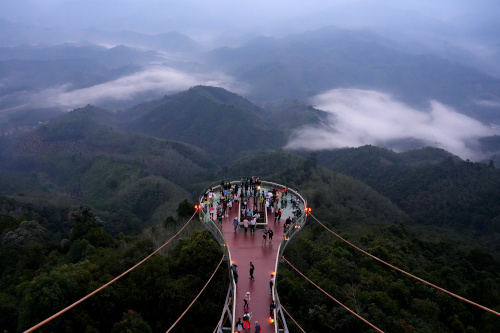 At 4 am, we woke up, eager to witness the breathtaking sunrise and sea of clouds, the highlight of our trip in Betong at the Skywalk Ayerweng (Aiyoe Weng). The drive took 45 minutes, and when we arrived, hundreds of visitors were already ahead of us. It is so popular as it is among the most popular attractions in Betong.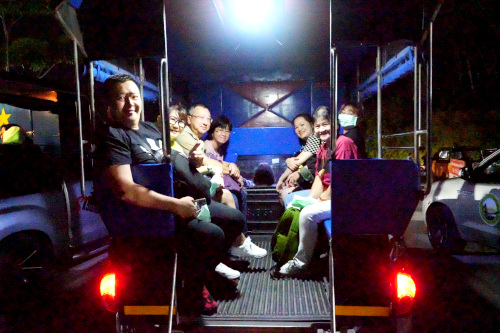 Upon parking at the spacious lot, we hopped on the four-wheel drive to reach the Skywalk, paying a fee of 30 baht for the ascent and 20 baht for the return trip per person. After arriving at the Skywalk, we had to purchase tickets at 200 baht each and wait for our turn to enter, as only 50 people were allowed at a time.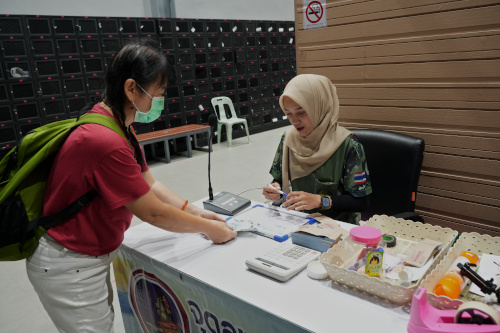 Besides, we must buy a pair of reusable shoe covers for 30 baht to protect the walkway. Once on the Skywalk, we climbed to the highest scenic viewing platform for a stunning view.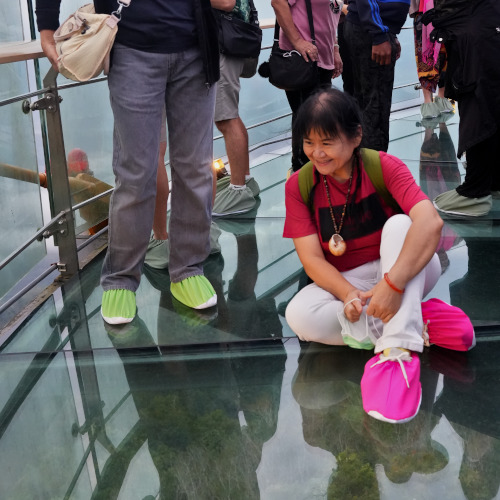 Descending to the lower platform, we walked on an extended glass panel offering the best view of the surroundings.
However, we were disappointed as strong winds prevented the anticipated Betong sea of clouds (or sea of mist) and obscured the beautiful sunrise behind drifting dark clouds.
Afterward, we sought solace in Cafe Tai Mhok near the entrance, enjoying a quick coffee before returning to Betong town.
About Skywalk Ayerweng:
Skywalk Ayerweng, a new tourist attraction and landmark in Betong District, Yala Province, southern Thailand, is known as the region's only skywalk. Located in Aiyerweng, Betong District, Yala Province, the 61-meter-long walkway stands approximately 600 meters above sea level, offering panoramic views of the mountain scenery and a thick sea of fog at 2,038 feet above sea level. The Skywalk is considered the longest in Southeast Asia, allowing visitors to stroll over the mountains and behold the mesmerizing sea of fog in Yala. This scenic viewing point is renowned for watching glorious sunrises and welcoming the first light of the day.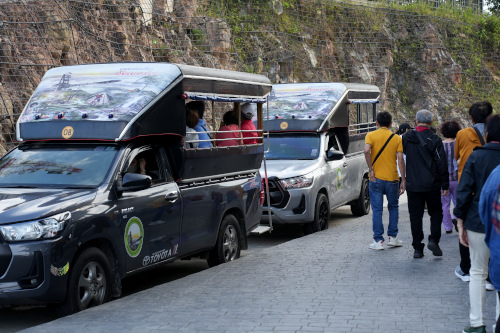 3. Betong Hot Spring: A Natural Oasis with Healing Waters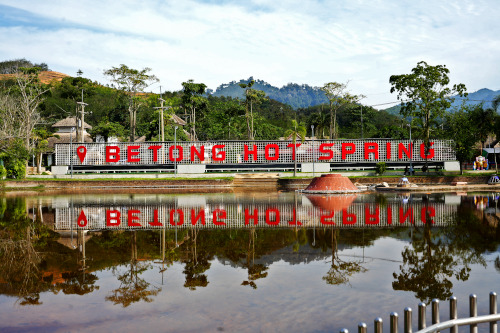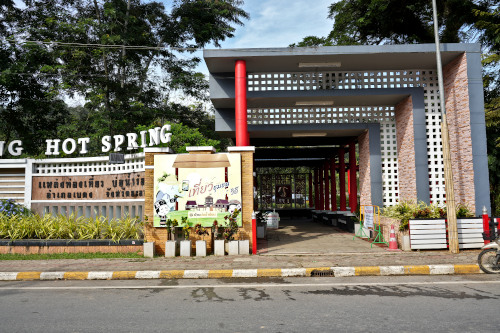 Located approximately 10 kilometers from the Betong town center, the Betong Hot Spring is a natural phenomenon where hot springs emerge beneath the earth's surface. The site boasts hot mineral water known for its believed healing properties, with temperatures ranging between 40 to 50 degrees Celsius. A large pond awaits visitors for immersive full-body soaking, while the main activities at the hot spring center around foot bathing and indulging in the therapeutic hot mineral waters.
Since yesterday marked the end of a six-day holiday in Thailand, it was closed for cleaning today.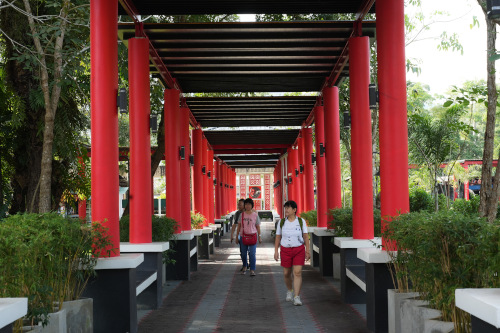 Since we did not soak ourselves in the hot water, we explored the area, captured some photos, and headed to the next destination.
4. Exploring Betong's Winter Flower Garden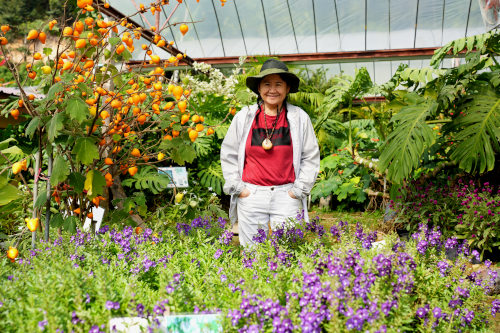 Nestled in Betong's peaceful Tano Maero area, the Winter Flower Garden offers visitors a serene escape from the city, where they can bask in the tranquility and savor the fresh air. The garden's charm lies in its lush greenery and exquisite flowers, providing a delightful experience as visitors wander through and admire the diverse floral displays. Despite undergoing refurbishment, the garden still showcased some beautiful flowers, albeit on a smaller scale than anticipated.
A notice informed us that the garden would be fully reopened after refurbishment, with the grand unveiling scheduled for November 2023.
5. Betong Clock Tower: Landmark at the Heart of the City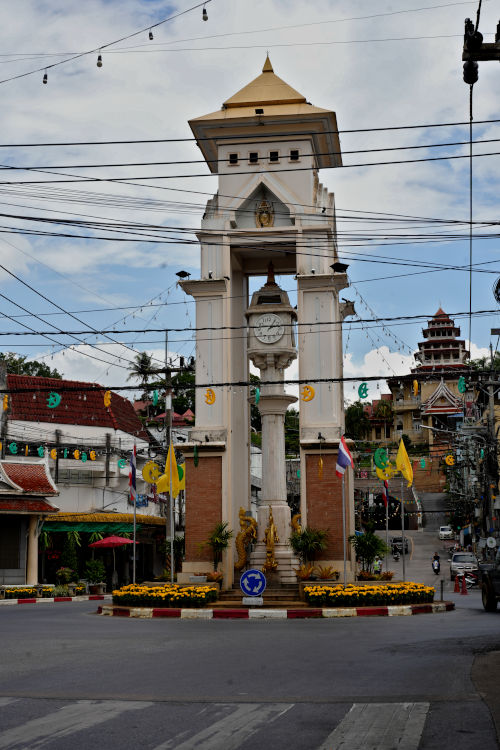 The Betong Clock Tower stands tall as a landmark located at the bustling roundabout in the center of Betong. Symbolizing the city's essence, the clock tower is a picture-worthy sight, particularly when it's beautifully illuminated at night. Adjacent to Thailand's largest post box, another popular attraction, the clock tower adds to the charm and allure of Betong's vibrant townscape.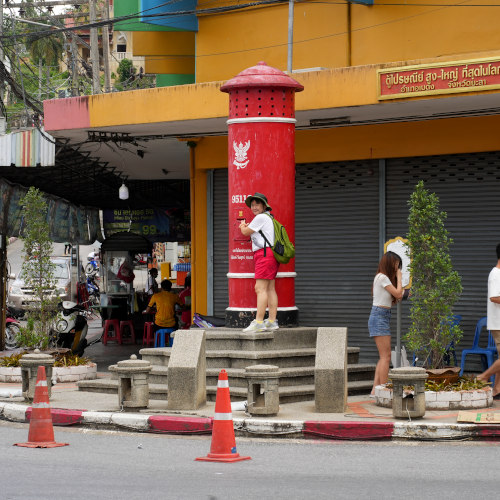 6. Betong Chicken Statue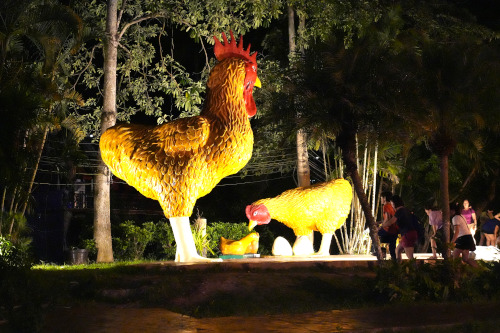 Following a delightful dinner, we made our way to the small night market at the exit of the Betong Mongkollit Tunnel, where we captured photographs of the iconic Betong Chicken Statue.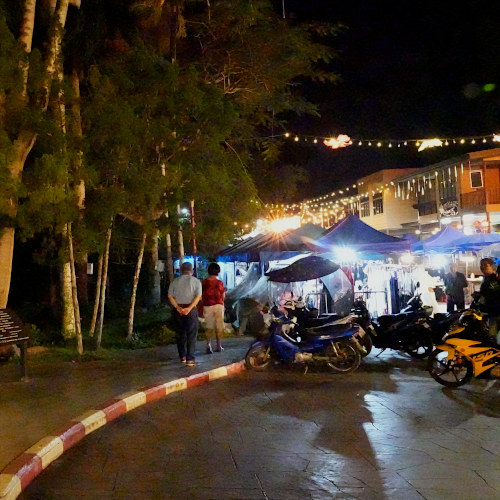 The Betong Chicken Statue, also known as the Betong Big Chicken, is a prominent tourist attraction in Betong. The large chickens serve as an eye-catching landmark that beckons visitors from far and wide.
The significance of the Betong chicken extends beyond the statue, as it has become a symbol of the town itself. Highly regarded for its exceptional quality and taste, the Betong chicken is a local specialty celebrated throughout Thailand. Raised in a natural, free-range environment, the chickens' superior flavor is attributed to their free-range living conditions, making them a delicious and sought-after culinary experience.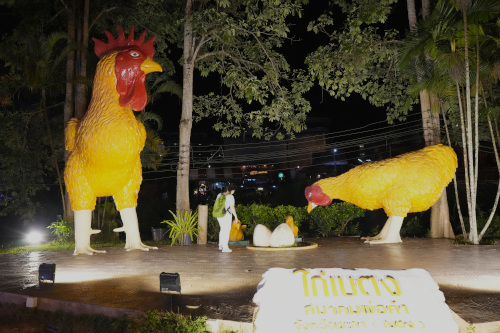 7. Betong Mongkollit Tunnel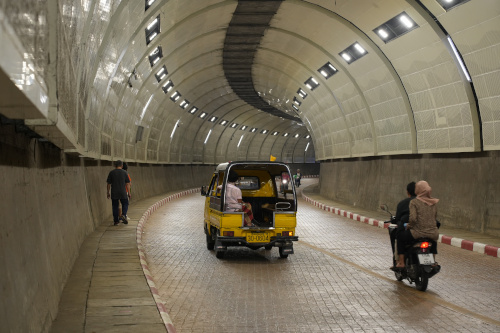 The Betong Mongkollit Tunnel is the first and largest road tunnel in Southern Thailand. This remarkable tunnel is renowned for its stunning lighting, particularly when night falls. The tunnel's interior is adorned with decorative lights, creating a picturesque setting and an ideal spot for capturing memorable photographs.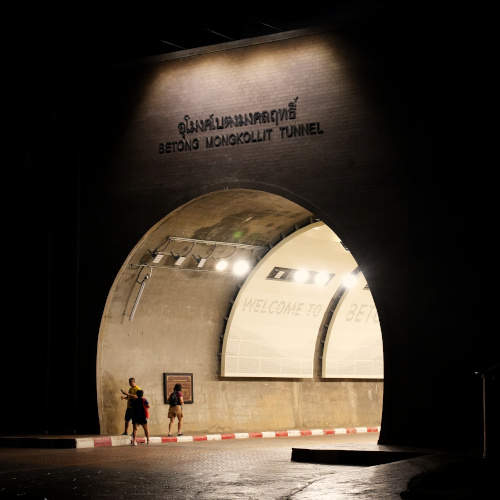 We explored the tunnel during our visit, embarking on a leisurely walk from Grandview Landmark Hotel to the town. Our journey through the tunnel led us to a delightful breakfast experience in one of the town's eateries.
8. Other attractions in Betong
There are several attractions in Betong we did not visit; you may want to include them in your itinerary.
Standing proudly on a hilltop within Betong's town center and nestled amidst the temple grounds of Wat Phutthatiwat, the Phra Mahathat Chedi Phra Phutthathamprakat is an impressive religious structure.
The Hala-Bala Wildlife Sanctuary, known as Suan Pa Phra Namaphithai Phak Tai in Thai, is a vital habitat for numerous fascinating species. You will be delighted to encounter an impressive variety of wild animals among the sanctuary's inhabitants, including 10 of the 13 hornbill species in Thailand.
The Meaning Behind "Betong":
Fascinatingly, the name Betong has its roots in the Malay language. The word Betong originated from "Betung" in Malay, which means large bamboo. The region's abundance of rough giant bamboo, scientifically referred to as Dendrocalamus asper, has become Betong's distinctive symbol.
B. Smooth Border Crossing and SIM Card Tips for Traveling to Thailand
For Malaysian tourists intending to drive their Malaysia-registered cars into Thailand, it is essential to be aware of Thailand's requirements to cross the border at the Thai-Malaysian border.
1. Insurance
One crucial aspect to note is the need for Thailand car insurance. If the distance from Malaysia to your destination in Thailand is less than 50km, Malaysian cars are exempt from purchasing Thailand car insurance. However, it is advisable to consider getting coverage, as the standard Thailand car insurance typically includes protection for Third-Party Liability and Property Damage, albeit up to a certain limit.
To ensure our trip to Thailand was worry-free, we took the proactive step of obtaining comprehensive insurance through our insurance agent in Kuala Lumpur before embarking on our journey. This gave us sufficient coverage for unforeseen events and a smooth driving experience in Thailand.
2. Immigration
Upon reaching the border, we received assistance from a counter to complete the necessary immigration formalities. This involved filling out the immigration card (TM6 Form) for each person and the car entry form (TM2 Form) for drivers, with a nominal fee of RM 2 per person. Once completed, we proceeded to the immigration counter to get our passports stamped and then submitted the vehicle declaration form, which required presenting the original JPJ card. With all formalities in order, we were ready to continue our journey into Thailand.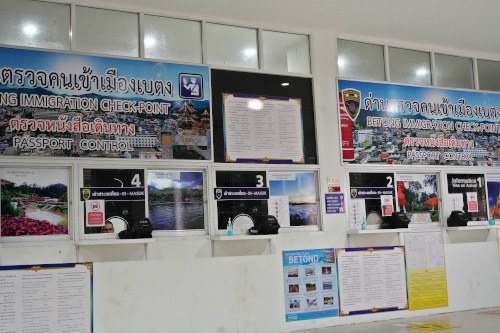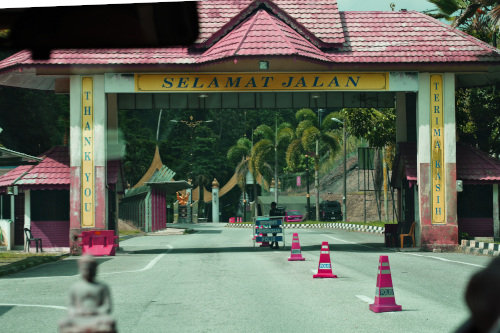 3. Get a local SIM card during your visit to Betong
A helpful reminder for fellow travelers is to consider purchasing a SIM card for internet usage at the same counter where we received assistance to fill in the forms. Initially, I assumed I could use roaming with my DIGI connection. Still, to my surprise, I later discovered that roaming services were not operational in Yala province, including the Betong district.
4. Fuel for our car
To save on fuel costs, we fill our car with a full tank before entering Thailand, considering that petrol and diesel are more affordable in Malaysia.
Watch the video we shot at Betong 👇👇.
We also uploaded a video to show you all the attractions in Betong that we visited. Please click the image below to bring you to our YouTube channel (shot in high definition!). You may also want to check out our hiking trip to Mount Kinabalu and our stay at Pangkor Laut Resort.