In this article, we want to show you the best ten places to visit in MIri.
On a crisp morning, we boarded a Malaysia Airlines flight from Kuala Lumpur International Airport. Our plane departed at 9:30 am and gracefully touched down in Miri at 11:15 am. Miri is the second largest city in Sarawak, with a modest population of 250,000 people, and is home to an international airport that welcomes travelers from all over the world.
Upon arrival, we collected our luggage and met our guide, Andy from Brighton Travel & Tour Sdn Bhd, who took us to explore various places in Miri. Miri is the gateway to destinations we plan to visit, such as Brunei, Mulu Caves, Niah Caves, and Bario. For this post, let's focus on the allure of Miri itself, which deserves its dedicated post highlighting all the tourist attractions we visited.
Here is the list of top Miri attractions that we have visited:
1. Tamu Muhibbah: A Vibrant Cultural Marketplace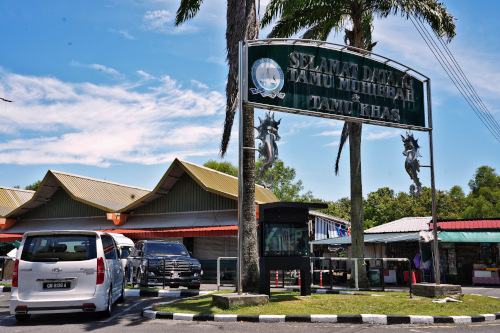 Our first destination is Tamu Muhibbah. It is where the locals and indigenous people from the heart of Borneo gather for trading. Renowned as the Harmony Market, this bustling spot captures the essence of Miri's allure.
Meandering through its stalls, I explored various offerings—exotic fruits, and vegetables, along with captivating handicrafts, livestock, and fresh produce sourced from upriver regions.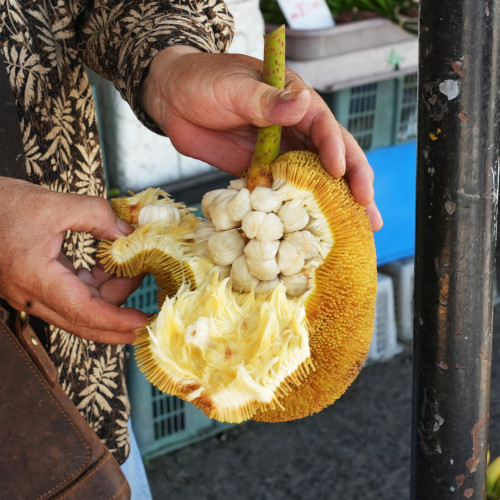 (Trying the flavor of Tarap)
The local people sell durians, notably the local fruit jering, jantung pisang (banana flower), tarap.
At the market, you'll find vendors selling items such as kayu selukai (insect repellent) and dried seafood like ikan Tahai (Sardinella albella) from Borneo. Also, some stalls offer salt from Bario, which we plan to visit soon. Meanwhile, on the opposite side of the market, there are stalls where you can try different local desserts made from sago. You'll also find some vendors selling fresh local vegetables.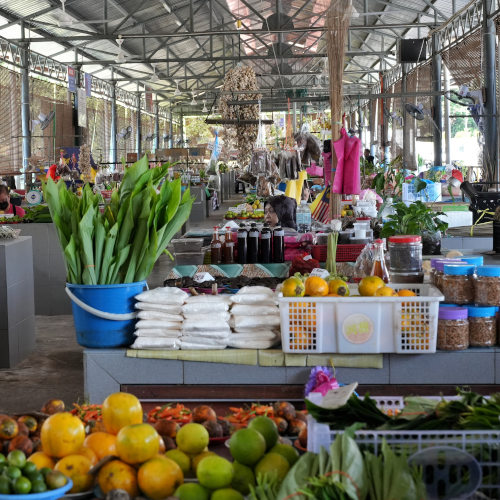 Tamu Muhibbah is a lively testament to the local heritage, painting the town with hues of culture and authenticity. This market is not intended for tourists but rather to bring together farmers from various ethnic groups and promote closer relationships.
Tamu Mihhibah is a market worth visiting, especially if you are from somewhere other than Borneo. Here, you can see and try various available fruits and items in this area.
Watch the video ot the best places to visit in Miri (at the end of this article) 👇👇.
2. Canada Hill
Canada Hill, also known as Bukit Telaga Minyak, is one of the places to visit in Miri. It is a great place that provides scenic views of the city and the South China Sea.
It stands 150 meters (492 feet) tall and is named after the Canadians from the Shell company who dug the first petroleum well in 1910. The Grand Old Lady, Malaysia's first oil well, is situated on Canada Hill and was drilled by Royal Dutch Shell in 1910.
(The first oil well in Malaysia was completed on 22.12.1910)
During our visit, we explored the Petroleum Museum on Canada Hill to learn about the oil industry in Miri and the city's significant role in its development. The museum features informative posters illustrating how petrol was discovered in the area and the industry's growth—however, some interactive exhibits need to be better maintained and function properly.
(The Helang Integrated Platform, approximately 70km offshore of Miri)
3. Tua Pek Kong Temple
The Tua Pek Kong Temple (美里大伯公廟) is a Chinese temple that stands adjacent to the Miri Fish Market. It is the oldest temple in present-day Miri City, established in 1913. The Tua Pek Kong Temple honors the deity Tua Pek Kong, who overseas Chinese highly regard. The temple boasts traditional Chinese architecture, with intricate carvings, ornate decorations, and vibrant colors that reflect the rich cultural heritage of the Chinese community.
The main prayer hall s divided into three sections – left, right, and center. Each section contains various statues, such as Fude Zhengshen (福德正神), Guanyin, and Mazu.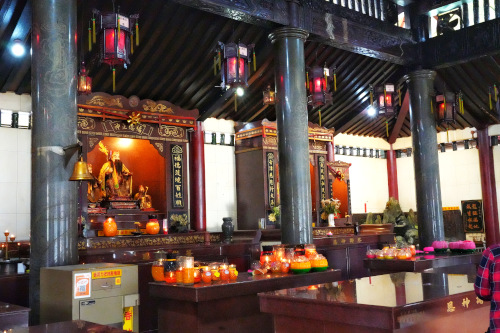 The temple building is divided into two sections. About 120 years old, the original building was extended with a new addition after the pandemic. Recently, the temple underwent a beautification project that included the construction of a 70-foot statue of Tua Pek Kong, considered the largest of its kind in Southeast Asia, according to Andy.
4. Miri Handicraft Centre
Our tour's next stop is a handicraft center specifically designed for tourists. It is right in the city center. Although only a few customers were present, we could select and purchase some fridge magnets. The center consists of less than 20 stores located in an air-conditioned building. There is also a cafe, but unfortunately, it was closed during our visit. Due to the scorching heat outside, we took advantage of the cool air inside the building.
5. Miri City Council
We visited the city council to enjoy the stunning panoramic view from the top floor of the unique, barrel-shaped building.
However, before we could go up, we had to register our names at the counter and wait until after 5:15 pm when the office workers had left. Then, as visitors, we were allowed to ascend to the top level and admire the beautiful view of the sea and the city, with the Central Park of Miri in the foreground.
The color of the seawater was noticeably darker than in other places we had visited, and our guide explained that this was due to a mix of water from the nearby river and seawater.
6. Coco Cabana
Coco Cabana is one of the best places to visit in Miri, perfect for capturing breathtaking sunset views. Visitors can relax on the beach or explore the variety of food and drink stalls while taking in the stunning sunset. This location is considered one of the best places in Miri to watch the sunset, with its most notable feature being a striking seahorse lighthouse. Seahorse is the mascot for Miri.
In addition to the beautiful scenery, Coco Cabana offers various entertainment options, such as children's playgrounds and bouncing castles, making it an ideal spot for families to spend quality time together.
The presence of stores selling cold drinks and snacks is also a plus. Furthermore, there is a large hall that can accommodate sizable functions.
One of the highlights of this location is the opportunity to take breathtaking sunset photos, as the presence of big giant trees in the foreground adds to the charm of the photographs. Besides, today's clear skies ensure excellent photo opportunities.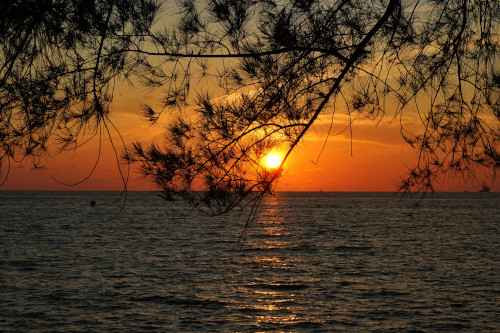 7. Miri Waterfront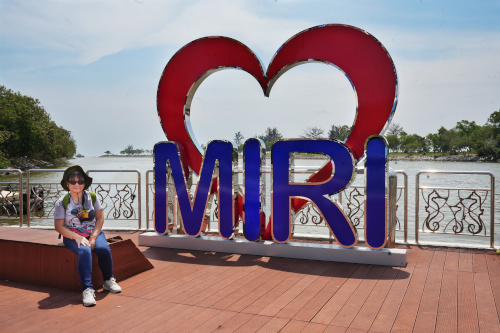 The Baong River locates the Miri Waterfront in Miri, Sarawak, and provides stunning views of the river, the South China Sea, and the city skyline. The most amazing views of the Baong River can be seen during sunset, but we visited during midday when it was scorching. Despite the weather, we took photos of the seahorse statue and the waterfront before moving on to our next destination.
8. Piasau Nature Reserve
The Piasau Nature Reserve serves as a haven for Miri locals seeking an escape from the hustle and bustle of city life. Despite its location within the urban area, the reserve boasts an impressive array of plant and animal life, with 107 species of plants and 75 species of fauna recorded. The Sarawak Forestry Corporation manages the reserve and works to ensure its protection and conservation. Visitors can enjoy a serene environment and appreciate the beauty of nature at the Piasau Nature Reserve.
A Tale of Love and Loss Among Hornbills
The most intriguing part is the love story between Jimmy and Faridah, two lovely oriental pied hornbills.
The love story between Jimmy and Faridah, an oriental pied hornbill couple, is touching and tragic. Their strong and enduring bond has produced approximately 56 offspring since 2005.
Faridah was brutally killed in 2013 by a group of delinquents. Jimmy's reaction to her death by constantly calling and yelping and his restless behavior showcases the depth of his mourning.
Jimmy was soon noticed forming a new romantic bond with Juliet, a young oriental pied hornbill. Following several courtship and mating attempts, Juliet successfully gave birth to a pair of offspring, whom they named Musa and Cecelia.
Now, Faridah's carcass was on display within the reserve.
9. Emart Tudan
Emart Tudan is a remarkable and unique shopping complex with its single-story, open-air setup that sets it apart from traditional multistory buildings. Its focus on providing a variety of sections for different types of products, such as vegetables, fish, meat, and other food items, along with a supermarket section and various stores, showcases its diverse offerings.
The presence of local vegetables and a wide range of general items further contributes to the market's appeal, making it a one-stop destination for various shopping needs.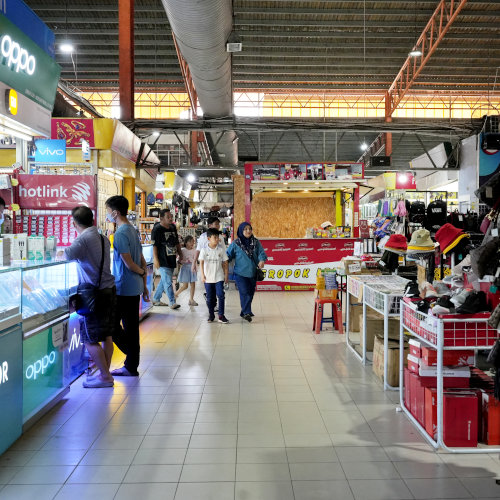 What attracted me was the attention to detail, with the almost artistic arrangement and proper packaging of vegetables.
We are amazed by this unique setup and the cleanliness of this wet market setup.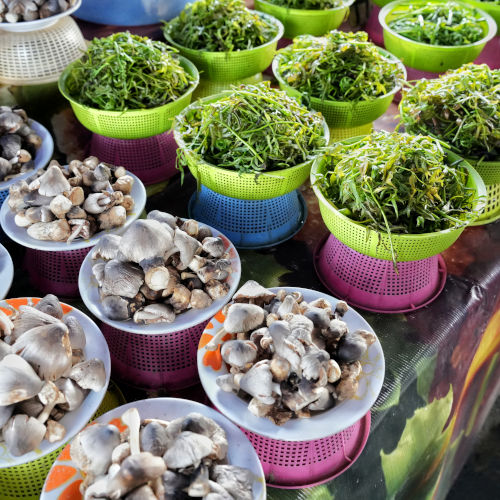 10. Sunset at Peliau Beach
Miri is a coastal city, making it an ideal location to watch the sunset over the South China Sea. Two of the most popular beaches near Bekenu, a small fishing village south of Miri, are Peliau Beach and Tusan Beach. When we returned from Mulu, we went to Peliau Beach to wait for the sunset.
We saw people catching crabs and fish and took stunning photos before the magnificent sunset. It was truly captivating.
Bonus – Hawaii Beach
(My first MilkyWay photo, far from perfection. You can view these images by Wilson Chiam and Peng Siong, who were in our tour group and are the experts.)
We had an extra activity after dinner. We went to Hawaii Beach to take astrophotographs. Wilson, the owner of Brighton Travel & Tour Sdn Bhd, is an award-winning photographer. Guek Peng Siong, another photography expert in our group, accompanied him. They both decided to capture some Milky Way photos at this secluded beach due to its remoteness, lack of streetlights, and tall trees that make for a great foreground. I also attempted to take my first Milky Way photo, although it turned out differently than I had hoped. Nevertheless, I learned a lot from both of them.
After visiting Mulu, we had a half day to explore Miri before heading back to Kuala Lumpur for our evening flight. Andy, our Brighton Travel and Tours guide, took us to a few more sights in the city.
Other places to visit near Miri
Miri serves as a starting point for various compelling destinations in northern Sarawak. Following our trip to Niah National Park and Bario, we will head towards Gunung Mulu National Park, recognized as a Unesco World Heritage Site. Our visit to Mulu Caves will include exploring the Deer Cave and Lang Cave, which we had previously visited nineteen years ago. Observing any changes that may have occurred over the years will be fascinating.
During our nine-day holiday to Northern Sarawak, we explored the beautiful cities of Miri, Mulu, and Bario. We even took a day to visit Brunei. Our travel plans were organized by Brighton Travel & Tour Sdn. Bhd., who can help you with planning your trip to Sarawak.
Watch the video we shot about the places to visit in Miri 👇👇.
We also uploaded a video showing you all the attractions in Miri we visited. Please click the image below to bring you to our YouTube channel (shot in high definition!). You may also want to check out our hiking trip to Mount Kinabalu and the Kinabatangan River in Sabah.