Either you are visiting Kuala Lumpur with young children, or want to experience the fun and thrill of the theme park, you should include Sunway Lagoon in your itinerary. It is a one-stop them park with over 90 attractions spread across 88 acres surrounded by a lagoon.
Sunway Lagoon still attracts busloads of tourists since it opened in 1992. There are hundreds of locals immerse themselves in their own world with the fun and excitement of the rides and activities. This article will show you some of the highlights at Sunway Lagoon. Let's follow me on this virtual tour.
Entrance fee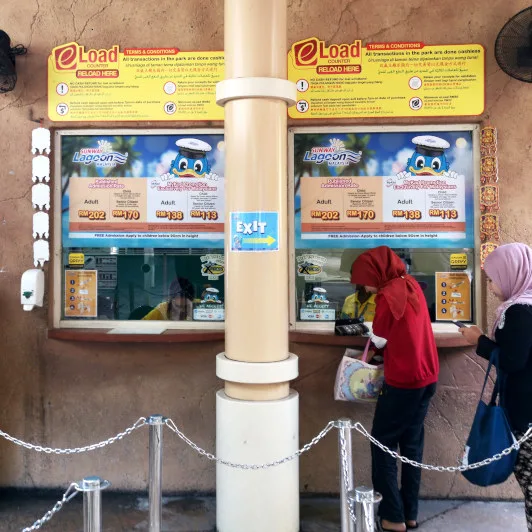 The entrance fee to Sunway Lagoon is not cheap. The locals and seniors enjoy a lower rate upon presenting their identity cards. Otherwise, you can look out for promotion tickets on the Internet. Compare the standard rate, as stated in this photo.
An all-in-one theme park
Once you enter the park, you will see there is a sign that indicates different sections of Sunway Lagoon. The main sections are Water Park, Wildlife Park, Nickelodeon Lost Lagoon, Extreme Park, and Amusement Park. If you add Scream Park, which is relatively small to the list, there will be six parks in Sunway Lagoon.
1. Water Park
Water splashes at the mouth of the African Pythons ride Sunway Lagoon. There are many more similar rides in the water park.
There are lockers and changing room nearby. I suggest you should enjoying the dry activities before drenching yourself in the water.
Lake Kariba at Water Park
Among all the different rides and pools, Lake Kariba (not to be deceived by the name, it is a waist-deep pool) is the most crowded area. It is packed with kids and teenagers playing volleyball.
Water Park – Wave Pool
Wave pool is a large shallow pool for anyone who wants to laze around and doing nothing. Enjoy the periodical downpours from the giant basket.
Zulu Walk, Sunway Lagoon
Outside food is not allowed in Sunway Lagoon. Nevertheless, there are various eateries available at Water Park. Right in front of the Zulu Walk is Subway and Mary Brown Fried Chicken. There are some souvenir shops inside the Zulu Walk, and you will arrive at Wildlife Park when you emerge from the other end of the Walk.
2. Wildlife Park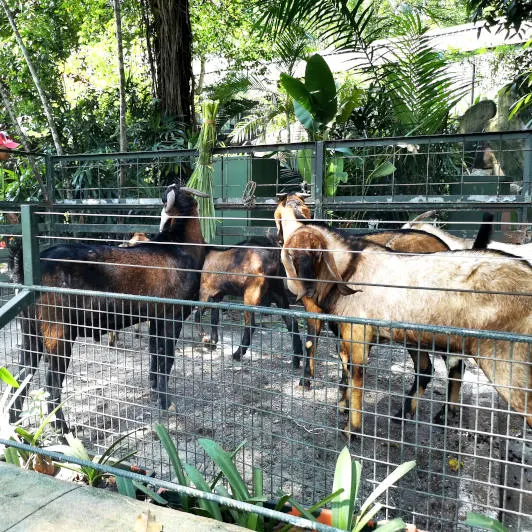 Kids will like this park. Most of the animals here are tame and small, except there are a white tiger and bear.
Black swan and Domestic goats are just along the main trail.
Pet Village/Aviary – Wildlife Park
Pet Village is the spot where kids can touch and caress tame animals. There are rabbits, Guinea pigs, tortoise running freely in the enclosed village.
There are a variety of birds flying freely in the Aviary section.
3. Nickelodeon Lost Lagoon
After visiting the Wildlife Park, you will arrive at the Nickelodeon Lost Lagoon.
There is an enormous SpongeBob water play station, where there is water slides fun for kids and adults.
Hippo Valley and Kubarango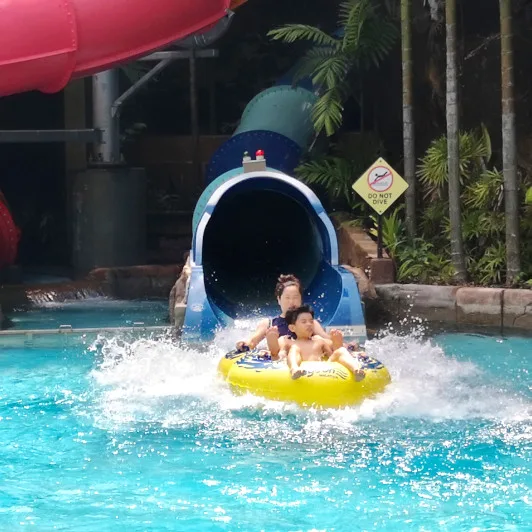 Kids will enjoy the water ride at Hippo Valley, while the adults may want to try the Kubarango.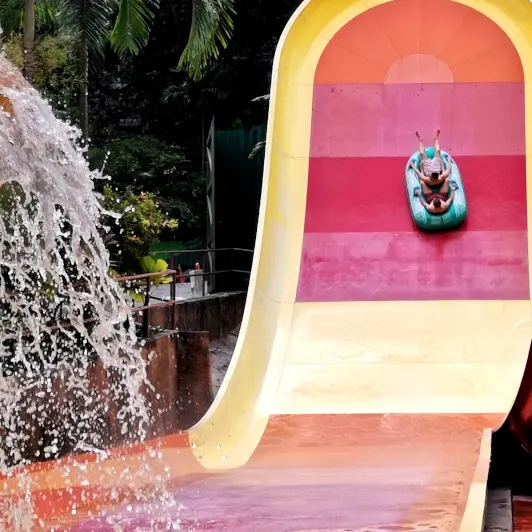 At Kubarango, be ready to experience a sudden drop on a near-vertical and backward into a reverse freefall before returning you with a splash!
Recognition – TripAdvisor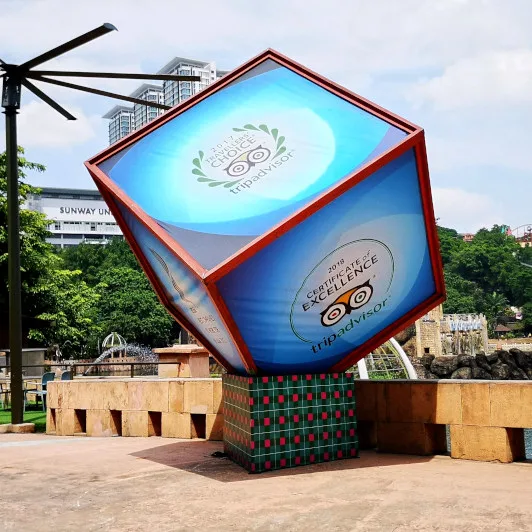 There is a giant tilted cube right after to the entrance of the Nickelodeon Lost Lagoon – a recognition by TripAdvisor.
4. Extreme Park
The Extreme Park is next to the Lost Lagoon. The first encounter is not really extreme, the Archery Target Shooting.
Next to it are the real deal. There are Go Kart and Bungy Jump (pay per ride), Flying Fox, and others. If you want to take on the challenging activities that guarantee to pump up your adrenaline, Extreme Park has it all.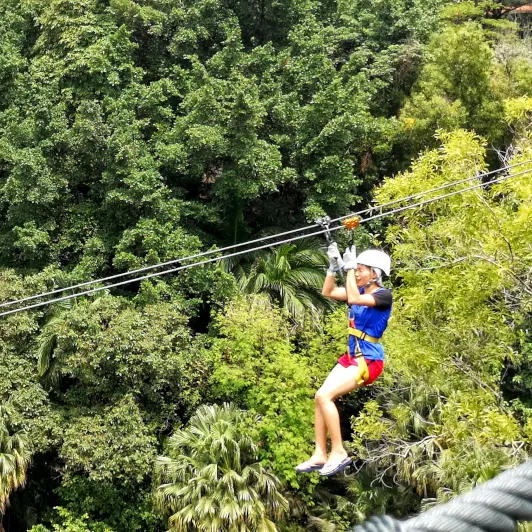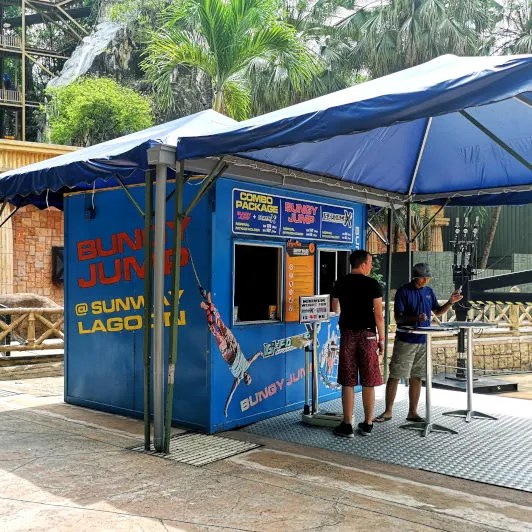 5. Amusement Park
There aren't any out of the norm rides in the Amusement Park. Tomahawk is the ride that gets the most screaming when it stops standstill upended after the upward swing.
Pedal Boating and kayaking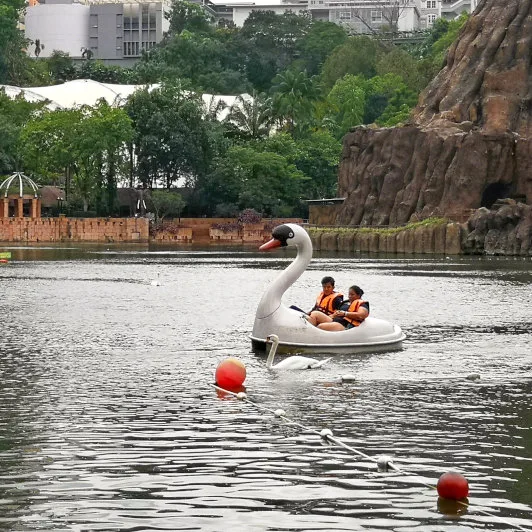 There are different activities for everyone. Relax and enjoy the scenic view of Sunway Lagoon by taking the pedal boating after trying all the thrilling rides.
Dining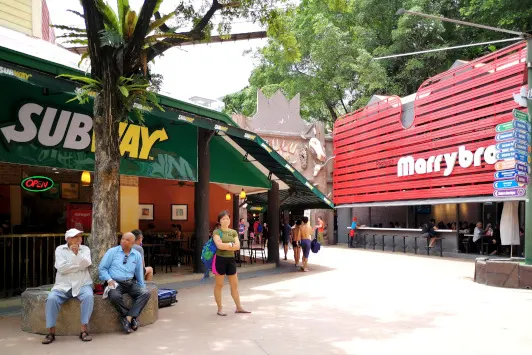 There are a variety of restaurants and food stores in Sunway Lagoon.
If you are looking for some well-known brands, Starbucks is located at the Water Park, and Subway is right in front of the entrance of the Zulu Walk.
Other major attractions in Kuala Lumpur:
There are many more worthy places that you should visit when you are in Kuala Lumpur. My top three recommendations are:
– Kuala Lumpur Tower, the tallest tower in Malaysia
– Batu Caves, the Hindu Temple build in a limestone cave
– Thean Hou Temple, the modern Chinese temple with magnificant ceiling art

Click the links above, which will send you to the respective page that provides you the similar details given as on this page for Sunway lagoon.
Useful Information
Sunway Lagoon is a theme park with a wide range of activities, from the thrilling, screaming rides to mind-healing, calming bird watching and animal patting. There is always something suitable for everyone.
Address: Bandar Sunway, 47500 Subang Jaya, Selangor, Malaysia
GPS: 3.070083, 101.607751
Opening hours: 10.00am – 6.00pm daily
Entrance: RM202 (published rate), other packages are available.
Dress code: smart casual
Parking: The nearest parking area is at Sunway Hotel
Others: Outside food is not allowed, only water is permissible
Official website: https://sunwaylagoon.com/
The Sunway Lagoon Theme Park location