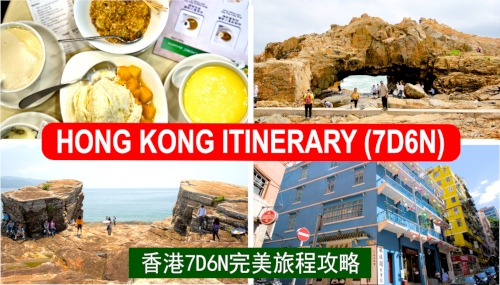 If you're planning a trip to Hong Kong and seeking insights on your itinerary, you've come to the right place.
I recently spent a week with my family living in Hong Kong and compared the places they showed me to the standard tour packages. I noticed a significant difference, giving me a new perspective on Hong Kong. Although I've been to Hong Kong several times, many places I visited this time were unique and offered a view of the city I've never seen before.
We also had the chance to witness some celebrations during the National Day of China and the Mid-Autumn Festival. The experience allowed us to see Hong Kong differently, besides trying some of the city's best food.
Here is the Hong Kong itinerary. Many people assume that Hong Kong is only about skyscrapers, food, fashion, and shopping, but that's untrue. It's worth venturing out of the city to explore the offshore islands and geopark, which are also worth your time.
The 7D6N Hong Kong itinerary
Day 1: Arrive at the airport, visit the Aberdeen Market,
Day 2: Visit the Blue House, Monster Building, Lee Tung Ave, Fire Dragon show,
Day 3: Visit High Island Reservoir East Dam, Lantern Festival at Victoria Park, Nan Lian Garden
Day 4: Visit Tung Ping Chau, Fireworks display for National Day
Day 5: Vist Cape D'Aguilar, Hong Kong Museum of Coastal Defence
Day 6: Visit Disneyland
Da7 7: Departure back to Malaysia
Note: Besides Disneyland, most places and activities are not touristy. We also enjoy a variety of delicious specialty foods. I will list the places we visited chronologically and include the Hong Kong food section at the end.
Watch the video of our Hong Kong itinerary (at the end of this article) 👇👇.
1. Exploring the newly renovated Aberdeen Market
You may wonder why I went to visit a wet market! Let me explain.
My brother stay at Aberdeen, and I have visited him multiple time. I am very familiar with this dirty old market.
However, it has undergone a massive renovation and was reopened in phases starting on April 21, 2023.
The renovated Aberdeen Market now boasts 142 stalls and offers various retail products, including fresh vegetables, fruits, poultry, fresh and frozen meat, and other dry and wet goods.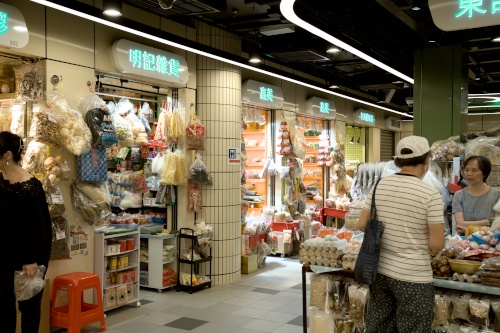 What struck me the most was that it is a modern wet market that is fully air-conditioned. It is fascinating that it has an elevator on each floor and comfortable seating areas at certain intervals, just like any other shopping mall.
The market has three floors, with the ground floor mainly selling vegetables and seafood, the first floor dedicated to meat, and the upper floor for dry goods and a food court.
Even drinking fountains were installed, which made me momentarily confused and believe that I still had yet to leave the airport.
This market has bridged the gap between a traditional wet market and a shopping center so seamlessly that I wondered if I was inside a wet market or a shopping mall.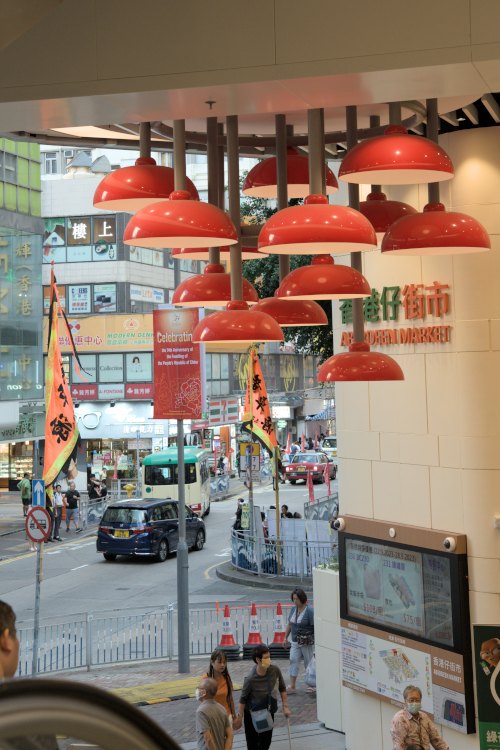 I found this experience eye-opening, and I wish the wet market in my locality could be upgraded to this standard. I would undoubtedly start buying groceries from there again, which I last did a while ago due to its unorganized and unsanitary conditions.
2. Visit the Blue House 蓝屋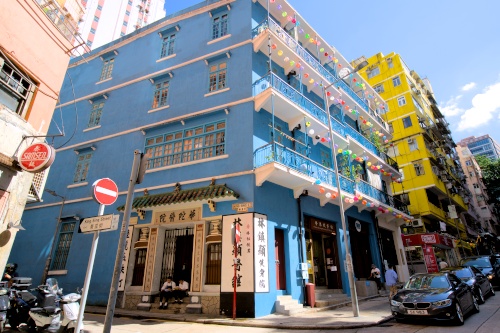 My sister brought me to visit the Blue House in Wan Chai.
The Blue House is an old four-story tenement building located at Stone Nullah Lane 石水渠街, Hong Kong. The building has a unique balcony-style architecture, and its external walls are painted blue, which is how it earned its name. It is a Grade I historic building and one of the few remaining examples of tong lau 唐楼 in Hong Kong.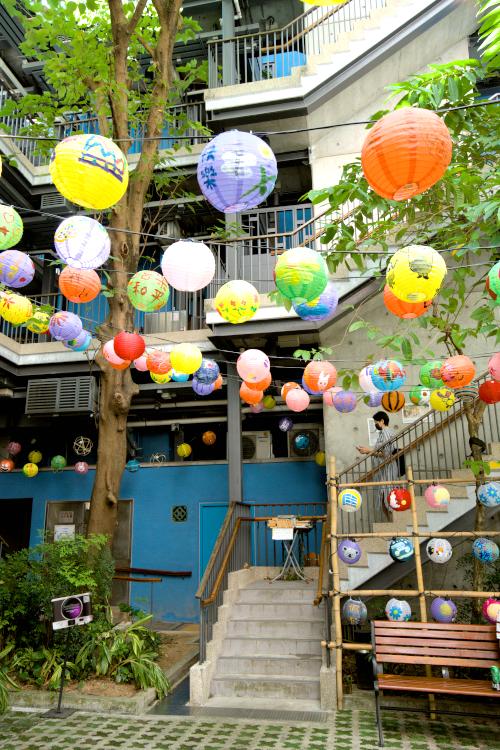 The Blue House was built in the 1920s and was initially constructed as four four-story tenement blocks. During the Japanese occupation of Hong Kong in 1945, it was used as a martial arts school and a Dit Da clinic by Lam Cho 林祖, the adopted nephew of Lam Sai-wing 林世荣, a martial arts expert. In the 1970s, the government acquired the building. Later, in 1990, the outer walls of the building were painted blue, giving it the name Blue House.
Recently, UNESCO awarded the Blue House the highest level of excellence in four categories at its Asia-Pacific Awards for Cultural Heritage Conservation.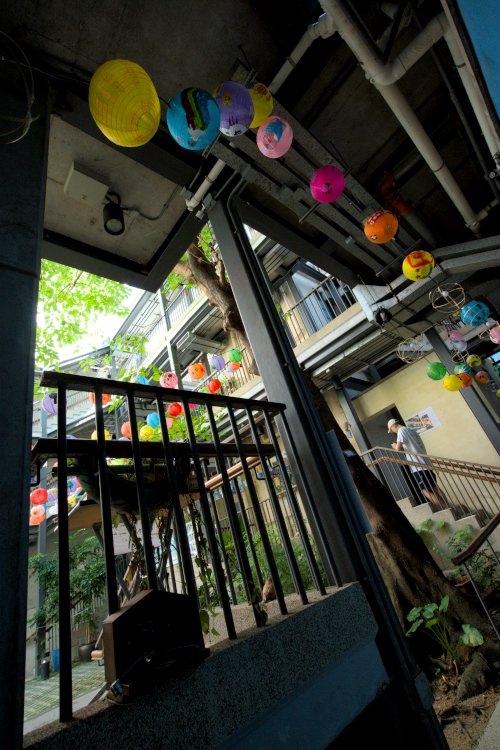 If you enjoy exploring the history and culture of Hong Kong, the Blue House is a must-visit destination. Even if you are just a casual visitor, the building's unique architecture and vibrant color make it a great place to take photos and share them on social media.
3. The Monster Building 怪獸大廈
Despite living in Hong Kong, my sister had never visited this place. This is mainly because it is not a shopping complex or office. Instead, the buildings are a congested high-rise residential area typically inhabited by lower-income groups. This building offers a different perspective of the city than the posh shopping districts and stunning skylines typically highlighted in travel guides.
The Monster Building, also known as the Yick Cheong Building, is part of five connected residential complexes on King's Road in Quarry Bay, Hong Kong. It is a poignant representation of Hong Kong's housing crisis and famed urban density.
The Yick Cheong Building's exterior boasts a remarkable facade with hundreds of small windows and air conditioning units, indicative of the poor living conditions of its residents.
It is a popular spot for photography and has been featured in the Hollywood blockbuster Transformers: Age of Extinction.
A signboard indicates that drones are prohibited, which helps protect residents' privacy. Therefore, I only took photos from the ground upward to showcase the building's magnificence and the densely populated living conditions of Hong Kong's lower-income group.
4. The vibrant atmosphere at Lee Tung Avenue 利东街
Want to look at the skyline and the more affluent side of Hong Kong? There's no better place to visit than Lee Tung Avenue in Wan Chai.
Lee Tung Avenue is a pedestrian walkway called Wedding Card Street. It was famous for its printing industry and was a hub for publishing and manufacturing wedding cards and other similar items.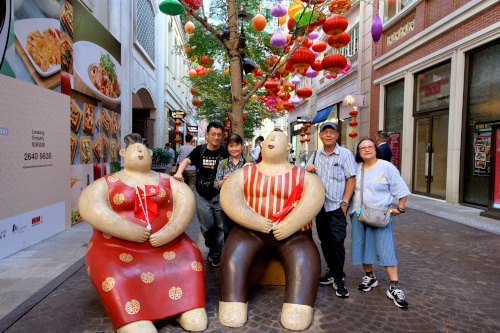 However, as part of an Urban Renewal Authority (URA) project, the street was demolished in December 2007 and redeveloped as a luxury shopping and housing center.
The avenue is a 200-meter-long pedestrian walkway home to various sidewalk cafes, gourmet restaurants, and luxury shops. It is one of the few pedestrian walkways in Hong Kong that's lined with trees and paved with stones.
We were at Lee Tung Avenue in the afternoon and returned the following night. The place was bustling with people, both locals and travelers, as it was the festive season. The atmosphere and vibe of the place were entirely different during the day and night, and we managed to capture some colorful photos.
5. The Fire Dragon dances and fireworks displays
During our visit to Hong Kong, we were fortunate to experience the mid-Autumn Festival. The Festival is celebrated annually in Hong Kong, except for the two years during the pandemic. One of the Festival's highlights is the fire dragon show, which takes place at night. This year, the show was held in Aberdeen, where we were staying.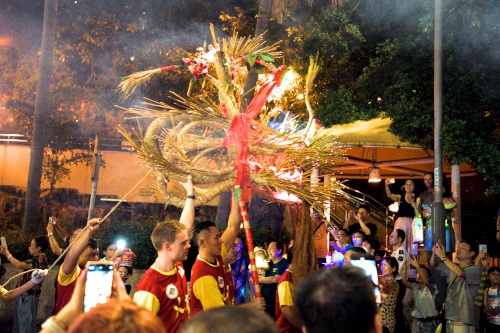 The show features a procession of swirling dragons illuminated with incense and parade through the streets of Aberdeen. Similar shows occur simultaneously at several locations in Hong Kong, and the streets are filled with residents who come out to witness the spectacle. Tonight was the busiest I had ever seen Aberdeen during my numerous visits.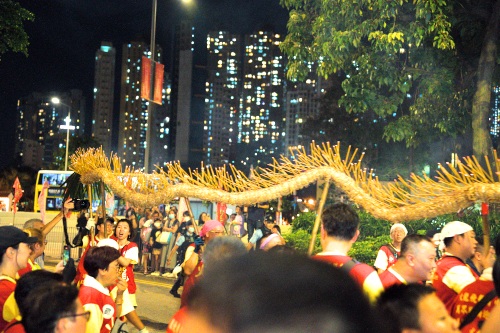 In addition to the fire dragon show, we enjoyed a breathtaking fireworks display the following night, marking the National Day of China.
If you are okay with crowds, visit Hong Kong during the festive season to experience the traditional celebrations besides the regular sightseeing.
6. High Island Reservoir East Dam 万宜水库东坝
The High Island Reservoir East Dam is a remarkable landmark in Hong Kong, noted for its stunning geological features and breathtaking scenery.
It is in the southeastern part of the Sai Kung Peninsula in the New Territories of Hong Kong. The East Dam is part and parcel of this reservoir and was built in 1978. My brother-in-law worked on this site during construction and kindly took me to revisit it today.
The High Island Reservoir is renowned for its UNESCO-listed volcanic rock columns, which are plentiful and enormous and can be seen at the East Dam. The hexagonal rock columns are breathtaking, making it a unique attraction worth visiting. The East Dam is the most readily accessible part of the Hong Kong Global Geopark and the only place visitors can touch the hexagonal rock columns.
A memorial dedicated to five workers who died during the reservoir construction is located next to the East Dam.
How is the hexagonal rock formed?
Around 140 million years ago, volcanic activity caused molten lava to flow and rapidly cool. The lava's contraction and cracking during cooling led to six-sided polygonal columns. Over time, erosion and weathering exposed the columns, making them visible to visitors today.
The S-shaped hexagonal columns at the High Island Reservoir East Dam were formed through volcanic activity, cooling, and subsequent deformation caused by earthquakes and regional tectonic movements.
7. Nan Lian Garden 南莲园池
After watching the hexagonal rock formation at the East Dam, we visited the Nan Lian Garden. This Chinese classical garden is located in Diamond Hill, Hong Kong. Across the garden is the Chi Lin Nunnery 志蓮淨苑.
The Nan Lian Garden is worth visiting, not only because it's free to enter but also for its ancient Tang Dynasty-inspired design featuring hills, rock structures, bridges, pavilions, and ponds.
If you're into Chinese gardens and architecture, this place is perfect. Otherwise, it is a paradise for taking photos with the stunning architecture and scenery.
We also take our time to visit the Chi Lin Nunnery next to the garden. The scenery is equally captivating.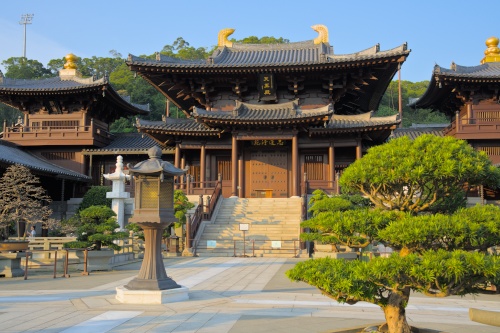 The magnificent architecture of the main building of the nunnery.
The Shan Men 山门 serves as the primary entrance of the nunnery. Its name, which means "mountain gate," is fitting as most monasteries are located in the mountains, far from the hustle and bustle of the city. When you enter the mountain gate, you leave behind the struggles of worldly life.
Shan Men, also known as San Men 三门, means "three gates." This refers to Buddhism's three important methods to gain liberation: wisdom 智慧, compassion 慈悲, and skillful means 方便. These can also be interpreted as faith, understanding, and practice. By entering the monastery, it is hoped that one can achieve spiritual liberation.
8. Tung Ping Chau 东平洲
If you ever plan to visit Hong Kong, Tung Ping Chau should be on your list of must-visit destinations. This beautiful island offers a refreshing escape from the city's busy atmosphere with its natural scenery.
Tung Ping Chau is a small island off the main Hong Kong Island coast. It is the most easterly point of the Hong Kong territory and is part of the Hong Kong UNESCO Global Geopark.
We boarded a ferry from Ma Liu Shui Public Pier, which took about one and a half hours to arrive at Tung Ping Chau. As we approached, we saw the view of the whole island from the ferry, which was relatively flat. This is why it's called Tung Ping Chau, meaning "flat island of the east."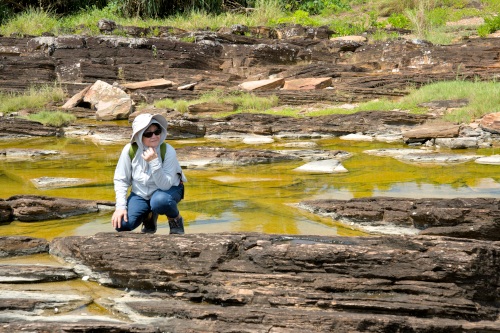 The island's main attractions include the old villages, A Ma Wan 阿妈湾, Tin Hau Temple 天后宫, Kang Lau Shek 更楼石, Lung Lok Shui 龙落水, and Cham Keng Chau 斩颈洲.
Geologists hypothesize that over 50 million years ago, the surrounding mountains were subjected to abundant sunlight and rainfall, causing plant debris, sand, and mud to be carried away and deposited in the lagoon. The sediments were then layered and compacted, eventually turning into rocks. Over the next tens of millions of years, the rock formation was subjected to numerous fluctuations in sea level and long-term weathering, eventually becoming the island we see today.
We've shared our Tung Ping Chau trip experience in a new article. Click here to read it.
9. Cape D'Aguilar 鶴咀
Apart from Tung Ping Chau, another natural wonder worth visiting in Hong Kong is Cape D'Aguilar. The cape is located on the southeastern end of the D'Aguilar Peninsula and is named after Major-General George Charles d'Aguilar, a former General and Governor of Hong Kong. It is a part of the Cape D'Aguilar Marine Reserve, the only marine reserve in Hong Kong.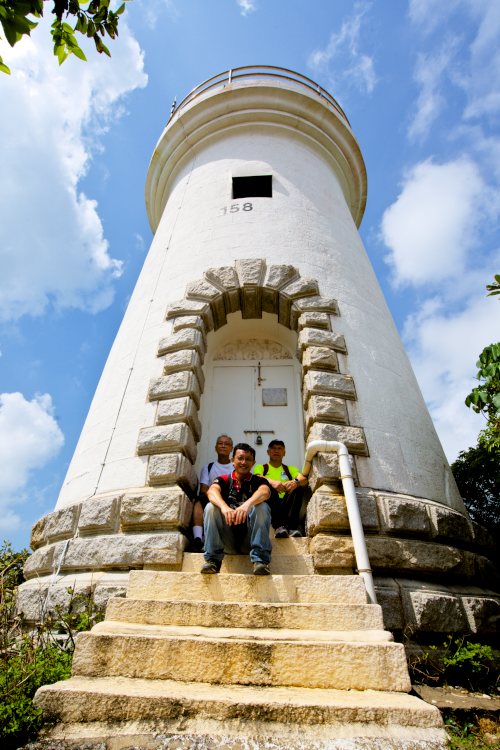 The trail to the cape is relatively easy and takes you through some captivating scenery. Along the way, we arrived at the Cape D'Aguilar Lighthouse, the oldest surviving lighthouse in Hong Kong.
As we continue along the trail, we come across Thunder Cave, a narrow, dark sea cave with a low ceiling.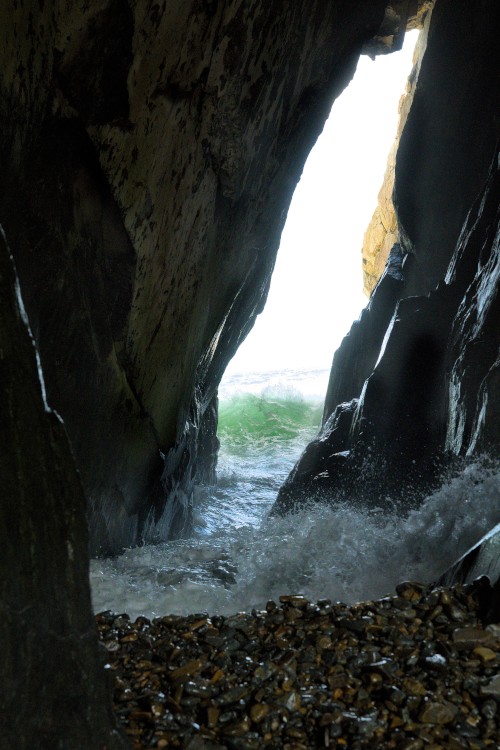 As I entered the cave, sea waves crashing against the rocks grew louder. The cave walls, curved and jagged, were a testament to the power of nature. I could feel the cool, damp air on my skin as I ventured deeper, the sound of the waves echoing all around me.
The most magnificent view of all can be found at Crab Cave. Its giant claws and eyes came to life with a bit of imagination. The waves, pounding against the rocks, created a mist and foam spectacle. It was a sight that I knew I would never forget.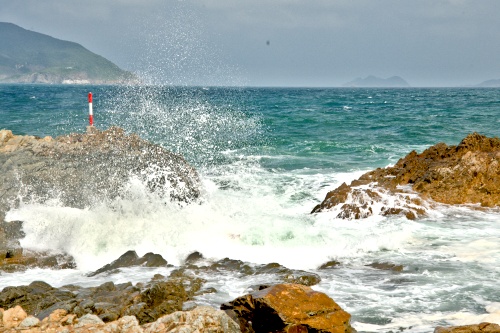 We wrote an in-depth article about Cape D'Aguilar. Click here to read our story. If you're short on time during your trip to Hong Kong, make sure to visit either Tung Ping Chau or Cape D'Aguilar.
10. Hong Kong Museum of Coastal Defence 香港海防博物馆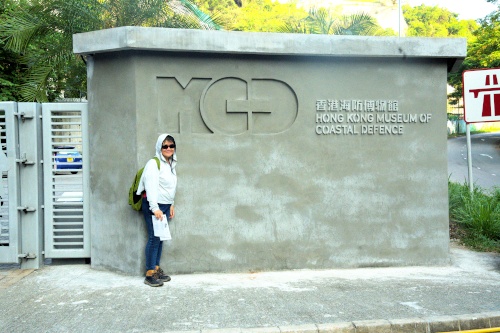 We visited the Hong Kong Museum of Coastal Defense the day after we returned from Cape D'Aguilar. It was a bit late when we arrived, and we only had one hour before it closed.
The museum is in a former coastal defense fort that overlooks the Lei Yue Mun channel near Shau Kei Wan on Hong Kong Island. The British built this fort in 1887 to defend the eastern approaches to Victoria Harbour.
The museum has permanent galleries featuring equipment exhibits from the Ming Dynasty up until the Hong Kong Garrison of the PLA. One of the exhibitions, "600 Years of Coastal Defence," tells the story of the defense of the Hong Kong coastline from the Ming Dynasty to the First and Second Opium Wars, the Battle of Hong Kong, and up to the present day. The exhibition also includes military memorabilia such as cannons, tanks, and other vehicles.
We also view replica exhibits of a 6-inch disappearing gun and Brennan Torpedo.
If you're a fan of museums, be sure to add this spot to your Hong Kong itinerary.
11. Hong Kong Disneyland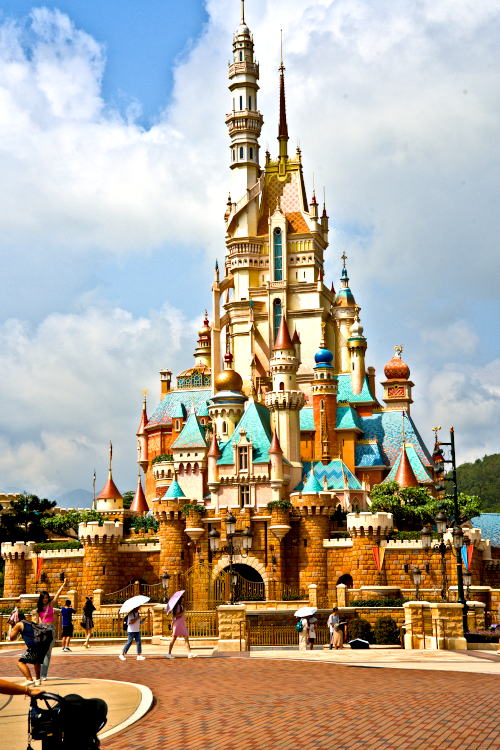 The final destination on our Hong Kong itinerary is Disneyland, the only place on the list included in every Hong Kong itinerary. The reason we included it is pure curiosity. I have visited Disneyland in Tokyo and Anaheim, and I would like to know if there are any significant differences with this one.
One notable aspect of Hong Kong Disneyland is that most announcements and shows are in English and Cantonese. Apart from that, the setup is similar to other Disneyland parks worldwide.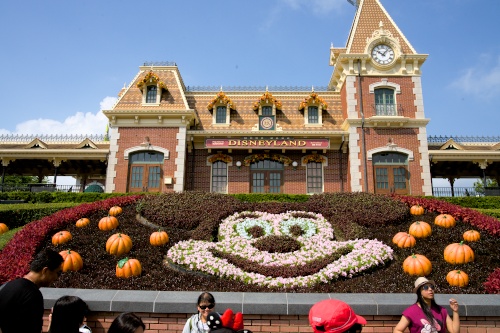 However, the locals' obsession with photographing Disney characters makes Hong Kong Disneyland unique. There are photo sessions, but the queues are always long due to the high demand.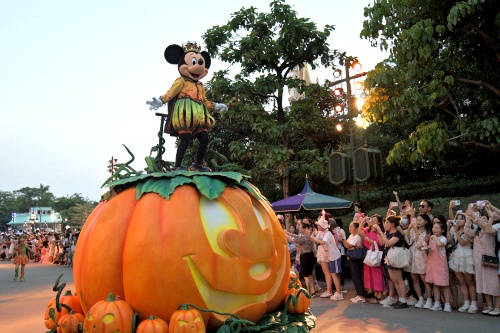 Our visit to Disneyland was limited to rides and watching shows and parades. We highly recommend this place to families with children and adults who are young at heart. The fun activities here will likely make you forget your worries and transport you back to childhood.
Bonus: Trying local delicacies and street food in Hong Kong
My Hong Kong itinerary is not complete without mentioning about food. Tasting the city's specialty cuisine is a must-do when visiting Hong Kong. My siblings took us to some of the best local restaurants and cafés to try out the food that the locals love. I have written an in-depth article about the food we tried in Hong Kong, but for now, let me highlight a few items that I highly recommend.
Firstly, the wonton noodles are worth a try, especially from the Michelin star restaurants. The unique taste of the soup and the springy noodles make it a must-try dish.
Secondly, Hong Kong is famous for its Dim Sum. So please schedule some time to have a meal at the Dim Sum restaurant of your choice.
Thirdly, if you are a fan of congee, then the boat congee (艇仔粥) is a must-try dish, only available in Hong Kong.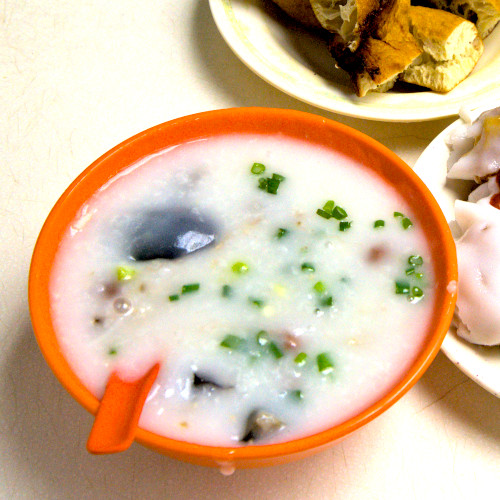 Besides, Zhaliang (炸两) is a unique dish that comprises crispy youtiao wrapped in a thin layer of rice noodle rolls.
Also, you should not miss trying the beef brisket noodles 牛腩面, a famous and genuinely local cuisine in Hong Kong. You can easily confirm this by the sheer number of specialty shops offering them.
Lastly, if you have a sweet tooth, you should visit a local dessert house to try some unique Hong Kong desserts.
You can read my detailed article about Hong Kong food by clicking this link.
Now it is your turn to draw up your Hong Kong itinerary
This trip gave me a new perspective on what Hong Kong is about. Beyond the skyscrapers that define Hong Kong's skyline lies a different world of local neighborhoods, culture, and landscapes to be explored. We skip most touristy places except Disneyland and explore some nature trails and Unesco sites far away from the city.
This information will help you plan your Hong Kong itinerary. We hope you have an enjoyable and productive trip exploring Hong Kong.
Watch the video of our itinerary 👇👇.