We just got back from our trip to Bhutan last month. We got many questions from people who have asked us about things to know before visiting Bhutan.
With this in mind, we have put together a list of frequently asked questions to provide the answer with our first-hand information.
We cover as much as possible based on what we have seen and from other sources.
Nestled in the majestic Himalayas, the Kingdom of Bhutan is a breathtaking destination that travelers often overlook due to its remote location, cost, and logistical challenges.
However, this hidden gem is truly worth the effort to visit. Bhutan boasts a rich cultural heritage, a harmonious society, and an array of stunning natural landscapes that ranges from the snow-capped peaks of the Himalayas in the north to lush jungles in the south.
1. Can I make a trip to Bhutan?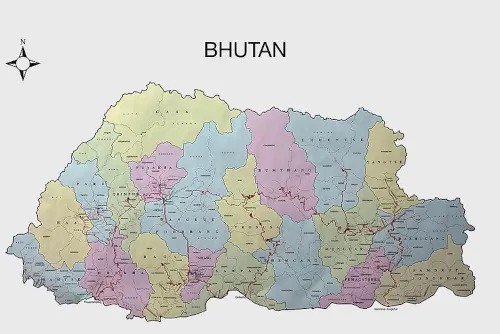 Bhutan had little contact with the outside world and did not encourage tourism before 1974. The Bhutanese government maintained rigorous control over the nation's borders to protect its distinctive cultural heritage and way of life.
The government decided to open the country to foreign visitors in 1974. Since then, visiting Bhutan has become possible, and tourism has expanded tremendously and become a key source of revenue for the nation.
2. What are other names given to Bhutan?
Bhutan is known as the "Land of Thunder Dragons" due to its connection to the mythical Druk. Druk, meaning "thunder dragon," is said to ward against evil and provide good fortune.
Bhutan's remote and secluded setting in the Himalayas has earned it the nickname "Last Shangri-La." As a result, the nation has maintained its traditional culture in the modern day.
3. How much it costs to visit Bhutan?
Trip to Bhutan is costly!
Tourists have had to pay a charge of USD250 per person per day since 1992, including the guided tour, hotel, food, and transportation. Out of the USD250, the government receives US$65 for the Sustainable Development Fund (SDF) charges per person per night to promote free education and healthcare for the Bhutanese.
However, the Tourism Levy Act 2022 was passed by the parliament, increasing the sustainable development fee to USD 200 per day per tourist. The new rate took effect on September 20, 2022. Families receive a modest break because children from six to twelve pay just half the SDF (i.e., US$100 per day), while children under five are excluded from the price entirely.
Tour rates are no longer fixed because the new fee does not cover the tour, room, lunch, and transportation. Tourists may now select their accommodations and design their itinerary. These costs are in addition to the US$200 per day charge. Therefore, the total cost of the trip has increased.
4. So, why do I still want to make a trip to Bhutan?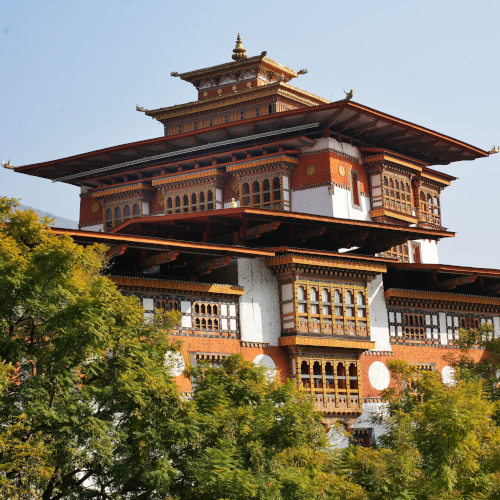 Many people, including me, have heard about Bhutan but have a vague idea of what the countries like.
It's such an elusive and mysterious country that I must experience it myself.
It should have stunning snow-capped mountains, rich culture well preserved, and a unique way of Buddhism that sets it apart from other countries.
I also wanted to find out why the country is considered one of the happiest countries in the world, which measures it with Gross National Happiness.
So once the country's border opened after the pandemic, I contacted a tourist company that operates a Bhutan tour and immediately booked my trip to Bhutan.
I also heard about the gross national happiness concept and want to know more.
Lastly, the Tiger's Nest Monastery is one place that I have always wanted to visit.
5. Can tourists travel independently without a tour guide?
Before 2022, independent travel to Bhutan was not an option except for Indian, Bangladeshi, and Maldivian citizens. However, as of 2022, travelers of all nationalities can explore Bhutan independently.
This significant change opens up many options for the duration and places to visit.
6. What are the cultural norms and practices to avoid?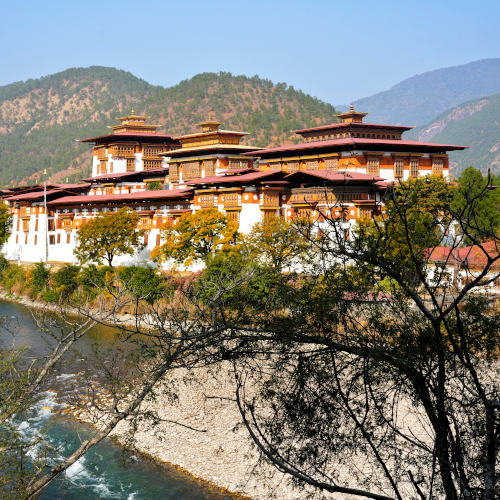 When visiting Bhutan, we must be aware of and respect the culture and customs. Here are a few things we did.
Ask permission before taking photos or videos of individuals at places when in doubt. Generally, it is not allowed to take photographs inside the monastery and museum.
Modestly dressed when visiting monasteries and temples (no shorts and singlets are allowed, a collared T-shirt is OK). Also, be prepared to remove your shoes before entering the religious sites.
Be conscious of the environment and avoid single-use plastic items.
7. Using internet and SIM cards in Bhutan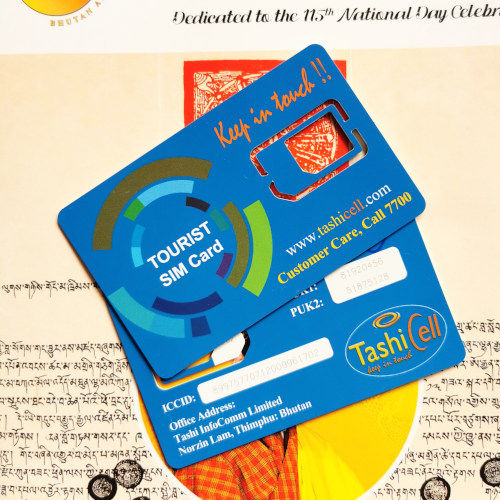 While mobile network service is available in Bhutan, coverage can be inconsistent. Some international mobile service providers may offer roaming services in Bhutan, but many still need to, including my Malaysian service provider, Digi.
Our tour guide helped us to purchase the local SIM card from Tashi Cell. 3G of data is sufficient for a trip that lasts less than a week, as there is internet service at our hotel.
8. Will Bhutan's high elevations cause altitude sickness?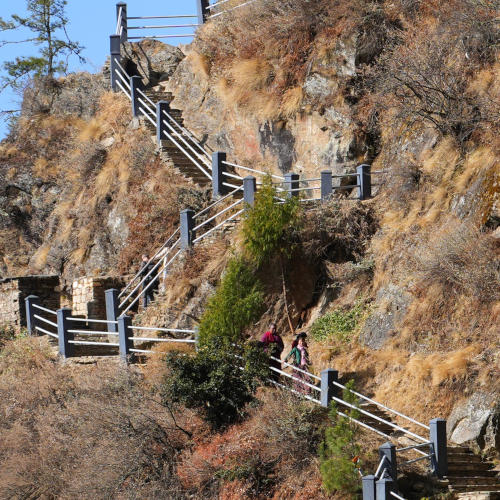 Bhutan is a country of high altitudes generally. The northern region is particularly hilly as it is close to the Himalayas.
Fortunately, we are visiting mainly Paro (2,280 m/7,480 ft)) and Thimpu 2,320 m/7,610 ft) at a lower altitude.
However, it is still best to acclimatize and walk slowly uphill to avoid getting high altitude syndrome. This is especially true if you want to visit the Tiger Nest Monestry, which requires hiking for about 8km round trip.
The symptoms of altitude sickness include nausea, headaches, dizziness, and difficulty sleeping. You should immediately stop climbing, and best to descend if this happens.
If you are concerned about altitude sickness, please get advice from the doctor to take medicine for high altitude sickness a day before ascending. We took acetazolamide 500mg in divided doses daily before hiking to the Tiger's Nest Monastery, and we were free from any symptoms. However, please consult your doctor as it is a prescription medicine.
9. How to fly to Bhutan
Paro International Airport is the only international airport in Bhutan. It is located an hour's drive from the capital city of Thimphu.
A limited number of airlines operate flights to Bhutan, namely Druk Air and Bhutan Airlines. Flights to Bhutan are available only from Nepal, India, Bangladesh, and Thailand, with Malaysia and Indonesia as seasonal departure points.
Landing at Paro Airport is an exciting and potentially nerve-wracking experience since the airport is in a deep valley surrounded by peaks as high as 18,000ft (5,000m). Pilots must perform precise maneuvers and turns to reach the runway.
If you are flying to Paro, request a window seat for the best view of the mountain range and witness the takeoff and landing amidst the mountain ranges.
10. What are the places to go if you only have one week to visit Bhutan?
We spent 6 days and 4 nights in Bhutan. Here are the major cities we visited for your reference:
Paro – Rinpung Dzong, Kyichu Lhakhang, Paro National Museum, Tashichho Dzong, and Tiger's Nest Monastery.
Punakha – The former capital of Bhutan. Over here, we have visited Chimi Lhakhang, Punakha Dzong; attended a monk blessing ceremony at Khuruthang temple, and visited the Dochula Pass.
Thimphu is the capital city of Bhutan. We have visited Kuensel Phodrang (Buddha Point), National Memorial Chortan, Motithang Takin Preserve, Bhutan Pot Office Headquarters andJungshi Traditional Handmade Paper Factory.
11. What food we had in Bhutan?
Bhutan is a food paradise if you like spicy food and chili peppers. However, if spicy food is not your preference, you can request non-spicy dishes.
The national dish of Bhutan, ema datse, is a spicy curry made with chilies and farmer's cheese, served with nutty red rice, and topped with ezay salsa, which is made from dried chilies. It is a must-fry dish during your trip to Bhutan.
Most of the local food has a strong influence from India and China. You will expect to have a variety of curries, flatbreads, and momos. Suja tea is also very popular in Bhutan.
There are no slaughterhouses in Bhutan since it is a Buddhist country. Instead, most of the meat is imported from India. Fishing is only allowed on a catch-and-release basis. The restaurants and hotels will serve the tourists with chicken and beef but expect it to be less tasty than prepared with fresh meat.
12. Don't be surprised by the phallic symbols!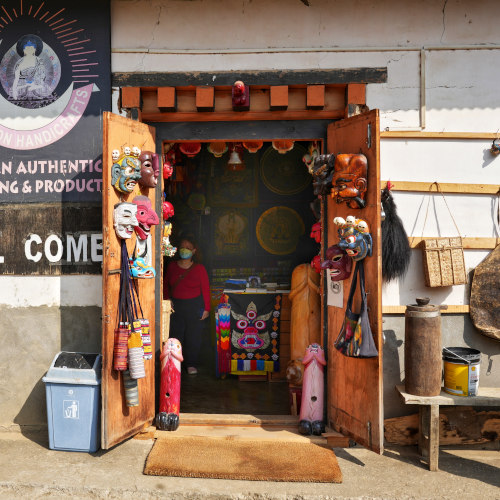 Phallic symbols are common in Bhutan and may be startling to some. However, they are an essential part of Bhutanese culture and religion. As a result, you may see phallic paintings on doorways, walls, and even as large sculptures or souvenirs.
We visited the Chime Lhakhang, known as the temple of fertility at Punakha Valley, on day 3 of our tour. According to our guide, couples who try to have children will visit this temple to pray and make offerings. Local rituals for fertility include women with fertility problems holding a wooden penis about two feet tall and making three rounds around the temple while cradling it against their chest. This ritual is a local tradition that is believed to aid in the process of conceiving.
13. Currency and credit cards in Bhutan
The official currency of Bhutan is the Bhutanese Ngultrum (BTN). Its value is linked to the Indian Rupee and is accepted as legal tender in Bhutan. However, it's worth noting that the Ngultrum is not a legal tender in India.
There is limited availability of ATMs in Bhutan. So it is best to prepare your cash at the airport or hotel before heading down the street for shopping and dining.
Hotels and airports widely accept U.S. dollars in exchange for Nugltrum. Nevertheless, it is best to ask for loose change because you will need them for small purchases and donations in the monastery.
It is expected that when you make a purchase, you will receive Ngultrum in return.
A credit card is not the best option because most shops apply a surcharge for card transactions. Besides that, the Internet connection in Bhutan is not very good. Once, we were in one of the supermarkets at Paro, and our credit card was unable to connect. So eventually, we have no choice but to use the Ngultrum.
14. The best time to visit Bhutan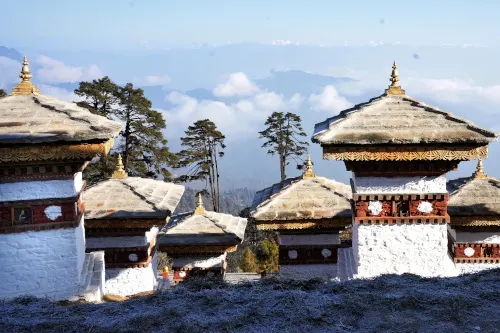 You can plan your trip to Bhutan any time of the year. The best time is spring and fall when the temperature and weather are mild, and the sky is clear. It is the best season to plan for a hiking tour.
We visited Bhutan during winter, a relatively low season. However, the scenery is spectacular, especially the snow-capped Himalayas. There was also no rain during the entire trip.
Summer may not be the best time as the weather is hot and wet.
15. Dress code for visiting Dzong and Lhakhang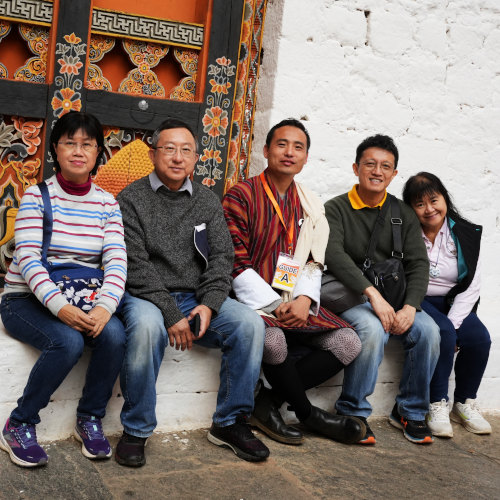 It is only appropriate to be decently dressed when visiting a Dzong or Lhakhang as a form of respect.
The appropriate clothing you should wear during your visit is long pants, long-sleeved shirts, and collared T-shirts. Jean is acceptable as opposed to advice from a particular article I read. (I wore jeans to enter all the Dzongs and Lhakhangs). Also, jackets should not be worn around the waist or unbuttoned or unzipped.
Closed shoes are also required. Caps and hats are not permissible inside the monasteries, but wearing them in courtyards and outdoor areas is OK.
Clothing that covers the legs and arms, pants or skirts that reach below the knee, and a top that covers the shoulders should be appropriate.
16. What is the national dress of Bhutan?
You must try to wear a national dress when you make a trip to Bhutan.
Gho is a knee-length robe tied at the waist by a cloth belt known as a "kera." It is worn with a light undershirt and heavy ankle-high socks.
Kira is a long, ankle-length dress worn by women. It is made of heavy woven fabric, decorated with intricate patterns, and worn with a light blouse and an inner layer. Kira is fastened at the shoulder with a large metal or bone brooch known as a "koma."
Many Bhutanese people wear these garments daily, particularly in rural areas and on formal occasions.
Our tour group has organized a national dress photo session at Le Méridien hotel in Paro.
17. Can Bhutanese speak English?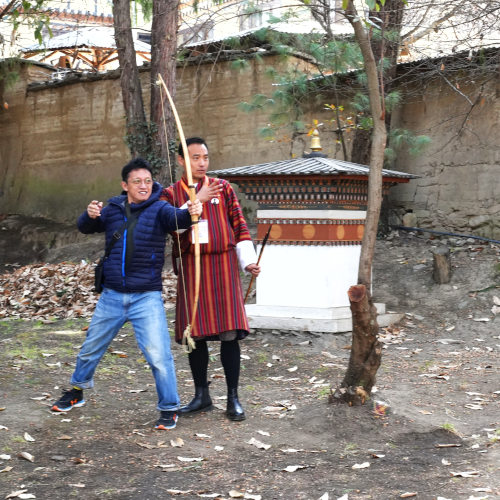 English is the medium of teaching in schools and is widely used by the Bhutanese government and businesses. Therefore, you can converse in English without any problem, although it might be less common in some rural areas.
Most of the younger generation can speak English fluently. Therefore, communication between foreigners and Bhutanese locals should be easy and without significant barriers.
18. Can I take photographs in the monastery and fly a drone?
Taking photographs inside the monastery is prohibited. Instead, relax and admire the magnificent architecture and learn more about the culture and history of the place you visit.
An easy way to remind yourself when you cannot take photos is when you are required to remove your shoes. Nevertheless, there are still lots of photography opportunities outside the monastery.
On a side note, flying drones are allowed in Bhutan, but you need to get a permit from
the Bhutan Civil Aviation Authority (BCAA). Therefore, I've decided to leave my drone back home to keep things simple.
19. Travel on the road in Bhutan
The condition can be rough due to the country's rugged terrain. You may come across dirt roads, hairpin turns, and steep inclines, making them difficult to navigate, especially for drivers who are not used to such roads.
Please bring along your medicine if you are inclined to suffer from traveling sickness during your trip to Bhutan.
You can use the travel sickness pill called dimenhydrinate. It is a non-prescription medicine in our country (Malaysia). It may differ in other countries, and please consult your doctor if it requires a prescription where you live.
20. Can I smoke in Bhutan?
The sale, purchase, and production of tobacco are illegal per the Tobacco Control Act of Bhutan 2010.
However, tourists are allowed to bring a certain number of cigarettes into the country,
You can possess a maximum of 300 cigarettes at any given time within a month and must be able to present a receipt indicating where and when the products were purchased. This step is necessary to avoid facing any trouble during your visit.
Some hotels and indoor bars have designated smoking rooms, but it is prohibited in public areas such as dzongs, chortens, parks, hotels, restaurants, markets, and cinema halls. Public transportation, such as buses, is also designated as non-smoking zones.
Conclusion
Bhutan is undergoing rapid changes. Therefore, it is a massive task for the country to protect its unique culture from the onslaught of foreign culture and influence.
The development has threatened the traditional charm and authenticity in these places. That is why Bhutan has passed the tourism levy Act and increased the SDF to USD 200 per day per tourist. This "low volume, high value" policy is to reduce the number of tourists while still being able to profit from the tourism industry.
The money you spend to visit Bhutan will help transform the lives of 700,000 Bhutanese. The dollar will allow the establishment of a monastery or a toilet on the highway, for instance. You would be proud to know that your trip to Bhutan makes a difference to the country.
Check out other articles related to Bhutan on this blog