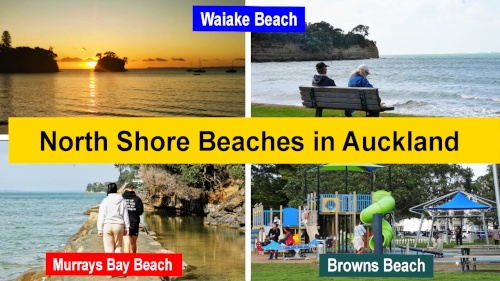 North Shore has several stunning beaches, including Murrays Beach, Waiaki Beach, Mairangi Bay Beach, Browns Bay Beach, and Long Bay Beach. These beaches are the local favorites, known for their clean white sand and picturesque scenery. They are also popular spots for swimming, surfing, fishing, and beach volleyball for the locals.
Before starting our journey, we stopped at Euro Patisserie Torbay North Shore to indulge in their award-winning pies. Their pies have won the Gold award at the NZ Supreme Pie Award, and we couldn't resist the opportunity to try them out.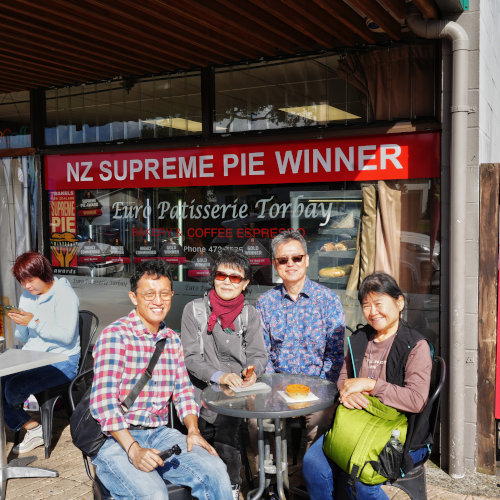 North Shore Beaches
As we plan to spend an extended period in Auckland, we carved out a delightful morning to explore the breathtaking beaches of the North Shore. Our itinerary included Waiake Beach, Browns Bay Beach, and Murrays Bay Beach.
Watch the video we shot at North Shore beaches. It is at the end of this article. 👇👇
1. Waiake Beach
Waiake Beach is only a minute's drive from the Patisserie. For us, it's even within reach of a twenty-minute slow jog from our house, making it a perfect spot to catch a stunning sunrise.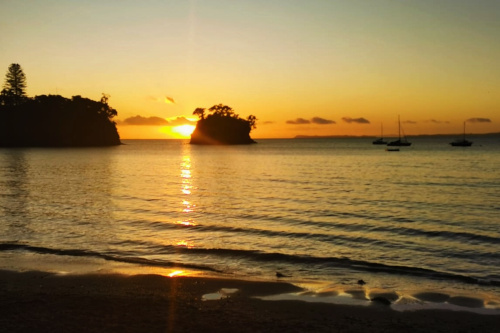 Today, we arrived at around 10 am with a completely different but equally mesmerizing view. The beach's sparkling azure waters and pristine white sand welcomed us.
The calm and shallow waters are perfect for a refreshing swim, exciting paddleboarding, or kayaking adventures.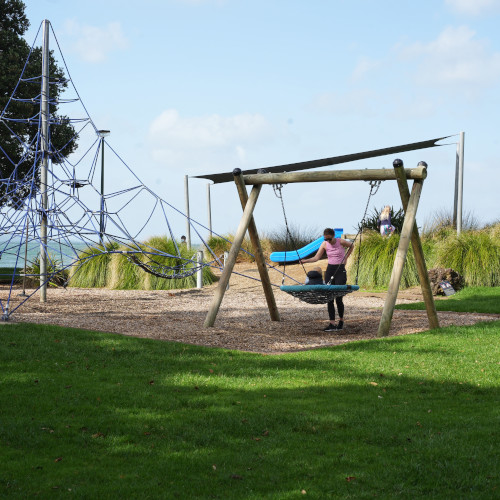 The surrounding area is a mix of lush greenery and charming residential homes, which offers a serene and peaceful atmosphere.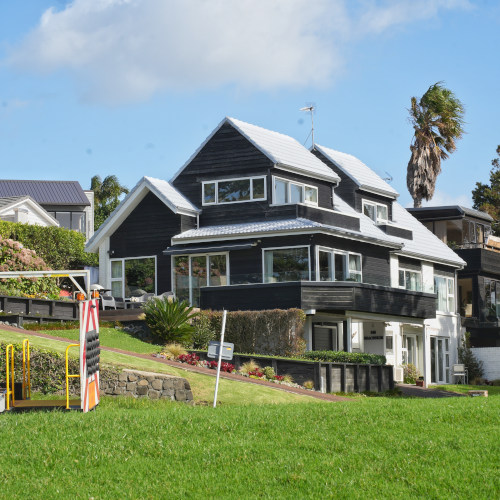 A nearby park boasts plenty of open green space, while large trees offer a respite from the heat. Several benches along the beach provide the perfect place to rest and take in the breathtaking scenery.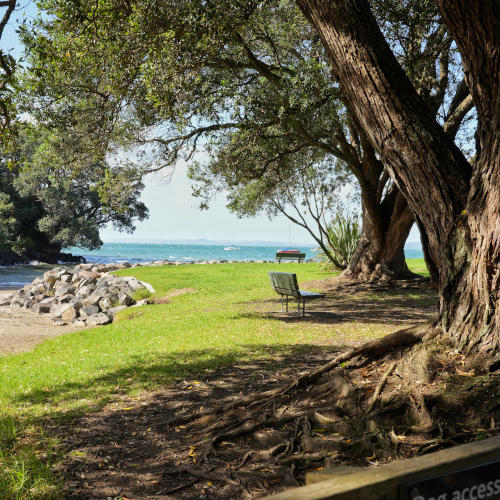 You can use the pedestrian underpass under Beach Road to access the beach from the opposite side of the road.
Besides, visitors will appreciate the convenience of a well-maintained public toilet and changing room facilities.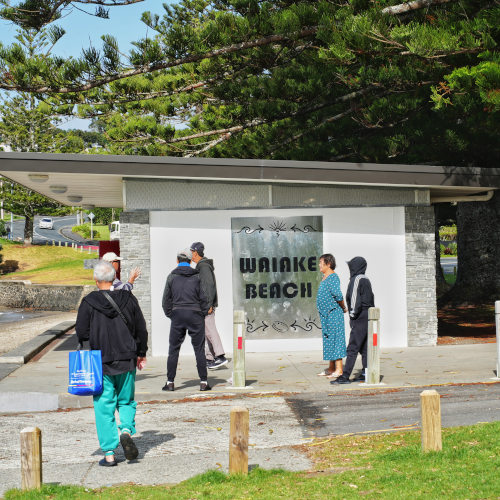 Finally, ample parking along the Beach road near the beach.
Waiake Beach Reserve, Also known as Waiake Bay. Address: 921 Beach Road, Waiake
2. Browns Bay Beach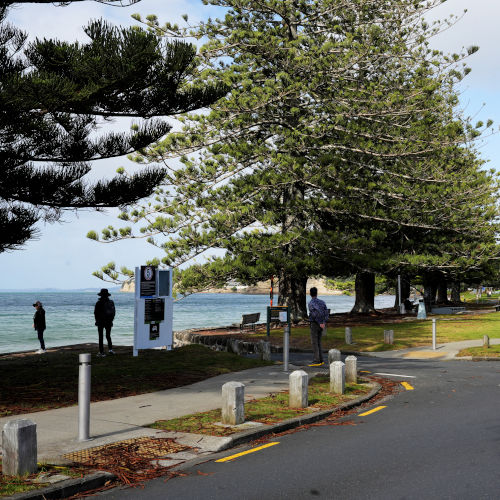 We then went to Browns Bay Beach, a lively contrast to the peaceful Waiake Beach.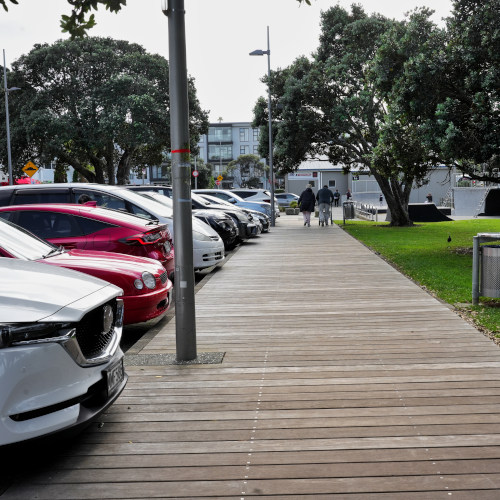 The beach is located in the Browns Bay suburb of Auckland's North Shore, easily accessible by car with ample parking nearby.
We spotted a group of playful red-billed gulls splashing in the water as we approached the beach.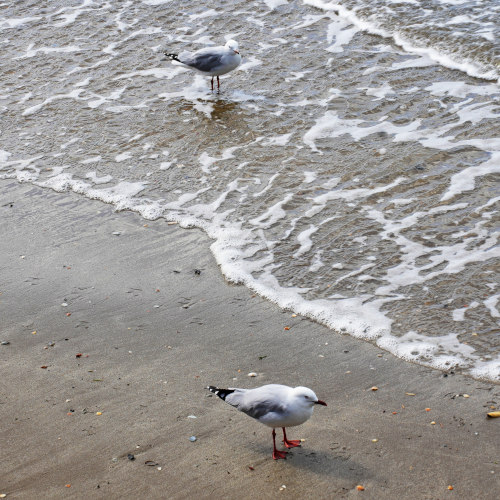 A Browns Bay War Memorial at the beach is a poignant reminder of the area's history and those who have fought in previous wars.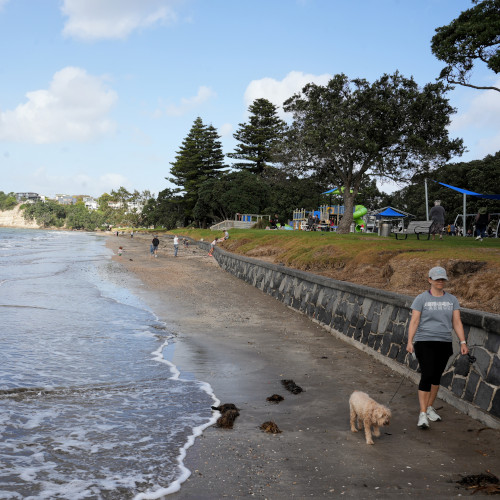 The wide crescent-shaped bay stretches for about 2 kilometers, with golden sands inviting sun-worshippers and families to enjoy picnics while soaking up the picturesque scenery.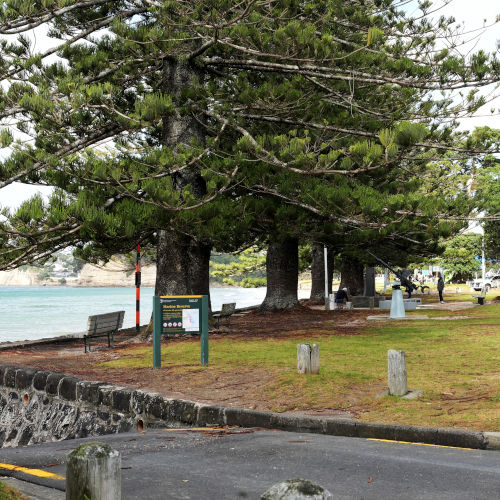 There is a nearby playground, a popular place for families with young children. Skateboarding enthusiasts can also try out their moves at the nearby skate park.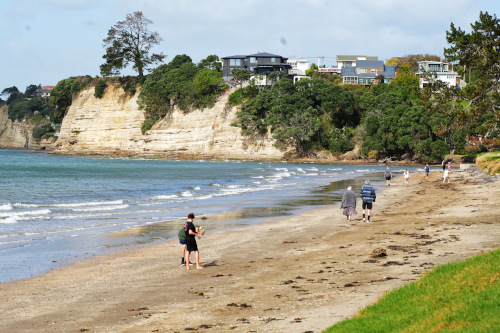 The crystal-clear waters are perfect for a refreshing swim, and young ones can play at the children's playground next to the beach. The Browns Bay Beach Reserve also offers stunning views of the beach and Rangitoto Island, a must-see for those looking to soak up the scenery.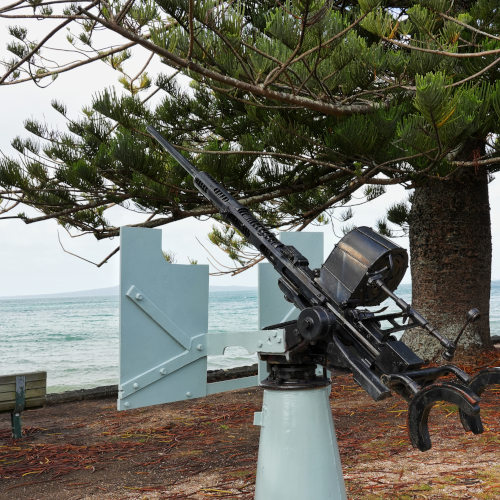 Tomorrow being Anzac Day, visitors can join in on the Anzac Day service held at the beach.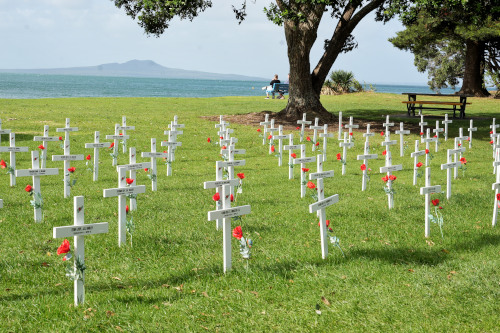 Convenient amenities such as toilets, seating, and picnic tables are also available.
Browns Bay Beach Reserve, also known as Browns Bay. Address: 3 Manly Esplanade, Browns Bay
3. Murrays Bay Beach
Our final destination was Murrays Bay Beach, not far from Browns Bay.
Located in the charming suburb of Murrays Bay, the beach is easily accessible and offers ample parking nearby.
As we strolled towards the Murrays Bay Jetty, we couldn't help but admire the breathtaking landscape surrounding us.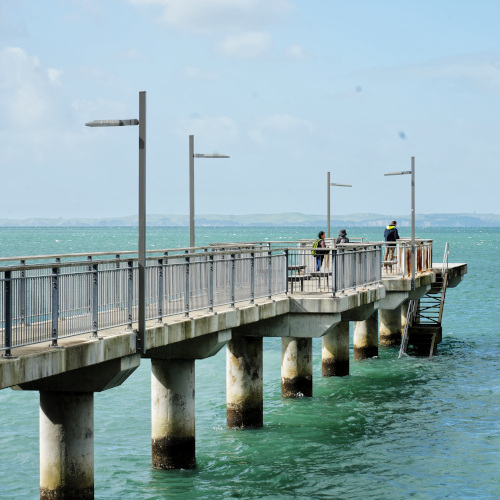 We were delighted to come across a few friendly and photogenic red-billed gulls who seemed to enjoy the company of humans.
If you're a nature enthusiast, several walking trails nearby offer panoramic views of the bay and the stunning coastline.
A beautiful walkway connects Brown Bay and Mairangi Bay Beach, allowing you to stroll along the shoreline during low tide without getting wet.
Murrays Bay Beach Reserve, also known as Murrays Bay. Address: 513A Beach Road, Murrays Bay
Watch the video we shot at various beaches. 👇👇
If you have read this blog post this far, don't miss out on the video shot at various beaches. Click the image below to watch on YouTube (shot in high definition!). If you like New Zealand, read our story at Wenderholm Regional Park.