When you're in Penang, there go a few things you cannot miss out on; and one of these unmissable things is food. Commonly referred to as the Food Paradise of Malaysia, Penang is a delightful place for foodies. From delectable street food to authentic cuisine served at top-notch restaurants.
Here are what we tried during our visit. Some are excellent, and others can be disappointing.
Here are what we ate and our honest opinion.
1. Ivy's Nyonya Cuisine
It is a waste if you're in Penang and don't get a taste of the Nyonya cuisine.
Nyonya is a unique cuisine that infuses Chinese ingredients with different cooking techniques and flavors.
One of the best places to try out Nyonya cuisine is Ivy's Nyonya Cuisine. The restaurant was located among some old buildings enhancing the true traditional feeling when dining.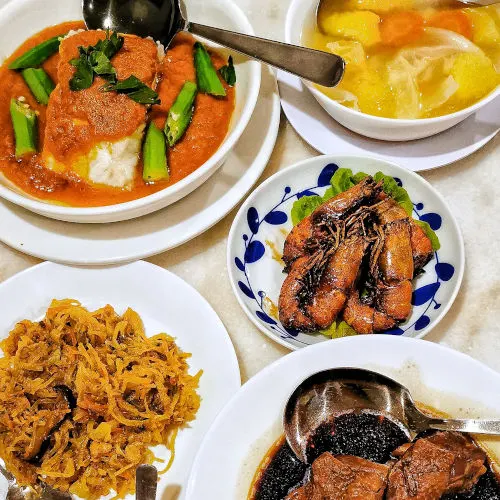 It does not have an elaborate menu, but all the items we tried reflect the authentic flavor of Northen Malaysian Nyonya food.
The owner explained that northern Nyonya cuisine uses reduced coconut milk compared to the other Nyonya cuisine. So while you can go with practically any dish you'd like, you must try Assam prawns, Joo Hoo Char, and the Hoo Peoh Th'ng.
The restaurant is a top recommendation by TripAdvisor, which shows you how good it is.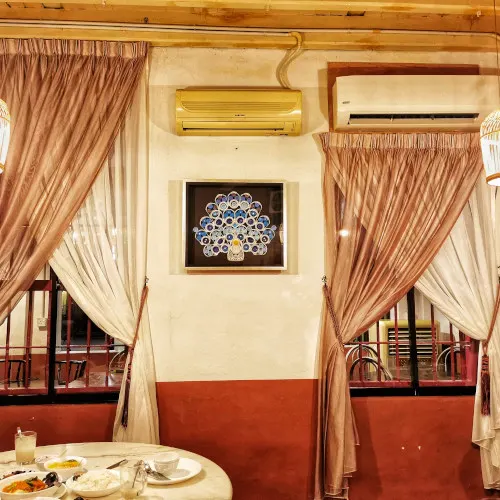 https://ivys-nyonya-cuisine.business.site/
Make sure to watch our Penang food tour video! It is at the end of this article.
2. Emperor Villa
The Emperor Villa is nestled deep and high into a mountain in Sungai Ara, a half an hour's drive from George Town, Penang.
It was a thrill to experience as we had to walk up a jungle trail for 45 minutes to reach Emperor Villa, but trust the process; once you get to the remarkable place, the views and the cuisine will genuinely make it worth the exercise.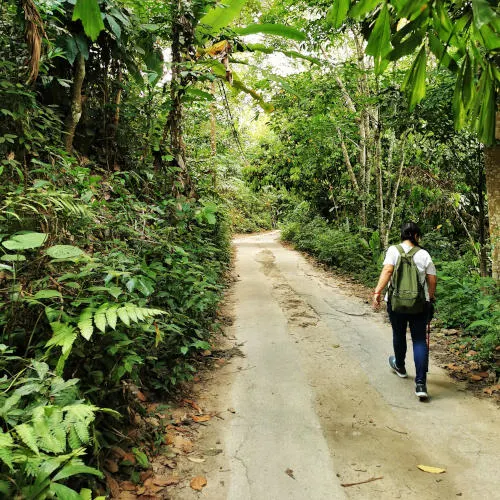 Emperor Villa is where you'll find pure Chinese style, including traditional paintings, decorative items, etc.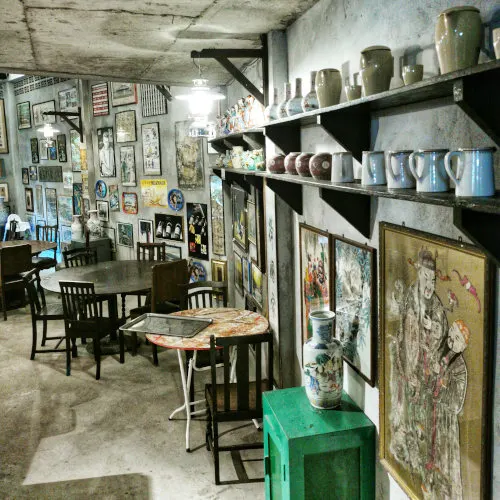 At Emperor Villa, Wat Dan Hor (Cantonese Fried Noodles) is one of the most exceptional dishes and requires special attention. Of course, you can also go for kueh to top off the experience.
https://www.emperorvillapg.com/
3. Fisherman's Wharf Food Corner
One place to satisfy food cravings of all kinds and one that specializes in local food is Fisherman's Wharf Food Corner. So if your tour has you constantly traveling all around Penang and you're hoping for a stop where you can get as much food as you want, this place is the real deal.
There is a wide range of choices here, an upmarket food court with all the local street food plus some restaurants.
Located at Karpal Singh drive, it is a one-stop food court to satisfy our local food cravings.
It is called BSP Waterfront Food Court and now has a new facade and looks after a massive refurbishment. It is also known as Karpal Singh Food Court because it is adjacent to Karpal Singh Drive.
Previously known as BSP Waterfront Food Court, locals are no stranger to this "Karpal Singh Food Court."
It is a more upmarket type of hawker center, decorated with the spotlight, standardized stalls, and tables facing the sea.
Foods are more than traditional street food, from Chinese-style seafood, pizza, bar, and even Japanese food. In addition, we catch up with some of our local friends for dinner.
After that, take a stroll along the Karpal Singh Drive.
https://www.facebook.com/fishermanswharfpenang/
4. Wonder Food
Speaking about food, we will not miss the unique food museum at Lebuh Pantai called Wonder Food.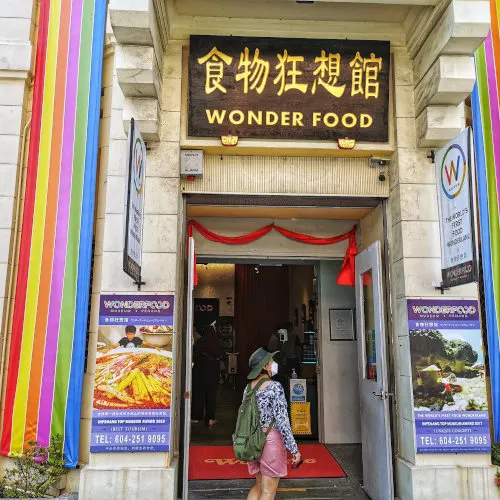 Here's a place where you literally take 'feast for your eyes': Wonder Food. Wonder Food is a food museum that features life-sized and even massive, oversized replicas of your favorite authentic Malaysian cuisine.
There are numerous live-size and oversize replicas of local food to feast your eyes.
There is a humongous plate of fried oysters with eggs fit for ten people.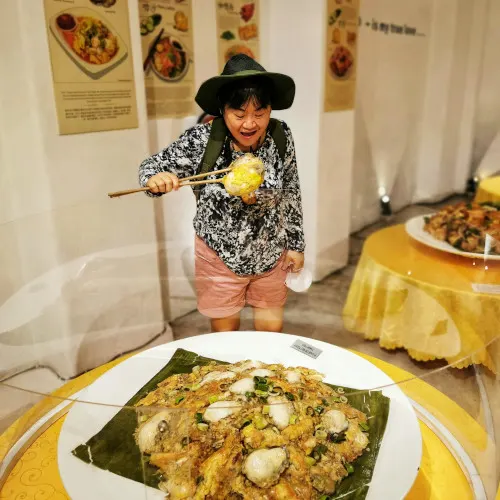 You can look around and capture photos with plates bigger than you to confuse your online friends. You'll also find Indian, Chinese, and infused cuisine dishes here.
Interestingly, the museum also conveys profound messages by portraying food projects; you'll be surprised that there's an actual exhibit that features what happens to live ingredients when you eat them. You'll have a thrilling time at Wonder Food, from food art to sweet decors!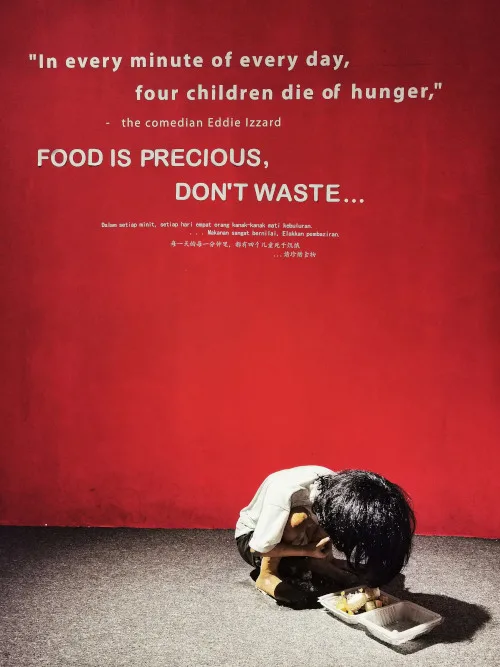 https://www.facebook.com/Wonderfoodmuseum/
5. Frandy Beach Bar and Restaurant
Trendy, groovy, and laidback, Frandy Beach Bar and Restaurant is perfect for anyone who's looking to relax. With a casual and upbeat environment and food that speaks to your soul, this restaurant is a great way to let go of your troubles and live in the moment.
But, of course, the ideal time to visit the restaurant is in the evening; the restaurant captures one of the most beautiful sunsets, and it's a sight no one should miss. So we booked a table with a perfect view and captured some best photos during our trip.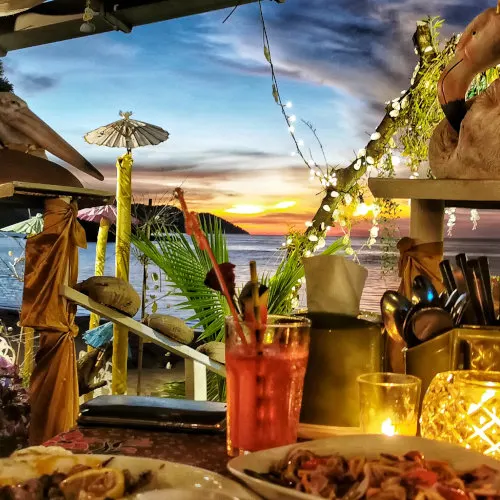 At Frandy's, everything is delicious beyond your imagination, but try out the soft grilled lamb, a chicken and vegetable dish, and its signature sauce.
https://www.facebook.com/frandybeachbar/
6. Anjung Food Court
Anjung Food Court at Gurney Drive is where you'll find some of the best Penang food, all in one place.
Most stores offer soybeans, chicken, lamb skewers, laksa, rojak, satay, Nasi lemak, roti canai, and cendol. In addition, Anjung Food Court is where you'll find all sorts of comfort food; so, if you want to try out all that Malaysian cuisine has to offer or would simply love to take a walk around the food court, you're welcome here anytime.
Food is excellent, mainly still prepared by the locals with a secret recipe passed down from the past generation in the family.
The only setback is that it has lost the Seaview facing the Gurney Drive, which is now under a massive development project to reclaim the land. The only reason for coming to Gurney Drive is for food; not anymore the ambiance of having stores line up along the waterfront where you can hold your food on plastic plates while looking out far to the sea. You can do so now at Karpal Singh Drive instead.
https://www.facebook.com/Anjung-Foodcourt-107294367392659/
7. Cecil Street Market
Cecil street market is the best place to taste all the Penang street food among all the places we visited. It is highly recommended.
An organized and massive hawker market, Cecil Street Market is where you'll be able to get your hands on hawker food and authentic Malaysian street food. There are numerous street foods to choose from; otak otak, kway teo soup, Keow Teow Thng, and Chee Cheong Fun are just some of the delicious dishes you'll find here.
Anyone should visit this place if they want to taste all the Penang street food, all at one location. The quality is excellent, likely because all the foods are prepared by the locals who had inherited the skill from the past generation and as a result of keen competition among them.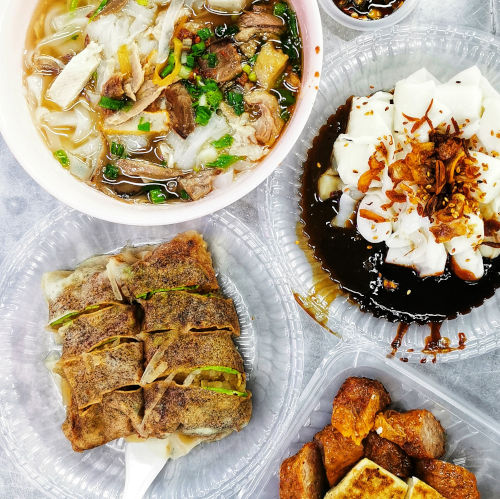 The duck meat Keow Teow Th'ng is one of the famous stores here. You have to queue!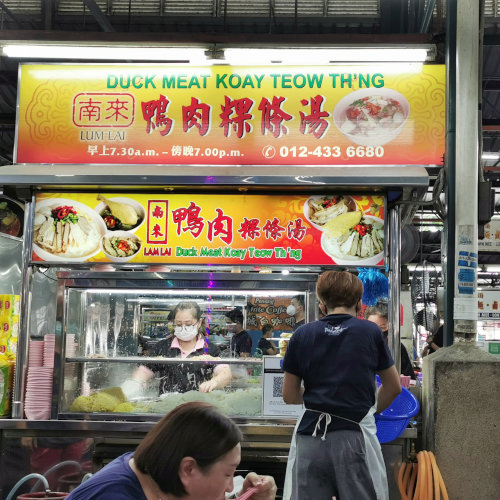 On our way home, we pack 12 packets of chee Cheong fun and a variety of local kuih for our family.
https://www.tripadvisor.com/Cecil_Street_Market
8. The Blue Mansion
The Blue Mansion is not a typical place for food, but we mentioned it here because we felt that food is not about taste.
It is a mansion turned boutique hotel perfect for a royal breakfast. The afternoon highest at the Central Courtyard is a must. It is the history and ambiance that accentuates the experience of dining.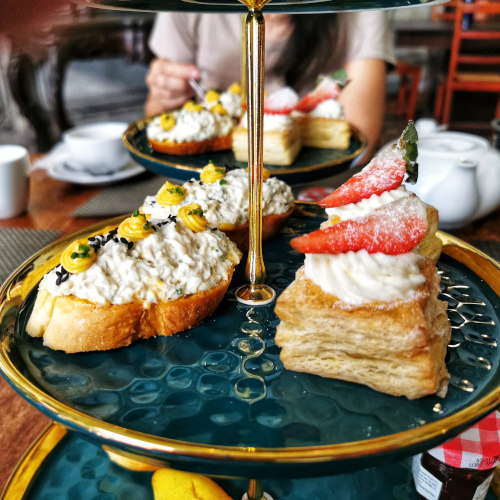 Sitting there sipping your tea while taking in the ambiance and getting to know about the mansion's rich history sounds like pure bliss.
https://www.cheongfatttzemansion.com/
Other Penang street food
It's pretty much impossible to try all the famous places for Penang food. However, if you have time, it is a great idea to take a stroll on Penang Street, where there are local vendors selling cendol and fried snacks. You can also wander through the markets and sample a few dishes.
An insider tip to foreigners: keep an eye out for stalls that have been running for a few years. These stalls are typically run generation after generation, which means you're in for a tasty ride featuring authentic and traditional family recipes.
Watch our video about Penang food shot during our visit during our visit in Penang.
If you have come so far reading this blog post, don't miss out on the Penang Food video we shot during our holiday. Click the image below to watch on YouTube (shot in high definition!).
Other best places to visit in Malaysia
If you like Blue Mansion, you may also want to read about other attractive places to visit in Malaysia. Here are two places we have picked for you.
Don't miss out on the Blue Mansion (Cheong Fatt Tze) in Penang, one of the 10 greatest Mansions in the World in 2011, according to UNESCO.
Check out our trip to Pangkor Laut Resort, located on a private island. It is one of the most lavish island resorts in Malaysia. Indulge yourself in pure luxury.