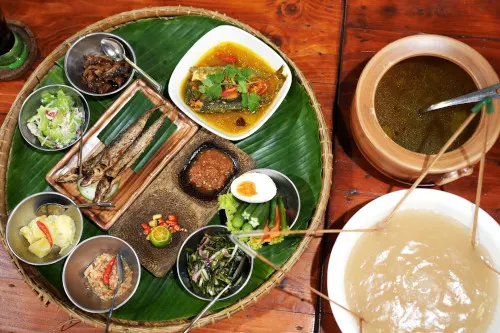 During our recent trip to Kota Kinabalu and Kundasang, we had the opportunity to savor some of the most authentic food in Kota Kinabalu.
To taste Sabah's unique culinary heritage, you should not miss this local food. From BBQ wild boar meat to ambuyat, there is something for everyone. We'll share our top picks of Sabah specialty foods that we sampled in this article. We also provide recommendations for where to find them.
So let's dive in and explore the best food in Sabah!
1. Sinalau Bakas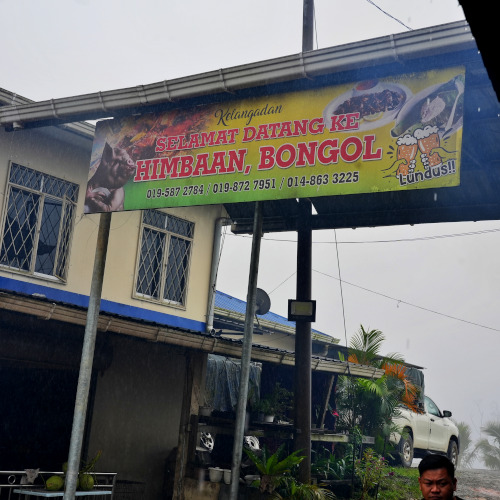 Sinalau Bakas is particularly popular among the Kadazandusun community. It is prepared by marinating the wild boar meat, cutting it into thin slices, and smoking them over a fire made from wood and bamboo.
The smoking process gives the meat a distinct smoky flavor and tenderizes it, making it juicy and flavorful. It is served with a spicy dipping sauce made from chili peppers, lime juice, and soy sauce.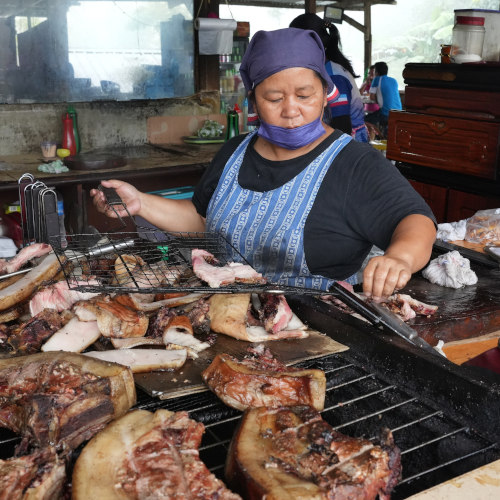 Sinalau Bakas is often served at traditional Kadazandusun events and celebrations and is also a popular snack among locals and tourists. It can be found at street vendors and small shops throughout Sabah, particularly in rural areas where wild boar hunting is still practiced.
We tried this local specialty at Himbaan Bongol while traveling from Kota Kinabalu to Kudasang.
Sinalau Bakas Himbanan Bongol address: 89150 Tuaran, Sabah, GPS: 6.118779336444649, 116.40122631278827
Watch the video we shot about food in Kota Kinabalu. It is at the end of this article. 👇👇
2. Ngiu Chap (Beef Noodles)
Ngiu Chap, which means beef noodle, is a unique food in Kota Kinabalu. It is noodles served in a flavorful beef broth with sliced tender beef and beef balls.
Ngiu Chap is often served with various condiments and garnishes, such as chopped scallions, chili sauce, soy sauce, and lime wedges. Some dish variations include offal, such as tripe, liver, or intestines, which add texture and flavor to the dish.
During our culinary journey in Sabah, we enjoyed trying the famous Ngiu Chap at Nyuk Pau Ngiu Cap. Their flavorful soup is made with beef bones, producing a clear yet sweet and savory broth with an umami flavor. The ingredients include beef slices, beef tendon, beef balls, and beef tripe, which adds to its depth and richness.
Apart from the Ngiu Chap, we indulged in a unique and delicious tofu dish in a savory broth, topped with chicken floss. The combination of silky tofu, savory broth, and crispy chicken floss was a delightful surprise for our taste buds.
Nyuk Pau Ngiu Cap address: 38, Lorong Perindustrian, 88450 Kota Kinabalu, Sabah
3. Sang Nyuk Mee
Sang Nyuk Mee is a popular street food in Sabah, Malaysia, and consists of thin noodles served in a flavorful broth made with pork bones and various spices. The dish is usually topped with tender pork slices and other vegetables, crispy fried garlic, and green onions.
The name "Sang Nyuk Mee" means "raw pork noodles" in the local Sabahan dialect and refers to the fact that the pork slices are traditionally served fresh. This special food in Kota Kinabalu is typically served with a small bowl of spicy chili paste on the side, which can be added to the broth for extra flavor and heat.
Sang Nyuk Mee is a delicious and satisfying dish many enjoy in Sabah, particularly for breakfast or as a quick and filling lunch or dinner. It is often sold by street vendors and in small, casual restaurants throughout the state and is considered one of Sabah's signature dishes.
We tried the Sang Nyuk Mee at Kedai Kopi Jia Siang (家香生肉面), one of the best in Kota Kinabalu.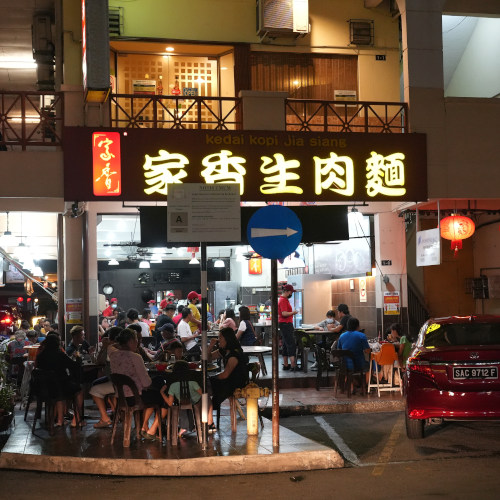 There are two ways to enjoy Sang Nyuk Mee: (1) in a Noodle Soup or (2) in the Kon Lau Mee (干捞) style. The Kon Lau Mee style involves serving the noodles in a separate bowl and tossing them with aromatic dark soy sauce and lard. A bowl of savory pork broth containing pork slices, meatballs, and internal organs such as the liver and intestines is also served together.
Kedai Kopi Jia Siang address: Lot 1-0, Lintas Plaza, Lorong 3, Lintas Plaza Ring Road, 88300 Kota Kinabalu, Sabah.
4. My Native Sabah
We asked our guide to take us to a restaurant that serves authentic Sabahan cuisine, and he suggested My Native Sabah. This restaurant offers a diverse selection of indigenous food in Sabah, all in one place.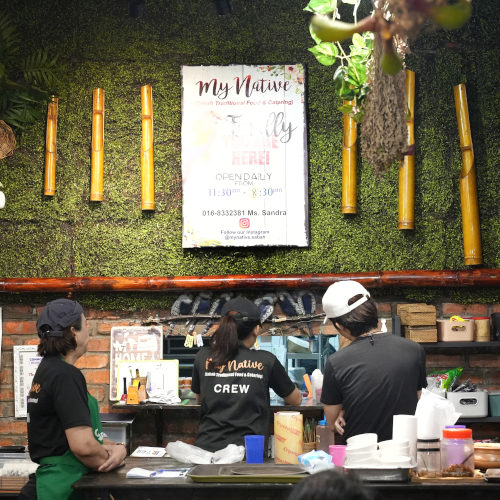 The restaurant manager, a kind lady, was happy to explain the various food items we ordered and even demonstrated the proper way to eat each dish.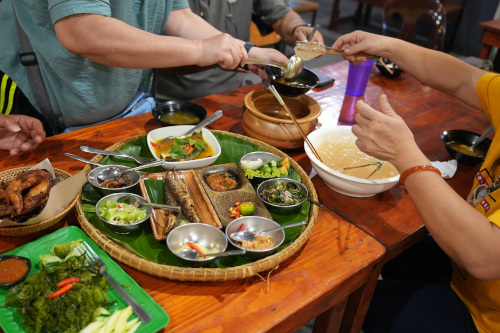 Here is a list of items we tried:
Ambuyat is a starchy dish from the sago palm tree trunk served with various side dishes such as fish or vegetable stews. Eating ambuyat does require some practice and technique due to its sticky texture. We used the chandas (the long bamboo stick) to scoop it up, then twirled and wrapped the strand of ambuyat around the stick.
The clear soup often served alongside ambuyat is called sup pinasakan. This soup is a traditional Kadazandusun dish from Sabah, Malaysia. It is made by boiling fish with turmeric, ginger, lemongrass, and onions. We place the ambuyat in a bowl and pour it over the soup. The resulting broth is a flavorful and clear soup served alongside ambuyat to contrast the sticky and starchy texture of the sago starch.
Pinasakan (braised fish with tangy broth) is cooked with a tangy broth from turmeric, ginger, lemongrass, chili peppers, tamarind juice, and belacan (shrimp paste). The marinated fish is then wrapped in banana leaves and cooked over an open fire, delivering a smoky flavor.
Losun is a condiment from pounded and fermented raw freshwater fish or shrimp.
Kadazan ulam typically consists of fresh and raw vegetables, herbs, and edible leaves mixed with a dressing or dip made from shrimp paste, lime juice, chili peppers, and salt.
Tuhau is a traditional Sabahan condiment made from pickled wild ginger. The stems and flowers are edible and have a strong, spicy flavor. To make tuhau, the ginger stems are sliced into thin strips and pickled in vinegar, salt, and sugar.
Bambangan is a wild mango fruit native to Sabah. It has a unique flavor that is both sour and slightly sweet.
Ikan masin masak lada putih is a traditional Malaysian dish with salted fish stir-fried in a spicy white pepper sauce.
Hinava is a traditional Kadazan-Dusun fresh raw fish salad marinated with lime juice mixed with bitter melon, sliced onions, chili peppers, and grated ginger. The lime juice helps to cook the fish, turning it into a firm texture and producing a tangy, citrusy flavor.
Basungan is a type of fish commonly found in rivers and streams. In Sabah, basungan is often prepared by frying it, which we call basungan goreng.
My Native Sabah address: LOT 48, 1ST FLOOR, BLK F, LRG 333-5 PLAZA 333, JLN BYPASS PENAMPANG PENAMPANG, 88300 Kota Kinabalu, Sabah
5. Gaya Night Market- the best place to try street food in Kota Kinabalu
Come to Gaya Night Market to experience the Sabah food culture.
Since we were staying at Horizon Hotel, the Gaya night market is located on Jalan Gaya and is only two minute walk from our hotel. Over here, you can try all the street food in Kota Kinabalu. The hawkers started to open their store around 6:00 pm on Friday and Saturday until late at night.
The Gaya Night Market is popular for locals and tourists to enjoy Sabah street food and snacks. There is street food such as grilled chicken, satay, fried noodles, dumplings, stir-fried beef, and more.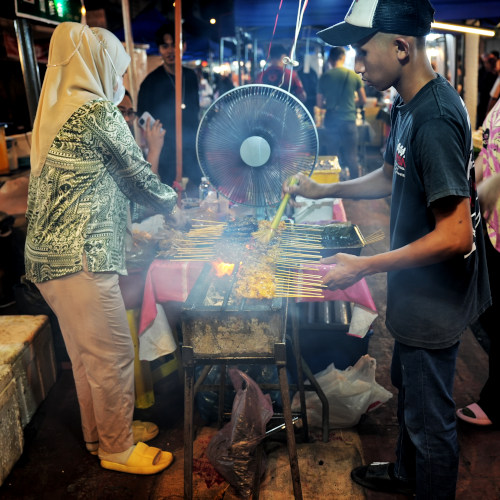 The atmosphere at the Gaya Night Market is lively and bustling, with vendors calling out to potential customers and music playing in the background.
It's an ideal place to sample the local street food and enjoy the lively night market culture of Kota Kinabalu.
Gaya Night Market address: Jalan Gaya, Pusat Bandar Kota Kinabalu, 88000 Kota Kinabalu, Sabah
Kota Kinabalu offers a unique blend of traditional and modern cuisine. From the famous Sabahan dishes such as Ngiu Chap and Sang Nyuk Mee to lesser-known delights like sinalau bakas and hinava, the culinary scene in Kota Kinabalu is diverse and exciting.
Other places to visit in Kota Kinabalu:
We came to Sabah mainly because we wanted to climb Mount Kinabalu. However, we took the opportunity to visit the Mari Mari Cultural Village in Kota Kinabalu. It offers a deep dive into the local culture and history of Sabah's various ethnic groups. I highly recommend including these destinations in your Sabah itinerary. Please visit our blog about our experience in these places:
Watch our video shot during our food trip in Kota Kinabalu👇👇
If you have read this blog post this far, don't miss out on the video shot about food in Kota Kinabalu. Click the image below to watch on YouTube (shot in high definition!).